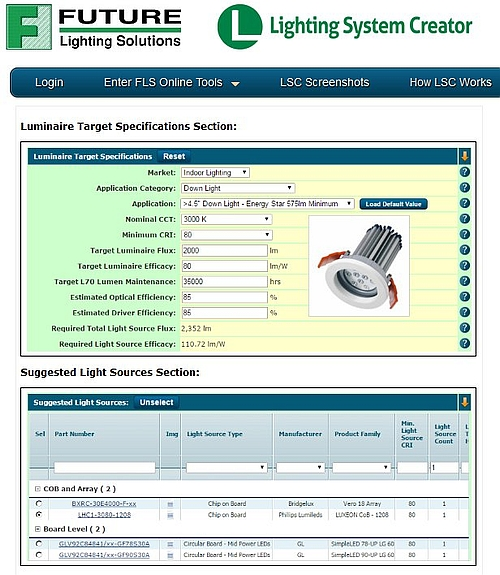 The LSC computer-aided product development tool from Future Lighting Solutions now enables developers of LED-based lighting products to automatically trade off temperature and current settings relative to LED count while also adding flexibility in light source choices.
Future Lighting Solutions has announced an update to its Lighting System Creator online solid-state lighting (SSL) product development tool that is free to registered users of the Future website on a global basis. The distributor has moved beyond simply selling components to serving as an engineering resource for customers, and the LSC computer-aided-design tool allows developers working on SSL products to quickly narrow light-source and product-architecture options for specific general-lighting applications. The updates include new current and temperature settings that can be optimized for minimal packaged LED count or other desired outcomes, along with other enhancements related to light sources, drivers, and optics.
Interested in articles & announcements on solid-state lighting design?
Future launched the LSC tool back in 2015 and this past summer reported that many users were relying on the tool for product developments worldwide. The idea behind the tool is quite simple, although the implementation is very robust. A user selects a specific general lighting application. For example, the nearby screenshot shows a selection of indoor lighting with the specific application being a downlight. The tool can then use an algorithm that processes application requirements relative to LED performance data, and performance data for optical, thermal, and electronic components, to deliver multiple possible design approaches to the application at hand.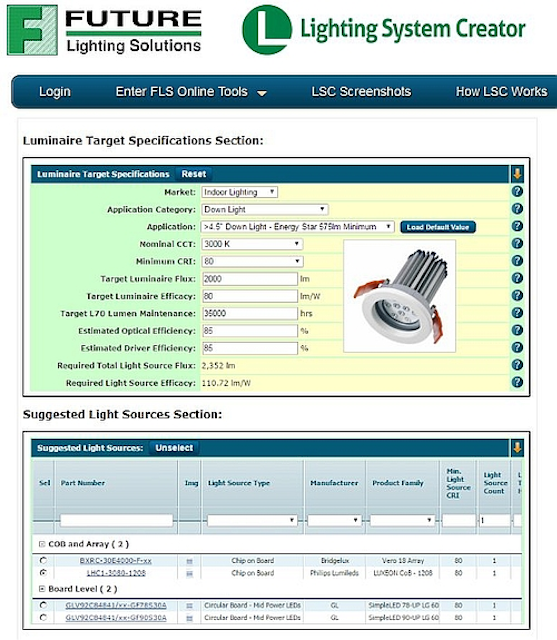 Future enhances Lighting System Creator tool for SSL developers
Solid-state lighting developers can narrow down the component selections for their designs using the Lighting System Creator tool online.

If you haven't seen the LSC tool demonstrated, you might consider watching a webcast that Future, Nichia, and LEDiL presented back in September. We will have that webcast archived for a few more months. And in the presentation, you will find a live demonstration of how the tool can be used to help guide design choices. Indeed, the LSC can ultimately deliver to developers a complete bill of materials for a new product.
The latest updates to the LSC tool include the aforementioned ability to vary target operating temperature and driver current. Developers may choose to accept elevated driver current, which leads to higher temperature and lower efficacy while enabling reduced LED count. Or the developer could choose to go with even lower temperature and greater reliability and efficacy at the expense of more LEDs. And of course the tool would help solid-state lighting developers find the correct thermal elements or heat sinks for each configuration.
The new version also enables developers who have a predetermined notion as to exactly which LED they want to use to immediately lock in that choice and further accelerate the review of other system-level options such as heat sink, optics, and driver. Moreover, the new version will allow evaluation of packaged LEDs that do not yet have IES (Illuminating Engineering Society) LM-80 performance characterization.
A final area of improvement comes in the area of other enabling technologies such as driver electronics and optics. Specifically, the update provides data on the efficiency or system efficacy impact of integrated drivers and optics.
"These upgrades represent significant enhancements and functionality to our tool," said Patrick Durand, worldwide technical director at Future Lighting Solutions. "This continues our quest to provide our customers with the most innovative and leading-edge tools available to help them build world-class luminaires efficiently."