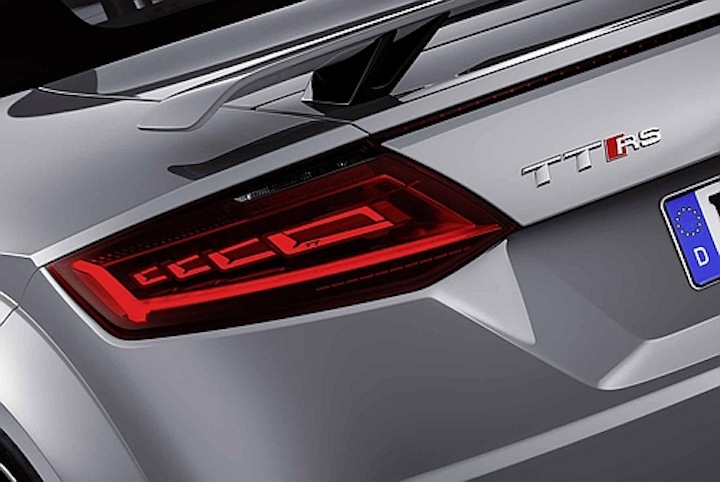 More niche business for organic light emitting diodes, following Osram's similar announcement with BMW.
Backing up its assertion that there will at least be niche markets for OLED lighting technology, Osram announced that a second automaker, Audi AG, is using the company's OLED rear lights in a production model.
Interested in articles & announcements on OLED technology?
Munich-based Osram said Audi is using the Osram OLED rear light module in the Audi TT RS, a compact sports car.
Audi, part of Volkswagen group, introduced the car last spring, but Osram had not publicly stated that it is the supplier until now.
In July, Osram announced a similar agreement with German carmaker BMW, which is using the OLED taillights in the BMW M4 GTS high-performance coupe.
OLEDs — organic light-emitting diodes — are patches of material that emit light across their surface unlike LEDs, which are single points of light.
In thin form, they augur a multitude of design innovations. As rear lights in cars, for instance, Osram notes OLEDs can save space and can provide a variety of new looks such as a 3D effect when they are partially layered over each other in a linear arrangement. The Audi taillight houses 4 OLED panels, and the BMW has 15, all mounted inside a fitting.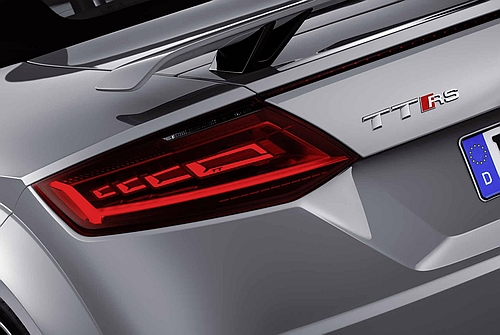 Audi taps Osram for OLED taillights in sports car
Osram's OLED module brings up the rear on the Audi TT RS. (Source: Audi AG.)
"They do not cast any shadows and do not need any reflectors, light guides, or similar optics," Osram said earlier this year. "OLED enables light sources to be designed in any shape and mounted on flexible carriers."
The swatches can be assigned different functions, with some serving as brake lights and others a constantly illuminated red taillight.
OLEDs are becoming increasingly common in gadgets and as television screens. Some enthusiasts believe they will literally work their way into the fabric of clothing, bridges, and buildings, transforming things like fashion and architecture.
Several companies, including Osram, have given up on OLEDs as a general light source, as developers have struggled to make them as energy efficient as LEDs. Early this year, Osram CEO Olaf Berlien described OLEDs as "too expensive" to serve general lighting purposes, but said Osram would continue to pursue the technology for specialty markets such as automotive. As far back as 2013, Osram had asserted that OLED technology would make its way into production automobiles by this year.
A year ago, lighting giant Philips completed the sale of OLED assets including its Lumiblade technology to OLEDWorks.
One company that remains committed to the technology for general lighting is South Korea's LG, which earlier this year announced plans to expand and modernize OLED production.
MARK HALPERis a contributing editor for LEDs Magazine, and an energy, technology, and business journalist (markhalper@aol.com).