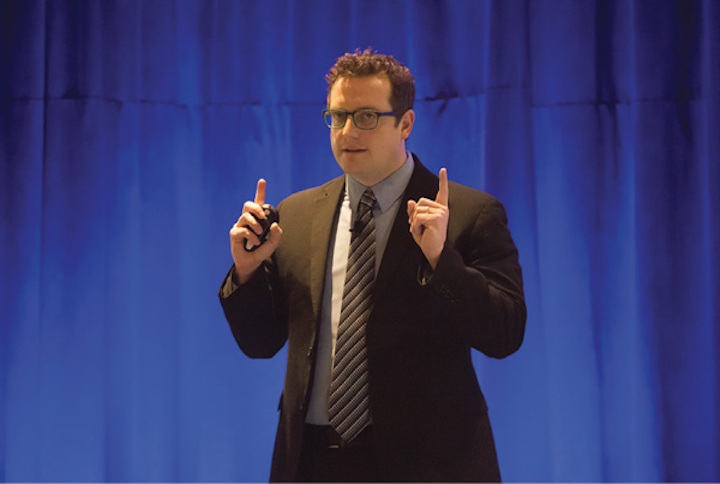 Opening Plenary talk at Strategies in Light charts diminished price erosion in packaged LEDs, projects hot applications, and reveals the opportunities that lurk for forward-thinking SSL manufacturers, reports MAURY WRIGHT.
All segments of the solid-state lighting (SSL) industry began the event year from Feb. 13–15 by gathering at the Long Beach, CA Convention Center for Strategies in Light (SIL) 2018 and the co-located Lightspace California and The LED Show events. Each year at SIL, research presentations from Strategies Unlimited are a highlight of the conferences and 2018 was no exception.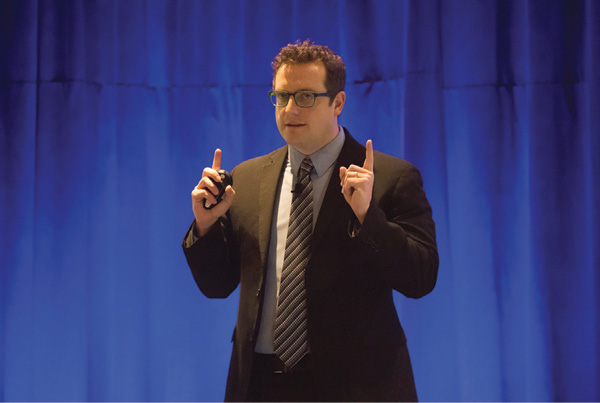 FIG. 1. Philip Smallwood noted that LED prices were far more stable during 2017 than in the prior two years, but changes in the MOCVD space could change things in 2018.
This year research director Philip Smallwood spoke in both the opening Plenary Session on Wednesday morning and during the Tuesday Investor Forum. The overall message was a more stable LED market and great opportunities in lighting applications. Read on for details of the message.
Smallwood set out to cover both the packaged LED and lighting product sectors in the Plenary Session (Fig. 1). And he started with a high-level look at the LED sector. As we covered in articles on the SIL market presentations in each of the past two years, the market picture has not been pretty in the recent past. Prices dropped by around 40% in 2015, and Smallwood said the figure was 25% in 2016. For 2017, he said prices were flat for the first three quarters of the year and dropped 10% year-over-year in the final quarter.
One reason for the stability has been a legal skirmish in the MOCVD (metal-organic chemical vapor deposition) market, according to Smallwood. MOCVD reactors are used to grow the epitaxial layers that are the basis of LED light generation. Industry stalwart Veeco and upstart AMEC (Advanced Micro-Fabrication Equipment Inc) had filed suits and countersuits based on intellectual property (IP) infringement claims. We recently covered the MOCVD space in our March issue.
Smallwood said the legal dispute had prevented the companies from delivering all of the MOCVD tools on order — especially to Chinese manufacturers — and thereby artificially restricted LED component manufacturing capacity. Just the week before SIL, however, Veeco and AMEC said they had settled their differences amicably and cross­licensed their technologies, so that legal impasse will no longer impact prices.
But another of the Plenary Session talks also was instructive on component pricing. Mark McClear, executive vice president at Seoul Semiconductor, would say that the low-hanging fruit of LED component price reduction has all been harvested. See p. 23 for more coverage of that presentation.
LED component markets
Next, Smallwood summarized some of the biggest application and market trends that affected packaged LED revenue in 2017. On the positive side, he said outdoor lighting drove the most LED revenue, including sports and recreational venue lighting along with street and area lighting. Exterior automotive lighting also remained a strong market. And large display applications, specifically outdoor signage, continued to surprise with slow but steady growth. Smallwood said it was surprising that major sporting events such as the 2018 World Cup soccer tournament in Russia and even the 2020 Olympics in Japan could sustain slow growth.
Looking at markets and applications that are starting to disappoint in terms of consumed LED revenue, Smallwood identified replacement or retrofit lamps as the most prominent example. That segment has taken a double hit with socket saturation upon the industry, and the fact that the commodity nature of the products means that low-end LEDs are often used in the application. The mobile sector is also slowing, according to Smallwood, with consumers upgrading devices less frequently and manufacturers using competing technologies such as OLED.
Revenue numbers
In terms of numbers, Smallwood said total packaged revenue in 2017 was around $15.9B (billion). That figure and several that follow are preliminary. The analysts haven't yet completed the new Packaged LED Report due in part to SIL taking place earlier in the year than is typical. Smallwood projected the market to grow to $22B by the end of 2022.
The projection implies low-single-digit growth in the 5–7% range. Applications such as automotive would enjoy much greater growth rates, with Smallwood saying "automotive will be a kicker in the industry." But the overall magnitude of the general lighting market will ultimately limit revenue growth prospects (Fig. 2). And declining markets such as mobile and small displays/TVs will hurt as well.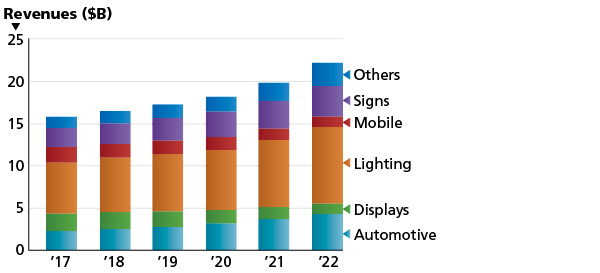 FIG. 2. Growth markets for packaged LEDs include general lighting, automotive, and signage while displays and mobile are declining applications.
Still, Smallwood made this statement before Seoul's McClear had spoken: "I don't know what's going to happen in the second half of 2018 when more of these new MOCVD tools come online," said Smallwood. "That could have a big impact on pricing."
Lighting dominates consumption
Focusing in on lighting as the largest general illumination market, Smallwood again warned about the commoditization of lamps and even said that many manufacturers are moving away from the lamps space. The lighting manufacturers generally have a higher level of interest in higher-margin, higher-lumen-output applications such as industrial high-bay luminaires and sports and area applications. These types of luminaires are inherently manufactured to stricter standards, require better-quality LEDs, and aren't subject to rapid price drops.
Smallwood also specifically addressed chip-scale package (CSP) LEDs, noting that "for the last several years, people have been talking about chip-scale packaging and the impact that technology might have on the market. From our research, we've only seen the penetration to be about 5% into the lighting market." The roadblock is that CSPs are difficult to handle for many lighting manufacturers, a fact we've noted repeatedly.
Smallwood said many lighting manufacturers would simply prefer to stay with mid-power LEDs that cost less, are easy to handle, and are advancing in performance and reliability. Still, we at LEDs Magazine continue to hear from corners of the industry that innovators are achieving remarkable performance in light output and quality with CSP LEDs. So the general-lighting penetration level in 2017 may not be indicative of the potential of the technology.
Automotive opportunity
The automotive market also drew a few additional comments from Smallwood. He showed a slide (Fig. 3) that revealed in detail the faster growth rate for LEDs in automotive applications compared with general lighting. He said, "Automotive is the most exciting application we are seeing for LEDs today, both exterior and interior." On top of the growth opportunity, he said margins don't decrease quickly and the segment is tough to penetrate, with five years often passing between inception of a new design to deployment in a new model car.
FIG. 3. Automotive applications will afford the greatest growth rate for packaged LEDs, but the segment is much smaller in overall magnitude than general illumination.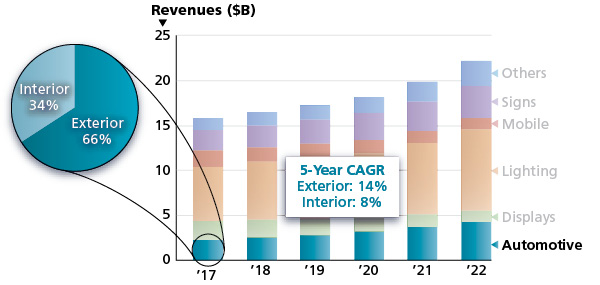 The greater growth, as you can see, is in the exterior segment and particularly in headlamps. And Smallwood expects the market performance to match or exceed projections. And he stressed that there is great potential in interior lighting as well. More LEDs are being used in infotainment systems, as well as in the overall interior styling of an auto. "Additionally, as these cars become more autonomous, we're going to see more display, more infotainment systems," said Smallwood. He said passengers will want more data about the vehicle operation; and if a person doesn't have to drive the vehicle, they will have different lighting needs such as spotlights for reading. He said the vehicle could become more of a living area than a vehicle. All of these factors could increase LED usage and even drive the need for higher-quality lighting.
Top 10 vendors
Closing the section of his presentation focused on packaged LEDs, Smallwood presented the top 10 manufacturers of packaged LEDs by revenue. Based on preliminary data the 2018 list is:
• Nichia
• Osram Opto Semiconductors
• Lumileds
• Seoul Semiconductor
• Samsung
• Mulinsen (MLS)
• LG Innotek
• Everlight
• Cree
• Lumens
The names on the list are unchanged from 2017, although the order has changed in a couple of places. Again, the numbers are preliminary, but it appears the three names at the top have increased the margin between themselves and the remaining seven. Nichia grew its share of revenue slightly and Osram and Lumileds both made gains relative to Nichia. Smallwood again pointed to the automotive segment and said the companies that are faring well have very healthy shares of the automotive sector.
Lighting sector
Smallwood then turned his attention to the lighting market including both lamps and luminaires. He said LEDs have now penetrated 18% of those combined segments globally (Fig. 4). The US is slightly lower at 15%.
The penetration of lamps is greater than luminaires at this point. Of a total global lamps market in 2017 of $18B, LED products represented $9B. Furthermore, Smallwood said those lamp and luminaire market dynamics will change in the coming years with the readily apparent socket saturation impacting lamps. Smallwood said the LED lamps market would peak at $12B in 2019 and then begin a steady decline. Meanwhile, LED luminaires will continue to grow through the forecast period with LED-based products representing more than 50% of the total market by 2022.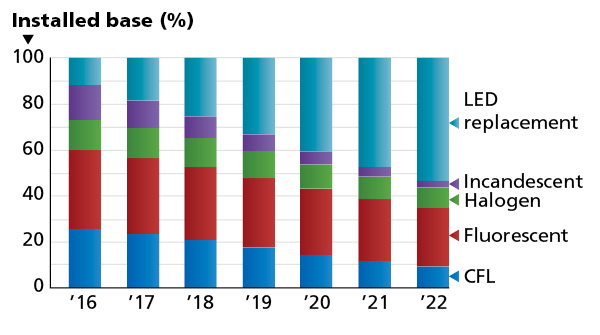 FIG. 4. LED-based lamps and luminaires have penetrated 18% of the installed lighting globally.
The most interesting form factor in the lamps market is the so-called T-lamp or T-LED segment — LED-based replacements for T5, T8, and T12 linear fluorescent lamps. For 2017, Smallwood said LED-based T-lamp revenue was just under $7B (Fig. 5). While A-lamp revenue is already in a steady decline, T-lamp revenue will grow to near $8B in 2019. Moreover, Smallwood said T-lamp products are replacing what was already a relatively-long-life fluorescent technology. Therefore, the impact of socket saturation will be lessened for T-lamps and the segment revenue will remain well over $7B through 2022. Smallwood said, "That market does have some staying power and will continue to have that staying power in the long run." He did add that prices will decrease, which will impact revenue.
Indoor luminaires
Turning to the indoor luminaire segment, Smallwood discussed both unit shipments and revenue (Fig. 6). In terms of unit shipments, LED-based products will represent 65% of the market by 2022. He said both CFL (compact fluorescent) and linear fluorescent lamps will have some staying power through 2022 in less-developed regions.
Global indoor luminaire revenue will go from just over $60B in 2017 to just over $70B by 2022. LEDs make up about half of the luminaire revenue today despite a relatively lower penetration rate. The higher cost of LED products is the reason. By 2022, Smallwood expects LED-based products to represent more than 70% of total luminaire revenue.
FIG. 5. Revenue for LED-based tubes or T-lamps will climb through 2020 and then remain relatively stable.
LED troffers represent the largest indoor luminaire sub-segment; as Smallwood said, "Troffers are used everywhere." That one luminaire type delivered around $5B in 2017 and will go to $11B in 2022. Other sub-segments that Smallwood found interesting were high-bay applications that require high lumen output and that LEDs struggled to serve until recently. But he said LED high-bay revenue was $4B in 2017 and will grow to $6B in 2022. The downlight sub-segment is also very healthy. Still, the largest indoor sub-segment is the "other" category, which would include striplights, cove lighting, sconces, and many other fixture types.
Connected lighting
Next, Smallwood addressed connected lighting. Certainly, the Internet of Things (IoT) and smart lighting were prominent themes throughout the SIL conference and exhibits. But Smallwood reported that connected luminaires make up a sliver of the $40B-plus LED luminaire market today and will only represent $4B of the $70B-plus market in 2022.
"But this isn't the real way to look at the connected lighting market," said Smallwood. "This isn't the value proposition of the connected lighting market. It's not how many sensors you can put into luminaires. The true value proposition is in the data."
There is additional revenue beyond the luminaire in terms of controls and management systems. But Smallwood insisted that the value of the data even dwarfs that revenue. "Hopefully, creating a system where you can have recurring monthly revenue from a client using your system — that's the true value," said Smallwood.
The connected market, however, is in its infancy, Smallwood reminded the audience. He said proof is in the large number of standards and protocols being used. The industry has not coalesced around a smaller set of options. He added, "As consolidation of the protocols takes place, we will be able to see how this market is evolving and maturing."
Bluetooth Mesh
Smallwood did mention a few network options that have gained notoriety, starting with Bluetooth Mesh, which only arrived on the scene formally in 2017. The fact that people know Bluetooth from usage on cell phones have given it some advantage in terms of public opinion, and Smallwood has said its ability to work with beacons for asset tracking are an advantage. But he also noted that Bluetooth Mesh can't handle as much data as other networks such as Thread (IPv6 based) and there are limits as to the number of nodes Bluetooth Mesh can serve.

FIG. 6. LED-based luminaires make up less than 50% of the market in terms of unit shipments but represent a much larger percentage of revenue due to higher prices.
Rhetorically, Smallwood asked, "Is one protocol going to win?" He said one single protocol doesn't have to win for every application. "I would say Bluetooth Mesh is probably ideally better suited for residential applications." He said Bluetooth Mesh may not be as well suited for office or industrial applications, and would definitely not be a good fit for outdoor smart-city applications.
Niche markets
Smallwood closed with a focus on niche markets, including horticultural lighting. About horticulture, he noted, "It's interesting to me because this is an industry where LEDs can absolutely just change the entire dynamics of an industry." He said LEDs can change the way the industry is producing its product. That change doesn't just come, say, from one-for-one replacement of high-intensity discharge (HID) fixtures in supplemental lighting. Instead, the change comes from creating entirely new growing opportunities such as in vertical farms. Likewise, tunable spectrum can improve yield in both supplemental greenhouse usage and in vertical farms.
The Strategies Unlimited team studied the global market starting in 2016 to understand where traditional lighting has been used in horticulture and how applications such as vertical farms might add to that to project the potential market. In 2016, the global market for horticultural lighting was about $3B and was dominated by high-pressure sodium (HPS) lighting. LEDs represented a $100M (million) slice of that market in 2016. By 2022, Smallwood projects that the total market will grow to around $7B with LEDs representing $2B.
But the potential in the total market may be far greater as growers better understand the technology. Moreover, the aforementioned numbers did not include legalized recreational or medicinal cannabis. LED-based products have much higher initial costs and payback periods can be lengthy in horticulture. Smallwood, however, said that even relatively small yield improvements attributable to LEDs in a high-value crop like cannabis can slash payback times. He stated that a 5% yield increase can bring payback to under a year, and that LEDs will dominate the cannabis market to deliver more than $350M in revenue by 2022.
Overall, the market presentations at SIL 2018 were more positive than we have seen since at least 2015. That said, the market remains volatile and the remainder of 2018 is sure to be exciting.