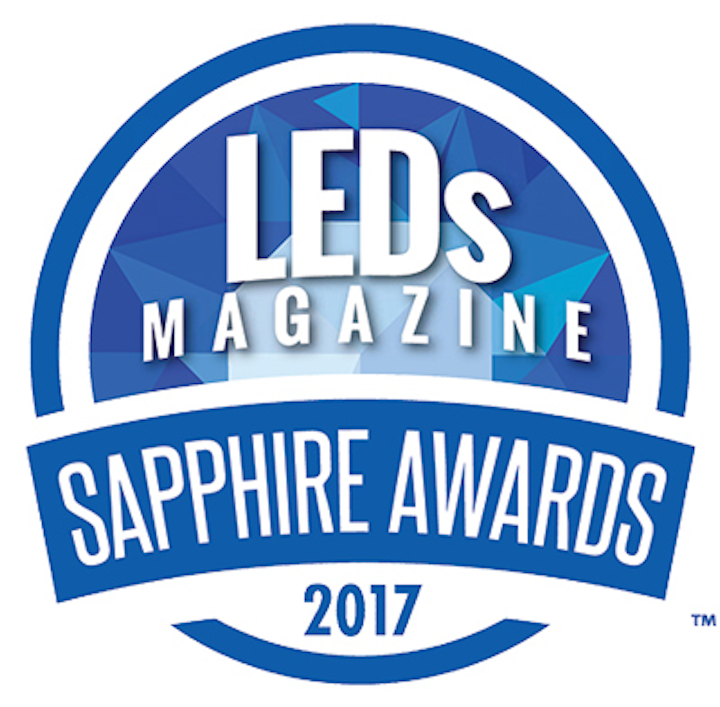 The post-Gala glow continues with the publication of the products and technologies that scored 3.25 Sapphires and above, CARRIE MEADOWS reports.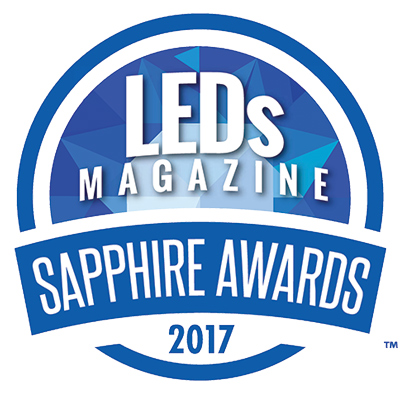 During Strategies in Light week in Anaheim, CA, on Mar. 1, 2017, the winners were revealed at the third annual Sapphire Awards Gala. LED and lighting executives and professionals were on hand to celebrate with PennWell's LED & Lighting Network team, including representatives from LEDs Magazine, Strategies Unlimited, and Strategies in Light conference management. The celebration continued well into the evening with accolades on all sides for market-leading innovations throughout the supply chain, from enabling components to smart lighting technologies. Indeed, the coverage continues with video and images on our website and social media channels, as well as in the pages of LEDs Magazine where we now publicize the results for those product and technology entries that receive scores of 3.25 Sapphires and above.
Interested in articles & announcements on LEDs & SSL design?

Scoring ranged from 0-5 Sapphires. Each entry was considered upon its own merits while taking into account what might constitute a "perfect" solid-state lighting (SSL) product in the intended application. To achieve a score of 3 Sapphires, an enabling technology or lighting product was expected to be suitable for commercial deployment. Higher scores were given to products that were judged to perform efficiently and reliably, contribute to profitability, and demonstrate ease of use. The quality and innovation demonstrated in the submissions made such an undertaking truly challenging, but as industry professionals, designers, and lighting industry leaders, our industry experts are well qualified and were equal to the task. Additional scoring information and judges' comments will be made available privately to all entrants. For more details about the winning entries, see our feature article. Stay up to date with information about the Sapphire Awards, the upcoming call for entries, and more at ledsmagazine.com/sapphireawards.
---
3.25
American Bright Optoelectronics
Tri-White 5050 PLCC SMD LED - Packaged LEDs and OLEDs
Elemental LED
Fluid View LED tape light (24V) - Modular LED Light Engines
Elemental LED
Lo-Pro junction box series - SSL Enabling Technologies
Eye Lighting
LEDioc post top retrofit kit with integrated wireless control - Outdoor Street and Area SSL Luminaire Design
Green Creative
6-in. new construction downlights - Indoor Ambient, Track, and Accent SSL Luminaire Design
Green Creative
Innofit commercial downlight series - Indoor Ambient, Track, and Accent SSL Luminaire Design
Linear Technology
LT3922 step-up DC/DC converter - ICs and Electronic Components for SSL
Osram Opto Semiconductors
Hyper Red Oslon SSL - Packaged LEDs and OLEDs
SoraaLaser
LaserLight SMD - Packaged LEDs and OLEDs
Superior Essex
PowerWise Category 5e+ 1 Gigabit 4-pair PoE cable - SSL Enabling Technologies
Venntis Technologies
TotalGrow TG1A lights - Horticultural Lighting

---
3.50
Amerlux, LLC
Cynch LED accent luminaire - Indoor Ambient, Track, and Accent SSL Luminaire Design
Architectural Lighting Works
Double Slot Optics - SSL Enabling Technologies
Architectural Lighting Works
Hylytr grazing luminaire - Indoor Ambient, Track, and Accent SSL Luminaire Design
Bridgelux
Vero Series SE array - Packaged LEDs and OLEDs
Buck
Mistral 4 outdoor luminaire - Outdoor Street and Area SSL Luminaire Design
Elemental LED
Diode LED Spotmod Tile fixture - Indoor Ambient, Track, and Accent SSL Luminaire Design
Elemental LED
Fluid View 12V LED tape light amber - Outdoor Landscape and Accent SSL Luminaire Design
Elemental LED
TouchDial Color Control System - Smart and Connected SSL Technologies
Energy Focus, Inc
500D network-ready TLED - Linear T8 SSL Lamp Design
EnOcean Inc.
LED Relay Zone Controller - ICs and Electronic Components for SSL
ERG Lighting
Driverless LED light modules - Modular LED Light Engines
Heliospectra
Heliospectra LX601C light fixture - Horticultural Lighting
Hubbell Lighting
Columbia Lighting LZPT - Indoor Troffer, Linear, and Recessed SSL Luminaire Design
Hubbell Lighting
Dual-Lite EV4R LED emergency light - Industrial SSL Luminaire Design
Hubbell Lighting
Triple H LED high bay/low bay - Industrial SSL Luminaire Design
Igor
Igor Intelligent PoE lighting solution Rev. 5 - Smart and Connected SSL Technologies
LED Engin
LuxiTune tunable white and warm dim module - Modular LED Light Engines
Lighting Science
Durabulb (A19) lamp - Commercial-Quality SSL Lamp Design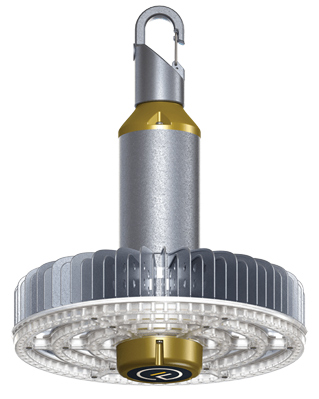 Lighting Science
LBar Linear LED tube - Linear T8 SSL Lamp Design
LSI
AirLink luminaires - Indoor Troffer, Linear, and Recessed SSL Luminaire Design
LumenOptix Inc
Stratos high-bay rack lighter - Industrial SSL Luminaire Design
Lutron Electronics
Hi-lume Premier 0.1% constant voltage driver - LED Drivers
Molex
Transcend connected lighting system - Smart and Connected SSL Technologies
Ophir Photonics
FluxGage - Tools and Tests in SSL Design
Orion Energy Systems
ISON Class LED high bay - Industrial SSL Luminaire Design
Osram Americas
Optotronic 347V linear indoor programmable LED driver - LED Drivers
Osram Americas
Optotronic linear programmable Dexal driver - LED Drivers
Osram Opto Semiconductors
Duris S 5 Color LEDs - Packaged LEDs and OLEDs
P.L. Light Systems
HortiLED MULTI fixture - Horticultural Lighting
P.L. Light Systems
HortiLED TOP fixture - Horticultural Lighting
United Power Research Technology
UPRtek MF250N Flicker Meter - Tools and Tests in SSL Design
Venntis Technologies
Precision scattering optic - SSL Enabling Technologies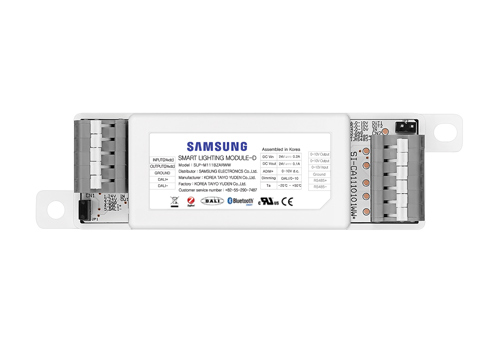 ---
3.75
Cree
Cree HXB Series LED high-bay luminaire - Industrial SSL Luminaire Design
Eaton
Distributed Low-Voltage Power (DLVP) System - Smart and Connected SSL Technologies
Eaton
Metalux WSL Linear WaveStream LED luminaire - Indoor Troffer, Linear, and Recessed SSL Luminaire Design
Echelon
Power Line Lighting Controller - Smart and Connected SSL Technologies
Elemental LED
Hydrolume 24V LED striplight - Outdoor Landscape and Accent SSL Luminaire Design
Energy Focus, Inc
Redcap battery-integrated emergency TLED - Linear T8 SSL Lamp Design
Enlighted
Enlighted Smart Sensors - Smart and Connected SSL Technologies
Green Creative
MR16 8.5W High CRI (8.5MR16DIM) lamp - Commercial-Quality SSL Lamp Design
Hubbell Lighting
Hubbell Outdoor Lighting Arceos ARA3 - Outdoor Street and Area SSL Luminaire Design
Infineon Technologies Americas
CDM10VXTSA1 0-10V dimming interface IC - ICs and Electronic Components for SSL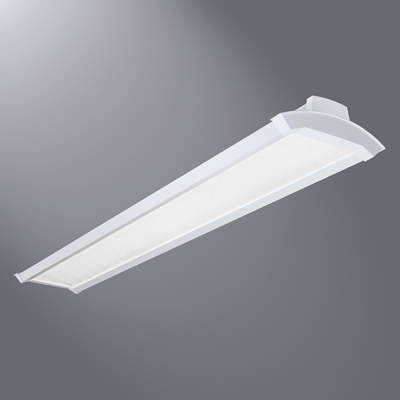 LED Engin
LZP multi-wavelength horticulture LED - Packaged LEDs and OLEDs
Lumileds
Luxeon CoB with FreshFocus technology - Packaged LEDs and OLEDs
No. Eight Lighting
400 Series LED Spotlight - Indoor Ambient, Track, and Accent SSL Luminaire Design
Phoenix Contact USA
Wind Tower Lighting System - Specialty SSL Design
Plessey Semiconductors Ltd
PLWS3000 Series Orion beam-forming module - Modular LED Light Engines
P.L. Light Systems
HortiLED INTER fixture - Horticultural Lighting
Samsung Electronics LED
LM561C S6 LED - Packaged LEDs and OLEDs
Samsung Electronics LED
Smart Lighting Module SLM-D - LED Drivers
United Power Research Technology
UPRtek MK350N Plus spectrometer - Tools and Tests in SSL Design
---
4.0
Acuity Brands
Olessence OLED- and LED-based luminaires - Indoor Troffer, Linear, and Recessed SSL Luminaire Design
Amerlux
Lunetta - Outdoor Street and Area SSL Luminaire Design
Cree
RSW LED street light - Outdoor Street and Area SSL Luminaire Design
DMF Lighting
OneFrame - DRDHNJD recessed LED downlight - Indoor Ambient, Track, and Accent SSL Luminaire Design
Eaton
Ephesus All Field LED luminaire - Outdoor Street and Area SSL Luminaire Design
eldoLED B.V.
LightShape technology on DUALdrive LED drivers - LED Drivers
Hubbell Lighting
Architectural Area Lighting KicK bollard - Outdoor Street and Area SSL Luminaire Design
Hubbell Lighting
Columbia Lighting CWW wall washer - Indoor Troffer, Linear, and Recessed SSL Luminaire Design
Hubbell Lighting
Kim Lighting ArcheType X Site/Area luminaire - Outdoor Street and Area SSL Luminaire Design
Hubbell Lighting
Kim Lighting Lightvault 8 RGBW luminaire - Outdoor Landscape and Accent SSL Luminaire Design
Khatod Optoelectronic
SIR - Silicone TIR lenses for COB LEDs - SSL Enabling Technologies
Lighting Science
Genesis DynaSpectrum - Specialty SSL Design
Linear Technology
LT3965 LED bypass switching device - ICs and Electronic Components for SSL
Lumenetix
araya5 logic module with linear and round tunable color LED arrays - Smart and Connected SSL Technologies
Lutron Electronics
Quantum Vue 3.2 software - Smart and Connected SSL Technologies
Osram Opto Semiconductors
Duris P 10 platform of LEDs - Packaged LEDs and OLEDs
Phoenix Contact USA
Tunnel Solution - Smart and Connected SSL Technologies
Tempo
HLS Aisle Lighting System - Specialty SSL Design
Vektrex
SpikeSafe performance current sources series - Tools and Tests in SSL Design
Vode Lighting
707-Z9 linear cove Lighting - Indoor Troffer, Linear, and Recessed SSL Luminaire Design
---
4.25
Acuity Brands
Rubik ceiling luminaires - Indoor Troffer, Linear, and Recessed SSL Luminaire Design
Axis Lighting
Sculpt accent lights - Indoor Ambient, Track, and Accent SSL Luminaire Design
Eaton
Invue Arbor LED collection - Outdoor Street and Area SSL Luminaire Design
Echelon
Lumewave PL-RF gateway - Smart and Connected SSL Technologies
Fraen Corporation
Fraen color-mixing optical zoom system - SSL Enabling Technologies
Fulham
Outdoor wireless programmable drivers - LED Drivers
Lumileds
Luxeon SunPlus Series LEDs for Horticulture - Horticultural Lighting
Unilux
LED UV inspection strobes - Specialty SSL Design
Vode Lighting
ZipTwo LED 707 linear lighting - Indoor Troffer, Linear, and Recessed SSL Luminaire Design
---
4.5
Fluxwerx
Fold linear pendant luminaire - Indoor Troffer, Linear, and Recessed SSL Luminaire Design
---
2017 PANEL OF INDUSTRY LEADERS
Maury Wright
Committee Chair/LEDs Magazine
Nancy Clanton
Clanton & Associates
Terry Clark
Finelite
Daryl DeJean
Emerging Technologies Associates
Jerry Duffy
Current, powered by GE
Austin Gelder
UL
Monica Hansen
LED Lighting Advisors
Eric Haugaard
Cree
James Highgate
The LED Show
Duncan Jackson
Billings Jackson Design
Brad Koerner
Philips Lighting
Rita Koltai
Koltai Lighting Design
Thomas Kowalczuk
Wynn Design and Development
Therese Lahaie
Apparatus Design
Dave Neal
Seoul Semiconductor
Steve Paolini
Telelumens
Charles Schrama
Lumileds
Milena Simeonova
Light4Health
Philip Smallwood
Strategies Unlimited
Robert Steele
Strategies in Light
Marissa Tucci
Tucci Lighting
Christine VanLeeuwen
Graybar
Shonika Vijay
Strategies Unlimited
Howard Yaphe
Axis Lighting