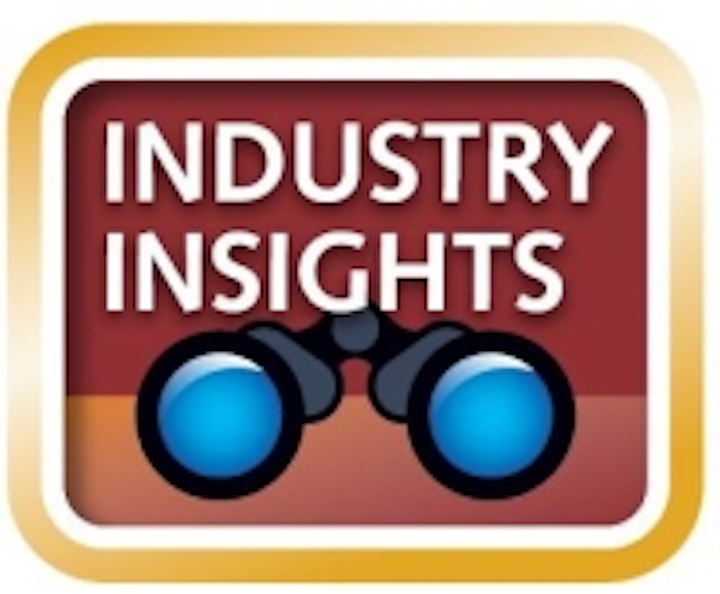 Going beyond the celebration of milestones in OLED history, speakers at Display Week delivered their prognosis for the flexible light-emitting technology and the applications it will pervade, writes SRI PERUVEMBA.
Lighting controls can no longer be 'set and forget' with IoT advancesMany of us tend to think of organic light-emitting diodes (OLEDs) as "new" technology, compared to LEDs, liquid-crystal displays (LCDs), and other display solutions. The fact is that more than 30 years have passed since the emergence of the first working OLED.
In 1987, while working at Eastman Kodak, Ching Tang and Steven Van Slyke documented their pioneering work in the world's first OLED paper, "Organic Electroluminescent Diodes". It described how their creation of the first practical OLED used a very thin multilayer structure (still employed in state-of-art OLEDs) that significantly decreased drive voltage and enabled high luminance. Since that historic day in 1987, OLED technology has been brought into the spotlight for its ability to enable high-performance image quality, thanks to its inherent extremely high contrast.
Interested in articles & announcements on OLED technology?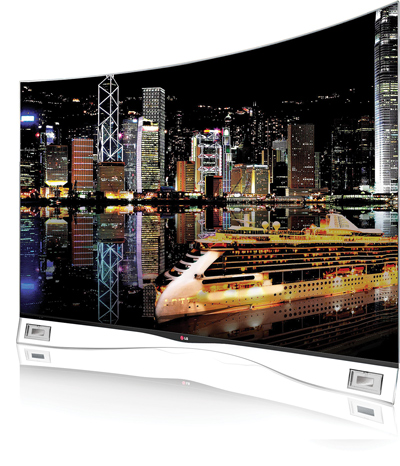 LG was the first manufacturer to bring curved OLED TVs to the market, such as this model with a 55-in., 4.3-mm-thick screen.
The accompanying infographic below provides a dateline highlighting 30 key moments in the evolution of OLEDs. As you can see, many leading organizations, including academia and major companies, have contributed to the advancement of OLED technology. In 1996, TDK Inc. was the first company to demonstrate an active-matrix OLED (AMOLED), and AMOLED is becoming a highly viable incarnation of the technology. Samsung and LG have been mass-producing OLEDs for mobile phones and TV applications; companies such as Visionox have been shipping passive-matrix OLEDs into wearable devices; and dozens of companies have begun making serious billion-dollar investments in OLED technology.
Market research firm IDTechEx has predicted that by 2020, the market for plastic and flexible AMOLED displays will approach $18 billion. Applications that will be integrating AMOLED in the future include clothing with embedded displays, augmented reality/virtual reality (AR/VR) devices, helmets, wristbands, jewelry/watches, and gaming devices. Beyond displays, OLEDs are emerging as a technology to replace conventional lighting because they are efficient, they naturally provide diffuse lighting, and they can dynamically change colors to suit the needs of the environment.
Another market that will tap into about $1 billion of overall AMOLED volume is the automotive space. Many carmakers are designing larger displays into vehicles to help support safety, internal vehicle, and infotainment systems. Some approaches include curved displays, for which AMOLEDs are ideally suited, to provide the driver with a better, less distracting viewing angle while monitoring the various functions, and displays that shift mapping and navigation from center-stack to instrument cluster (the display right in front of the driver, where the speedometer typically resides). As autonomous vehicles become available for consumer purchase, display needs will change, shifting from the current instrument cluster to the rear, where the passenger can access information and be entertained. OLED displays are also likely to play a big role during this transition.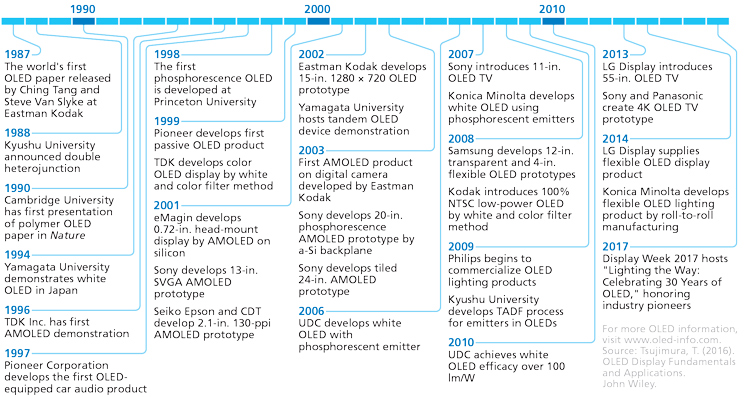 Milestones in OLED development show the transition of technology in markets from cameras to mobile displays, just to name a few.
Following the early development efforts of OLED's inventors, Kodak had continued to be a notable provider of several early OLED-equipped products. This included the EasyShare LS633, introduced in 2003 — the first AMOLED digital camera featuring a 2.2-in. display and resolution of 512×218 pixels. In addition to licensing its OLED technology to other companies, Kodak had continued to conduct research on OLEDs for lighting, displays, and other applications. In 2009, the company launched the industry's first 100% NTSC low-power product utilizing the white OLED with color filter method.
Over the past decades, we've learned OLED's promise for various applications, e.g., for use in television displays, providing an opportunity for viewers to appreciate the technology's vivid color and picture quality. Sony introduced an 11-in. OLED TV in 2007, and in 2013, LG Display rolled out a 55-in. OLED TV. LG continues to invest in OLED for its TV products, including curved, flat, and 4K screens. Another emerging application for OLEDs is transparent displays in semi-outdoor applications promoted by Samsung and Planar. Retail shop windows can be replaced with transparent displays, heightening the window shopping experience while providing information beyond conventional window cards. Providers of high-end retail goods can especially benefit from this implementation, as the entire window can be used to allow product comparison by shoppers.
Celebrating OLEDs' past — and future
This past May at the annual Display Week conference and exhibition, OLED industry pioneers were recognized as part of a special event titled "Lighting the Way: Celebrating 30 Years of OLED." Speakers looked back at the discovery of OLED technology and how it's been deployed in a variety of environments — and also looked ahead to the future of OLEDs. Today, we are on the cusp of seeing foldable and flexible mobile displays for both traditional and newer applications — in particular, AR and VR. New forms of lighting are also being enabled by OLED thanks to improved manufacturing methods being developed by many SID member companies and experts. And wearables will continue to evolve in size, form, and flexibility.
Following opening remarks from Dr. Yong-Seog Kim, SID president Dr. Ching Tang took the podium. Widely considered the father of the OLED industry, Tang discussed his legendary role in the discovery of OLED technology with characteristic humility. "OLED is my life, to say the least," he said at the start of his talk, going on to acknowledge that thousands of engineers have worked on the advancements that turned OLED into real products and not merely a 30-year-old invention, making the event a celebration for "all of us" — the industry as a whole.
Tang's work in the OLED space actually began in the late 1970s, and he was awarded the first patent in the technology in 1982. Back then, his efforts with Steve Van Slyke while both were at Eastman Kodak had been focused initially on solar cell technology leveraging organic electroluminescent material, and in the process of these efforts, they essentially discovered OLED by accident. Fundamentally, at least 50% of what is done with OLED today still stems from that early work. Tang went on to recap the succession of OLED developments pursued by various industry experts over the years, including molecular structure advancements, the evolution of passive and active matrices, and dye-transfer patterning. He noted that today's OLEDs, 30 years in the making, continue to make inroads against LCD technology. Tang's belief is that OLEDs will eclipse LCDs in the next 5–10 years.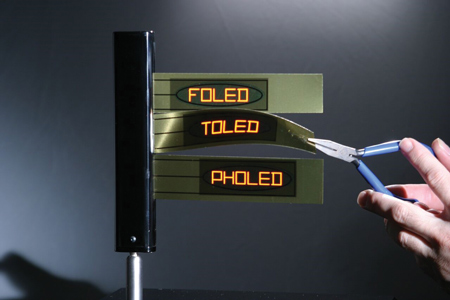 Phosphorescent OLED (PHOLED) is just one of the advanced OLED technologies that UDC is pursuing. The others, as shown here, include flexible OLED (FOLED) and transparent OLED (TOLED), which uses transparent electrodes and light-emitting materials in an OLED.
Following Tang's keynote, the next three presenters touched on various OLED applications and technologies. Dr. Junji Kido, SID Fellow and professor in the department of organic device engineering at Yamagata University, gave insight into how white OLEDs are being implemented for life space technologies — or what we would think of as everyday environments. This is a key area of expertise for Kido, as he invented the first white OLED in 1993, and helped start the first OLED lighting company, Lumiotec, in 2008. After ongoing development efforts, the devices entered production in 2011.
Today, noted Kido, white OLED lighting is used in such wide-ranging locations as retail stores, hotels, restaurants, and professional settings such as office buildings. Tomorrow, who knows? As humankind has evolved, so have our sources of light and the ways in which we use it. As lighting, TV, and telephone technologies continue to converge, we will see a fusion into something new which no one has yet envisioned.
PHOLEDs and AMOLEDs
Up next after Dr. Kido was Dr. Julie Brown, senior vice president and CTO of Universal Display Corp. Brown, who also participated in the first-ever Women in Tech panel at Display Week, provided an overview of the evolution of phosphorescent OLEDs (PHOLEDs). The initial R&D efforts in this area were pursued in 1997 by researchers at Princeton University and the University of Southern California — making 2017 the 20th anniversary of PHOLED technology development as well. By the mid-2000s, red PHOLEDs had become a commercial standard, used in the manufacture of displays for flip phones and digital cameras. "Target specifications drove us to next focus on achieving high efficiency and low voltage at increasing luminance levels," Brown said. This work dominated much of the development effort through 2009, with lifetimes and power reduction for both red and green PHOLEDs improving significantly over time. Deep- and light-blue PHOLEDs are next on the horizon, Brown indicated, with the goal of driving AMOLEDs to new heights, even as UDC pursues a variety of OLED avenues.
Picking up this thread, Dr. Gopelan Rajeswaran, SID fellow and CEO of Grantwood Technologies, gave attendees insight into AMOLED development milestones and where the technology stands today. The first commercial AMOLED displays hit the market in 2002–2003, and, following efforts to improve yields, the first low-temperature polysilicon (LTPS) AMOLEDs became available by 2007.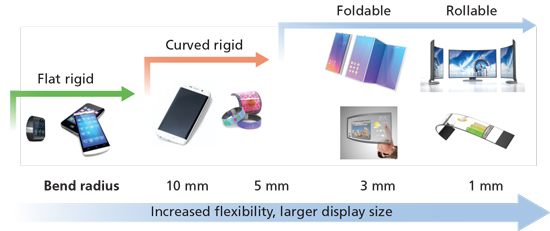 The projected roadmap for OLED displays is headed toward greater flexibility and rollability. (Image credit: Kateeva.)
The next key milestone, said Rajeswaran, was the invention of tandem OLED stacks with organic connectors, which offered an alternative pathway for large-area AMOLED displays with white OLED and RGBW color filters. As mentioned earlier in this article, a number of key opportunities for AMOLED exist, but, as Rajeswaran concluded, some remaining development challenges must be addressed. These include developing different AMOLED technology platforms for small- and large-size applications, as well as closing the market gap by inserting AMOLED displays into medium-size applications; lowering production costs by increasing materials utilization, omitting scaling limitations, and achieving cost parity with LCDs; and improving the lifetime performance of OLED devices.The final presenter on the agenda was Dr. Chris Brown, who recently became VP of products at Kyulux, a maker of hyperfluorescence thermally activated delayed fluorescence (TADF) materials. Chris Brown's entertaining presentation, a true look back at OLED's history — with a tempting peek forward — began by delving into some of the early materials development that formed the foundation for OLEDs, a veritable element soup that included AlQ3, ZnQ2, GaQ3, InQ3, and MgAg, to name a few. As work continued to optimize the performance of the OLED devices invented by Ching Tang and Steve Van Slyke while they were at Eastman Kodak, a critical moment occurred in 1998: Pioneer became the first licensee of Kodak OLED technology and the first to commercialize products with OLED displays.
Today, thanks to these efforts, plus those of such companies as Samsung, Sony, LG, Visionox, eMagin, and others, the third wave of displays has arrived, with OLED playing a prominent role. Chris Brown noted that the roadmap for flexible OLEDs points to the emergence of foldable, rollable displays. The bottom line, he concluded, is that LCD cannot keep up with mobile OLED cost reduction. Already, the manufacturing cost for rigid OLED smartphones has fallen below LCD manufacturing costs, and it is anticipated that flexible will soon follow. OLED adoption in smartphones will reach more than 70% by 2020, and this will likely also occur in laptops, tablets, and TVs with subsequently more rapid OLED market share growth. At the reception following the event, presenters and attendees alike agreed that, as Kido concluded, any way you look at it, it's an exciting time for the OLED business.
---
SRI PERUVEMBA is board director and chair of marketing for the Society for Information Display (sid.org).