Lighting industry leaders prepare to select 2nd Annual Sapphire Awards winners (UPDATED)
Jan 7th, 2016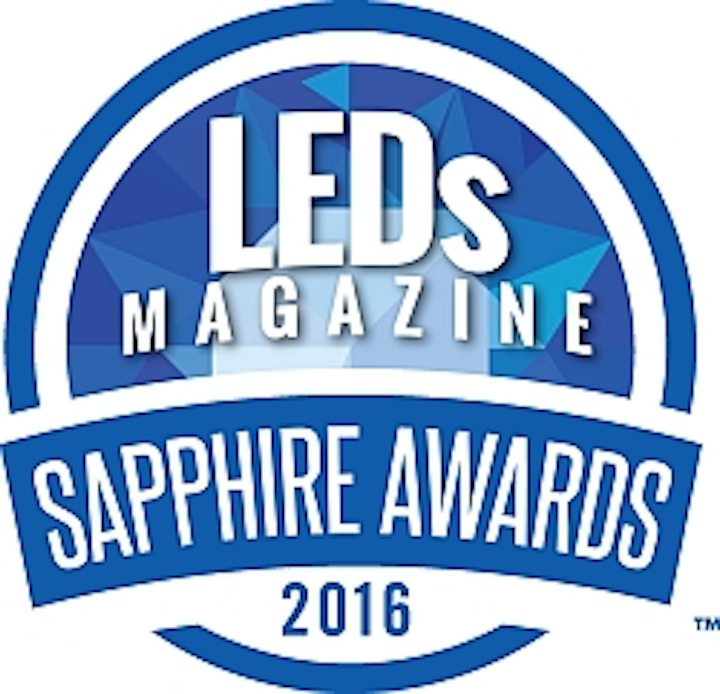 Nashua, NH - Last September, LEDs Magazine announced the names of the judges selected to deliberate and decide the finalists for the 2016 Sapphire Awards. The judging process is nearly complete, but it is no easy task to evaluate and rank 100 competitive submissions from the top companies for the best enabling technologies and lighting innovations. The independent judging panel, made up of 19 established leaders and authorities from various LED and lighting disciplines, decide what is considered excellence within the solid-state lighting industry, and they take their job very seriously.
Winners will be revealed at the Second Annual Sapphire Awards Gala Dinner on Wednesday, March 2, 2016, at the Santa Clara Convention Center in Santa Clara, CA.
Get the latest Sapphire Awards program and Gala details

"With its well-attended Sapphire Awards Gala and companion conference: Strategies in Light co-located with The LED Show, we are helping to build a culture of innovation within the lighting industry by recognizing innovators and rewarding them for the value they are adding to our industry. By showcasing cutting-edge designs and product solutions, we are positioning companies for the future. We consider the ground-breaking conference, light show, and gala valuable resources to everyone in the industry," said LEDs Magazine Publisher Christine Shaw.
SLIDESHOW: LEDs Magazine Sapphire Awards finalists in technology & application categories
More details on this year's esteemed judging panel:
Derry Berrigan, Chief Innovation Officer, Light Think Studios, Inc., and chair of Light Think University. Derry is an internationally recognized architectural LED lighting designer working in spaces such as restaurants, retail shops, office buildings and universities. She has led strategic client relationships with Fortune 500 companies including McDonald's, Wal-Mart, Bank of America, and YUM! Brands. Her work with Light Think University brings student teams together with lighting industry leaders to design wide-ranging room environments using lighting anthropology, leading-edge solid-state lighting and controls technologies. Her goal is to bring the art of light to everyday spaces, changing how light is perceived and valued.
Ray Chock, Senior Director of Segment Marketing, Lumileds, has worked in the optoelectronics industry for over 15 years. He is responsible for driving new business opportunities and establishing the product requirements for emerging applications. Prior to joining Lumileds, Chock held various executive management and business development positions at Hewlett-Packard, Sharp and Zilog. He holds a BS in Electrical Engineering from the University of California at Davis.
Nancy E. Clanton, Founder and President, Clanton & Associates Inc. Nancy is a member of the National Science Foundation committee on solid-state lighting, chairperson of the IES Outdoor Environmental Lighting and Mesopic Committees, IES/IDA Model Lighting Ordinance joint task force. She is a past member of the Board of Directors of the International Dark Sky Association, International Association of Lighting Designers and the Illuminating Engineering Society. Nancy is currently on the USGBC LEED Environmental Quality Technical Advisory Group and is a LEED Fellow.
Terry Clark, Founder & Chairman, Finelite, Inc. After spending 20-years with high-tech firms including Teradyne and Intel, Terry Clark founded Finelite, Inc, a provider of energy-efficient lighting systems for schools and offices. Since 1991, Finelite has grown to become one of the largest independent fluorescent and LED luminaire manufacturers in North America. The Wall Street Journal recently selected Finelite as one of the top 35 small workplaces in the US.
Monica Hansen, SSL Consultant, LED Lighting Advisors. Monica has worked in the LED industry for more than 15 years. Currently, she owns LED Lighting Advisors, a consulting firm providing technical and market expertise focused on the LED lighting industry. Monica has authored and co-authored numerous scientific, peer-reviewed articles related to GaN semiconductors. She is an inventor on a number of US and foreign patents related to GaN-based LED and laser diode device design. Monica holds a Ph.D. from the University of California Santa Barbara (UCSB) in Materials.
James Highgate, Director of LED Lighting Technology, PennWell. James has deep knowledge and expertise in lighting and solid-state technology. He created "The LED Show" - an Internationally recognized Tradeshow and Conference and is an ongoing consultant to PennWell with conference creation and public speaking.
Duncan Jackson, Partner, Billings Jackson Design. Duncan founded Billings Jackson Design with Eoin Billings in 1992 to bring design and manufacture closer together in the development of products and systems for the built environment. This 'Applied Industrial Design' runs from strategy through production to delivery, enhancing the quality of products and providing manufacturers with a clear route to market. Duncan opened a New York office in 2005 and is now based in the third office, in Chicago.
Brad Koerner, Director of Experience Design, Philips Lighting. Brad's passion is enriching people's lives through lighting. In doing so, Brad has become a creative leader in the synthesis and application of advanced lighting technologies, an entrepreneurial project leader, a seasoned product marketing manager and an award-winning lighting designer. Brad is currently the General Manager of Luminous Patterns, a new venture within Philips Lighting.
Therese Lahaie, Apparatus Design. Therese conducts technical training presentations that give designers fluency in the most current LED lighting terminology using LED lighting product demonstrations. She has presented to over 3,000 lighting specifiers and provides detailed contact information for her clients. Therese managed the custom lighting design departments at Translite Sonoma and Morrison Lighting. In that role, she worked with top specifiers in the major US markets to translate their design concepts into finished products.
Dave Neal Director of Applications Engineering for Seoul Semiconductor. Dave leads applications efforts in the North American general illumination customer base. He has more than 20 years of experience in engineering design and applications support in the semiconductor industry and has been working in the LED and solid-state lighting industry since 2001. Prior to joining Seoul Semiconductor North America, he held design, application, and management positions at Avnet Electronics Marketing, Lockheed Martin, and GE.
Steve Paolini, Chief Executive Officer, Telelumen LLC. Steve Paolini joined Hewlett-Packard Optoelectronics Division in 1981 after earning a degree in electrical engineering from the Pennsylvania State University. There he held a variety of engineering and management positions in California, Japan, and Malaysia. In 2007, he founded Telelumen LLC to focus on the recording and playback of light. He became the CTO at Lunera Lighting Inc. in 2009 and joined NEXT Lighting Corp. in 2012 as the CTO. He is a frequent speaker at conferences and workshops on a variety of topics relating to solid-state lighting and has been issued nine patents.
Stephanie Pruitt, Senior Lighting Analyst, Strategies Unlimited. Stephanie is a senior analyst for packaged LEDs, modules, and light engines research at Strategies Unlimited. She was previously the lead lighting analyst at IHS where she worked on the global lamp and luminaire research as well as the LED driver IC research. She completed her Bachelors of Science in Pure Mathematics from Kent State University.


Milena Simeonova, Consultant, LightinG4Health. Milena Simeonova is an architect and lighting designer whose consulting practice specializes in the intersection of design, technology, and human factors in lighting. She has a Master of Architecture and a Master of Science in Lighting from the Lighting Research Center.
Philip Smallwood, Director of LED & Lighting Research, Strategies Unlimited. Philip Smallwood is the Research Director for the LEDs and Lighting Group at Strategies Unlimited, where he oversees the creation and completion of the group's market research reports and is the author of several of the group's worldwide lighting reports. He has been invited to speak at several lighting and LED events in the US and Europe and was quoted in several international periodicals, including The Economist, The New York Times, and The Wall Street Journal.
Robert Steele, Consultant, Strategies Unlimited. Dr. Robert V. Steele is a consultant for Strategies Unlimited and PennWell. He retired in March 2010 as the Director of the LED Practice at Strategies Unlimited, where he had been responsible for all of the company's activities in the area of LED market research and consulting since 1994. He is currently the co-chair of Strategies in Light Europe and has also chaired Strategies in Light conferences in Japan and China. He has written regularly for industry publications on high-brightness LED markets and applications and has given invited presentations at major conferences around the world.
Shonika Vijay, Sr. Lighting Analyst, Strategies Unlimited. Shonika is a lighting analyst at Strategies Unlimited, specializing in the outdoor and replacement LED markets. Before her time at Strategies Unlimited, she was a consultant in energy efficiency with ADM Associates and DNV KEMA. She conducted evaluation, measurement and verification for utility and state-sponsored energy efficiency programs and studies. She completed her Bachelors in Engineering from University of Davis, California.
Stan Walerczyk, Principal, Lighting Wizards. Stan has 27 years experience in almost every aspect of lighting. He has presented 1000 seminars and written 100 articles and white papers. His current certifications are CLEP and HCLP. He allowed his LC to expire in 2014. He is chair of the Human Centric Lighting Committee. He also wrote the book 'Lighting & Controls: Transitioning To The Future.'


Maury Wright, Editor-in-Chief, LEDs Magazine. Maury is an electronics engineer turned technology journalist, who has focused specifically on the LED and lighting industry for the past five years. He has broad experience in technology areas ranging from microprocessors to digital media to wireless networks, which he gained over 30 years in the trade press. Maury has experience running global editorial operations and has been instrumental in launching publication websites going back to the earliest days of the Internet. Maury has won numerous industry awards including multiple ASBPE national awards.


Howard Yaphe, CEO, Axis Lighting. Howard is an outstanding and experienced lighting industry executive. He began his lighting career as General Manager of the CFI Fluorescent operation, rising to Senior Vice President of Manufacturing and Product Development of Canlyte. Recently, Howard led the Philips North America Research and development effort for LED luminaire technologies in Office, Industry and Healthcare segments. Howard Yaphe holds a Bachelor of Mechanical Engineering degree from McGill University and a Master of Business Administration from The University of Western Ontario. He is a member of the Illuminating Engineering Society of North America and the American Society of Heating, Refrigerating, and Air Conditioning Engineers.
About LEDs Magazine
LEDs Magazine is the leading information resource for the global LED and lighting community, serving thousands of readers that specify, design, and manufacture LED-based products for a wide range of end-use applications. Its key value proposition is to offer well-written, unbiased, and informative editorial content to more than 63,000 subscribers. LEDs Magazine provides news and product information on a daily basis in combination with in-depth technical articles, analysis, and case studies. For additional information about LEDs Magazine, visit www.ledsmagazine.com
About PennWell Corporation
PennWell Corporation is a privately held and highly diversified business-to-business media and information company that provides quality content and integrated marketing solutions for the following industries: Oil and gas, electric power generation and delivery, hydropower, renewable energy, water and wastewater treatment, waste management, electronics, semiconductor manufacturing, optoelectronics, fiber-optics, aerospace and avionics, LEDs and lighting, fire and emergency services, public safety, and dental. PennWell publishes over 130 print and online magazines and newsletters, conducts 60 conferences and exhibitions on six continents, and has an extensive offering of books, maps, websites, research and database services. In addition to PennWell's headquarters in Tulsa, Oklahoma, the Company has major offices in Nashua, New Hampshire; London, England; Houston, Texas; San Diego and Mountain View, California; Fairlawn, New Jersey; Moscow, Russia; and Hong Kong, China. For additional information about PennWell Corporation, visit www.pennwell.com.
About LEDs Magazine Sapphire Awards
The LEDs Magazine Sapphire Awards is the first awards program in the lighting industry to focus on the LED-based solid-state lighting (SSL) market from an enabling-technology and elegance-of-design perspective. The judging process, handled by independent industry experts, culminates in an Awards Gala held at Strategies in Light and The LED Show, which puts the spotlight on winners in multiple product categories, as well as an individual or team honored as Illumineer of the Year for an especially noteworthy development in the LED-centric sector. For more information, including the full list of 2015 Sapphire Award winners, visit www.ledsmagazine.com/sapphireawards.
Contact:

Kim Ayer, Marketing Manager - LEDs Magazine Sapphire Awards
+1-603-891-9204
E-mail:

Web site:

ledsmagazine.com/sapphireawards

Submit new products, case studies/projects, and other press releases at http://www.ledsmagazine.com/content/leds/en/addcontent.html.

More from LEDs Magazine Sapphire Awards:
LEDs Magazine Sapphire Awards announces judging panel for second annual event in 2016
LEDs Magazine announces second annual Sapphire Awards ceremony and Gala