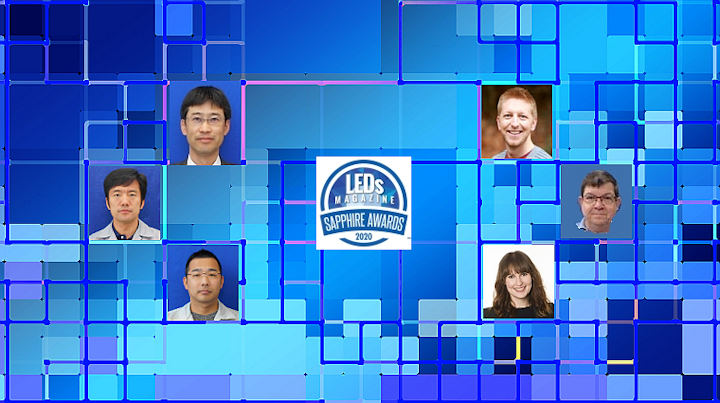 Riding the wave of the breaking 2020 LEDs Magazine Sapphire Awards technology shortlist news, the LED and Lighting Network team is pleased to announce the finalists for the Illumineer of the Year award.
Illumineer of the Year submissions are individuals or teams nominated by colleagues to bring attention to groundbreaking efforts in research & development (R&D), product design, and leadership in applying engineering expertise to commercial successes in the LED and solid-state lighting (SSL) industry. Innovation lies at the heart of every nomination, along with a passion to exceed performance expectations and drive SSL capabilities into new applications or form factors. Nominees are evaluated based on the perceived level of viability and impact their contributions have made or will continue to make on the growth prospects of LED and SSL as a technology market.
The technology and Illumineer finalists will be recognized at the Sapphire Awards reception aboard the USS Midway Museum in San Diego, on Feb. 12, 2020, during the week of Strategies in Light. This year's celebration will begin at 7:30 PM with tapas and cocktails, and the awards will be presented from 8:00–9:00 PM, with time for additional networking and exploring after the ceremony concludes. The USS Midway presents an interesting historical venue with its many exhibits. Purchase your tickets to join us on the flight deck via the Sapphire Awards website.
Illumineer of the Year finalists

Shinya Matsuda, manager, Lighting LED Development Engineering; Naofumi Sumitani, manager, Lighting & Automotive LED Development; and Koji Kajikawa, manager, Phosphor R&D Center — Nichia Corporation

Karin Dankis, director, Product Management and Engineering — Heliospectra

Kory Liszt and Bob Rogers, Software Engineering Managers — Cree Lighting
The Illumineer entries describe the nominees' achievements in advancing LED and SSL technology, developing scientific expertise that contributes to commercialization, and/or expanding applications. Applicants had the following to say about each of the Illumineer nominations [Editor's note: All summaries edited for brevity and clarity].
Nichia

Nichia has recently developed and introduced several innovative LED technologies to further advance quality of light, including Optisolis, Vitasolis, and the groundbreaking single-LES [light-emitting surface] tunable 757 LED. Three of Nichia's engineering leaders were essential in driving the development of these technologies: Mr. Shinya Matsuda, Mr. Naofumi Sumitani, and Mr. Koji Kajikawa. With more than 50+ years of phosphor expertise, Matsuda-san's, Sumitani-san's, and Kajikawa-san's teams spent the last four years focusing on creating a spectrum that optimally reproduces natural light. The Optisolis spectrum addresses all wavelengths and is the first LED to guarantee a minimum on every R value (R1 through R15 > 90). It demonstrates a very strong R12 (blue) through an optimized cyan phosphor. Vitasolis' unique spectral characteristics are intended to help increase vitality and productivity. An increase in the cyan helps match the circadian response curve and suppress melatonin levels. This also helps the overall health of human eyes, especially in elderly people. Additionally, Vitasolis offers a broader spectrum of light to assist in reducing eye tiredness. Nichia's 2-in-1 solution incorporates a unique phosphor and manufacturing process to integrate both CCTs within the same LES. This allows circuit boards and secondary optics to be thinner, lighter, and less bulky. — Submitted by Erik Swenson, Nichia Corporation
Heliospectra

The LED lighting system solutions that Karin has been the driver of [are] centered around two driving factors to offer an unprecedented amount of customer installation possibilities and satisfaction: simplicity and modularity. The two latest platform series from Heliospectra, the SIERA — a lightweight, minimal installation time lightbar with a centralized power supply supporting several bars, and the MITRA — a fully modular, high-efficacy toplighting system designed for both vertical farming and greenhouse growing, are built off of the concept that "less is more." The design approach of bringing in direct customer needs, plant growth knowledge base, and industrial design [which] has been brought to the horticulture lighting system has offered a different way of looking at investing in an LED lighting system for many growers. — Submitted by Ulrika Sandford, Heliospectra AB
Cree Lighting

Kory Liszt and Bob Rogers led the software development for the Cadiant dynamic skylight, which is an LED daylighting solution that delivers the dynamic, sensory experience of being under a natural sky. Using advanced lighting control and color-changing technology, separate sun and sky panels recreate the East-to-West arc of the sun, creating a natural connection to the rhythm of the day. Cadiant uses SmartCast Technology advanced lighting controls to interact and connect with other fixtures in a space, creating a virtually limitless range of scene-setting options tuned to user preferences, events or tasks. An intuitive SmartCast wall-mounted touchscreen provides fingertip control over multiple Cadiant dynamic skylights with both standard presets — Dawn, Morning, Midday, Afternoon, and Evening — and manual control for a complete lighting experience that is designed solely for the people in the space. For architects, lighting designers and specifiers seeking the visual impact and benefits of natural light, the Cadiant dynamic lighting uxperience can be installed anywhere you'd like the visual impact and human benefits of a real skylight without the associated high costs or construction limitations. — Submitted by Jeff Hungartner, Cree Lighting
LEDs Magazine's Sapphire Awards program was launched in 2014 to recognize achievements in the LED and SSL sectors, representing technologies and people driving LED technology forward and revolutionizing the lighting industry. Past Illumineer of the Year award recipients include:
Follow us on Twitter, Facebook, and LinkedIn for more Sapphire Awards updates, reception announcements, and the winners reveal!