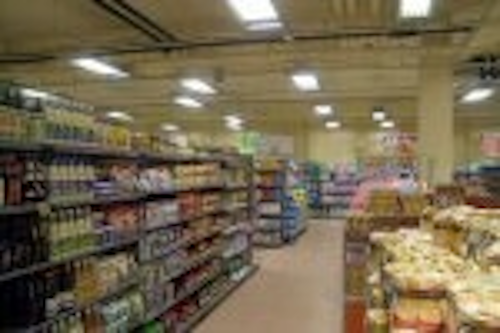 In what is thought to be a unique project, the 829 square metre Migros shop in Eschenbach near Rapperswil, Switzerland, has used LED lighting technology throughout the entire store.
Basic lighting and accent lighting has been implemented using fixtures from SE Lightmanagement that contain Golden Dragon LEDs from Osram. Sales units, such as refrigerated display cases and deep-freeze units, will be also be illuminated with LEDs.
The absence of UV and IR light and heat radiation makes LED lighting particularly suitable for products that are sensitive to heat and light, such as milk, meat, vegetables, fruit, and vacuum-packed goods. The result is a massive reduction in wastage of goods.
Other advantages include reduced energy and air conditioning requirements, lower maintenance costs and long lifetime without bulb replacement.
The special flat design of the lamps lends a somewhat futuristic look, and the light is fresh and invigorating and makes the presentation of goods particularly effective.
Migros is attracted by the instant start capability of the LED fixtures, even at low temperatures, as well as the positive environmental aspects of systems containing no mercury or lead.
Migros is now considering whether this technology could be introduced to other markets.