Philips Lighting has opened the LED-centric GrowWise Center in Eindhoven to study light recipes for plant growth while Purdue University has conducted research on using LEDs to cultivate plants during deep-space missions.
The Philips GrowWise City Farming research center in Eindhoven, the Netherlands has opened for research into increasing agricultural yields using LED horticultural lighting in precise mixes or recipes of color and intensity. Purdue University, meanwhile, has announced the results of a research project growing lettuce in tight vertical layers with LEDs placed near the plant canopy to model what might be the tight space that astronauts experience on deep-space missions such as a trip to Mars.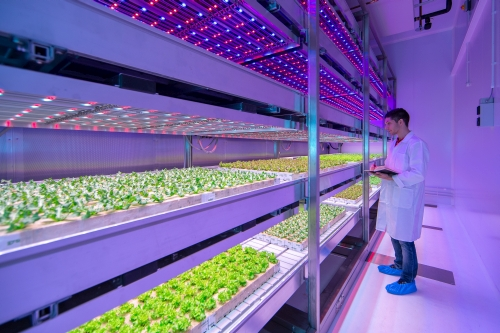 LED horticultural lighting: Philips GrowWise Center and Purdue studies space
Philips High Tech Campus
The GrowWise Center is a 234-m2 facility located at the Philips High Tech Campus in Eindhoven and will concentrate research on growing leafy vegetables, strawberries, and herbs using artificial LED horticultural lighting. The center will also try and find ways to grow wheat, potatoes, and other carbohydrate-rich crops indoors.
Philips is just one of several large LED and solid-state lighting (SSL) companies studying the use of LEDs in horticulture. We recently published a feature article covering new work from Osram, Hubbell Lighting, LumiGrow, and others.

Philips has also long worked in the horticultural area, for example, with commercial Green Sense Farms in the US Midwest. The new research center, however, will give Philips researchers a dedicated laboratory to study light-growth recipes to speed and optimize plant yield in year-round indoor gardens.
"This new GrowWise City Farming research center aims to take city farming to the next level, with Philips scientists leading research into LED light recipes for vegetable and cereal production," said Gus van der Feltz, Philips global director of City Farming. "Our aim is to develop the technology that makes it possible to grow tasty, healthy, and sustainable food virtually anywhere. The research we are undertaking will enable local food production on a global scale, reducing waste, limiting food miles, and using practically no land or water."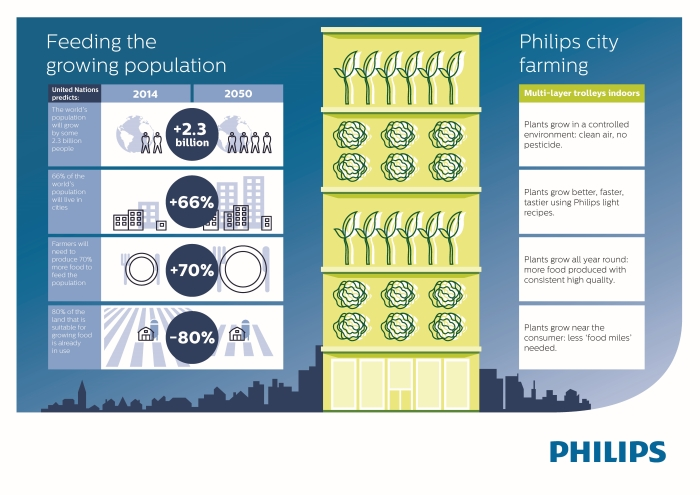 Indeed, Philips hopes to address all aspects of horticulture ranging from the impact of farming operations on the planet to the possibility of reducing water usage to how far food travels from "farm to fork." At the same time, the move toward indoor localized commercial farms is seen by many as the only way for the world to feed a growing population base that is projected to increase by 2.3 billion in 2050, with 66% of the global population residing in cities.
The GrowWise facility includes eight climate-controlled rooms that are isolated from natural light and the outside environment, enabling farming with no pesticides. Each room is equipped with four layered planting racks with motorized control that can move the plants and LED horticultural lighting relative to one another. The Philips Lighting GreenPower SSL systems installed above each rack include blue, red, and far-red LEDs in various mixes along with white lighting for harvesting and research purposes. The LEDs generate no heat and can be located near the plat canopies while also consuming far less energy that other types of horticultural lighting.
Related article: Stakeholders make progress on LED lighting horticulture standards
Locating the GrowWise facility in Eindhoven places the horticultural researchers in close proximity to a vibrant scientific community. The High Tech Campus houses 10,000 researchers from more than 135 companies working on a broad variety of projects.
SSL and horticulture in space
Moving to a study in space, LED horticultural lighting may be the only option for astronauts to grow fresh vegetables, and indeed survive, during long-term missions. Purdue University professor of horticulture Cary Mitchell has led a research project growing lettuce in conditions that might be similar to those on a cramped spacecraft.

The research notes that a trip to Mars would require 1000 days or more, as well as more food and water than current space vehicles could carry. Crews manning such missions, including a potential stay on Mars, or even the moon, would need to grow their own food.
LEDs Magazine has announced its one-day Horticultural Lighting Conference! Visit horticulturelightingconference.com
to learn more.
"Everything on Earth is ultimately driven by sunlight and photosynthesis," said Mitchell. "The question is how we can replicate that in space. If you have to generate your own light with limited energy resources, targeted LED lighting is your best option. We're no longer stuck in the era of high-power lighting and large, hot, fragile lamps."
The Purdue work used a mix of 95% red and 5% blue LEDs placed immediately above the canopy of the lettuce. The work indicates that specially engineered LED horticultural lighting is effective in producing lettuce using 90% less energy than legacy sources and even 50% less energy than broad-spectrum LED lighting.
"If we can design a more energy-efficient system, we can grow vegetables for consumption for longer space travel," said Lucie Poulet, a masters-degree student that worked on the project. "I can imagine a greenhouse on the moon."
Next, Mitchell will lead further research in optimizing the light recipe. The objective will be identifying when to increase or decrease lighting relative to plant growth stage to maximize yield relative to energy used.
Purdue has been at the center of a number of LED-centric horticulture projects. Mitchell previously led research looking at optimized artificial lighting for tomato growth.