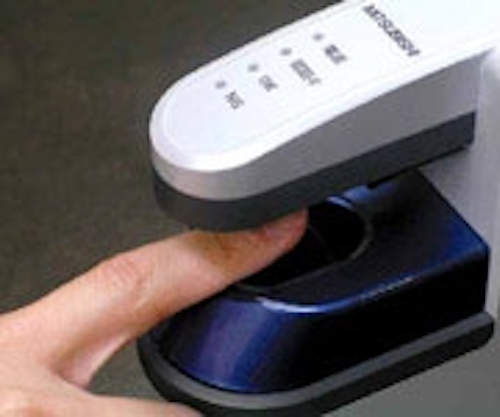 LED fingerprint reader avoids skin contact
Mitsubishi Electric Corp has made the world's first scanning device that reads fingerprints without touching the skin.
The new scanner uses light from a red LED to read fingerprint patterns under the surface of the skin. In some cases, physical fingerprint readers are unable to take an accurate print when the subject's skin is rough, wrinkled or covered in perspiration.
In the new LED device, the user places a finger in the reader with the nail facing up. A light scans through the finger and analyzes the convex and concave patterns of the skin layer below the surface.
The device, which will hit the market this autumn, could be used to enhance security measures at financial institutions and airports. Financial institutions, eager to find ways to circumvent thefts of personal data and cash, are anxious to find devices like the Mitsubishi Electric reader to provide better identification at ATMs.
The fingerprint reader, including software, will be priced at about 100,000 yen ($950) or less, company officials said.
Source: The Asahi Shimbun
Cosmo Plant unveils tricolor LED-based vegetable growing system
Cosmo Plant Co. has developed an automated system for cultivating vegetables through the combined use of red, blue and green LEDs, which it claims helps grow leafy vegetables of superior quality.
The system will be used at an industrial park in Iwate Prefecture beginning in July this year to grow lettuce and baby leaf vegetables for sale in the Tokyo metropolitan area. The site for the facility measures 731 sq. meters.
Until now, Cosmo Plant has used systems that shine red LEDs on vegetables around the clock in five locations across the country because the light's wavelength of 640-690 nanometers assists photosynthesis and helps grow crops about four times faster.
But Cosmo Plant has concluded that the use of blue and green LEDs is also necessary for growing reddish leafy vegetables, flowers and fruit.
Source: Nikkei Net (www.nni.nikkei.co.jp)
Mitsubishi Electric builds innovation into fridges
Even fridges now use LEDs. The latest refrigerator models released by Mitsubishi Electric Corp. in Japan feature a new function that increases the amount of vitamin C in stored vegetables.
The new models include an LED with a wavelength of 590nm, a frequency that promotes photosynthesis in vegetables and increases the vitamin C level.
"The LED increases vitamin C in vegetables by 10% from the time the consumer purchases them," a Mitsubishi official said. This means the LED allows vegetables to retain 50% more vitamin C than possible in the company's previous models, given that vegetables gradually lose their nutrient value in an ordinary fridge, the official said.
Source: Nikkei Net (www.nni.nikkei.co.jp)