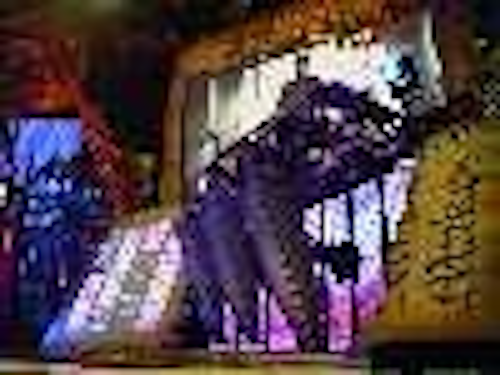 An increasing popular backdrop for entertainment applications is the use of an array of LED-backlit tiles, each acting as a single pixel to display video or still imagery. The Versa™ TILE from Element Labs uses 10 x10 cm tiles that can be arranged like building blocks, and is available in 5x5 or 10x10 panels (25 and 100 tiles, respectively), with a brightness of 350 nits (cd/m
2
).
At the 2004 MTV Movie Awards, located right behind where the bronze popcorn awards were presented, a set of sixty-one 5x5 panels provided a backdrop for the winners of awards such as Best Villain, Best Kiss, Best Fight and Best Dance Sequence.
Lighting designer Allen Branton chose two or three generic backgrounds that provided animated video life in the background behind the movie stars.
Branton previously used the tiles on the Super Bowl halftime show, during which viewers were titillated by a certain "wardrobe malfunction" and similarly dazzled with the images portrayed by 76 Versa TILE units.
"The first time I saw them, I was expecting a really chunky, pixilated image - which it does do," says Branton. "But there were certain animated effects used that were surprisingly organic looking. If you ran the right image at the right speed, it all just melted together and you stopped really noticing the pixels. They've really got a lot of potential and they're economical - especially compared to LED screens."
"The fact that you can take the little squares and stick them in the nooks and crannies of your scenic design and see these living images in places where they normally wouldn't fit is great because there wouldn't be any way to project this much life into these corners otherwise."
Versa TILE's were also used on a recent concert tour by rising country music stars Rascal Flatts. As the opening act, the band had less performance time and usually less stage and overhead rig access, so the convenience of using the Versa TILE system was highly attractive.
"We went with the Versa TILE system because it was much more cost-effective [than a regular LED display], it was lighter weight, it required less power and it was easily mounted into the set," says set designer Mike Swinford. "It also offers a different look - something that was a little bit more unexpected."