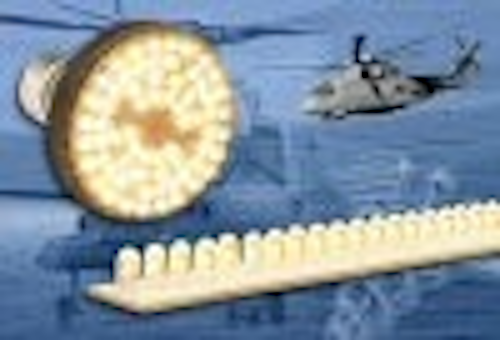 An LED solution was chosen, based on previous experience of replacing a halogen bulb in the swing-arm task light above the examination table, in which the light fixture was too hot for medical personnel to reposition it when necessary.
A PAR20 lamp from LEDtronics was chosen, containing sixty-six 5mm LEDs, with an incandescent white (4500K) color with superior color-rendering ability that expedited differentiating between tissue, blood and other bodily fluids.
For the instruments table, an LEDtronics LED Light Strip was specified. At a half-inch high, this strip fitted the existing cylindrical fixture and gives off plenty of light. It features 105 narrow-beamed incandescent-white 5mm domed LEDs mounted on a 27 x 0.75 inch PCB.
The strip draws only 0.525 A while generating 2000 mcd of focused light. The directional light from LED Light Strips brightly illuminates the targeted area for optimal viewing without compromising the night vision of the rest of the helicopter's crew or, most importantly, making the light fixture hot.
The solid-state nature of the LED lights also makes them suitable to withstand the vibrations and jolts experienced on board the helicopters. Pleased with the performance of the LED PAR20 bulbs and LED Light Strips, the Danish Air Material Command purchased LED lamps to retrofit all of their new helicopters.