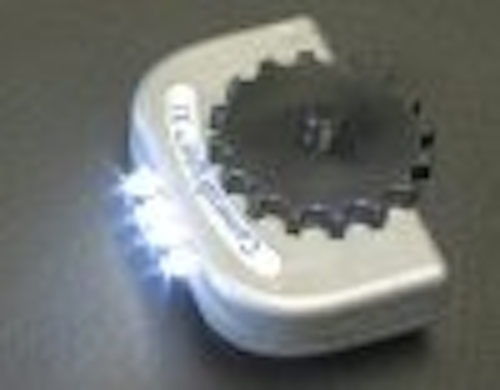 CameraBright, Inc., which develops low-cost lighting accessories for the consumer camera and camcorder industry, has selected Nichia Corp. as a key supplier of white LED lamps for its CameraBright! X1 lighting accessory.
The CameraBright! product costs $29.95 and easily attaches to the tripod mount of most cameras and camcorders. It provides a bright light source that should allow even casual photographers and videographers to achieve higher-quality shots.
The unit gives users a constant light source to enable operators to frame their pictures in the view finder or LCD preview screen before taking the picture with the camera's built-in flash. The accessory requires no technical expertise and has a single on/off switch. Additional lighting reduces the problem of red eye, to eliminate the need to spend time retouching.
The accessory's ultra-bright white LED lighting also provides an affordable solution for camcorder users, since most camcorders available today provide no built-in lighting for taking movies in low/no-light conditions.
Nichia, a leading LED supplier based in Japan, has a strong focus on developing and commercializing super high brightness LEDs, which are a critical component in the CameraBright! accessory.
"Nichia has pioneered the development of white LEDs for some time now and this type of technology is important to us as we work to provide the most effective and affordable lighting source possible," said Brett Pardikes, president and CEO of CameraBright, Inc.
"As a company, we have built our success on intellectual property and we place a high value on technological innovation. Knowing our CameraBright! X1 lighting accessory will benefit from Nichia's focus on quality, reliability and innovation is invaluable."
The compact unit, which weighs only 2 ounces with batteries and measures 2.5 by 1.5 by 0.625 inches, is small enough to leave attached to the camera. Four coin-cell batteries provide up to four hours of continuous use (about one year for the typical digital camera users).