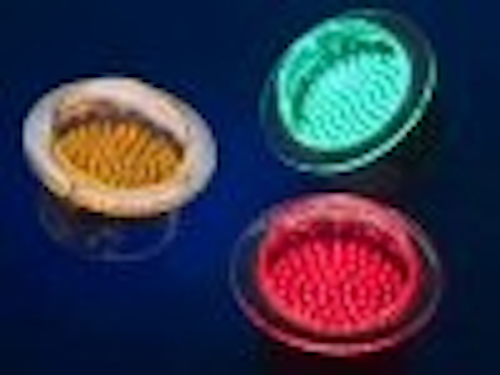 Amtrak, the US railroad operator, has been retrofitting incandescent wayside signals, highway railroad crossings and control panel lighting throughout the Northeast corridor - in Pennsylvania, New York, Delaware and Maryland - with low-voltage, long-life devices that include GELcore TR3 LED signal modules.
"LED technology has been a great improvement in railway signaling," says Paul Lockard, manager of Amtrak's C&S Repair Shop. "LEDs provide improved appearance and visibility compared to standard optical elements using filament bulbs. The optical focusing that aligns the signal is no longer required. The indication conveyed by the LED signals presently in service is clearly discernable in a variety of weather conditions."
GELcore LLC, a developer of LED systems and advanced LED technologies for general illumination products, supplies sealed, all-weather LED modules to retrofit green, yellow, red and lunar white signals for commuter rail, rapid transit and freight railroad applications.
All of the company's railway products are designed to provide uncomplicated signal-housing retrofits. These include 5-inch (127 mm) and 5.5-inch (140 mm) TR3 wayside signals; 8-inch (210 mm) RM4 wayside signals; and 8-inch (210 mm) RG4 and 12-inch (300 mm) RG6 grade crossing flashers.
Available in 10-volt AC/DC or 120-volt AC, the high-efficiency, long-life TR3 LED signal module draws a low current across a wide operational voltage range. It is fully compatible with light-out detection systems. It comes with a four-year limited warranty, and offers years of maintenance-free operation.
Combining long life and low voltage in a signal lighting solution appeals to Amtrak. "Signals located on high bridges or close to energized high voltage power lines present serious employee hazards," says Lockard. "Once these signals are retrofitted with LEDs, our fall protection and power clearance issues are greatly minimized because of these longer life products."
Suitable for tunnel and outdoor applications, the TR3 signal modules feature a unique, pre-focused beam pattern that delivers improved sighting distance under a wide range of weather conditions, including intense sunlight and dense fog.
"The years of service provided by TR3 LED signal modules eclipses what rail companies such as Amtrak have seen from older incandescent technologies," says Dominic Balthazar, railway products manager for GELcore. "Besides lowering energy costs by as much as 75 percent, long-lasting LEDs drastically reduce the frequency of maintenance. For most companies, the total overall cost benefits are extremely attractive."
Additional benefits of retrofitting with TR3 LED signal modules:
* No need for variable power resistors to adjust supply voltage
* Can eliminate the need for step-down transformers
* Compatible for retrofit into most existing housings or in new installations
"With such marked advantages provided by LED technology, it is likely that we will continue to explore their use on our system," says Lockard. "The ROI figures are significant."