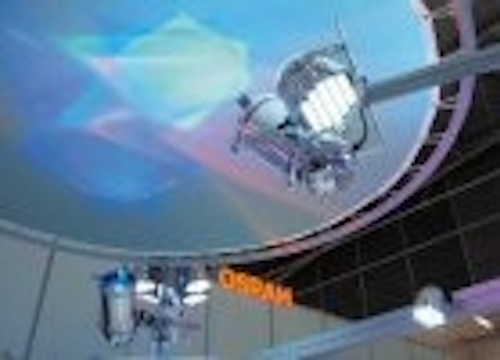 As well as launching a number of new products at the Electronica show earlier this month, Osram Opto Semiconductors also chose to showcase its capabilities by lighting its entire stand with LEDs. The light came from white and coloured spotlights of various sizes, equipped with high-power Golden Dragon devices.
Canvases on which star shapes appeared in ever-changing colours were the first things to attract the attention of visitors. The effects were provided by six coloured spotlights each with twelve LEDs in red, blue and green, accommodated on a specially designed PCB. Special optics, normally used in traffic lights, enhanced the effect still further.
Elsewhere, 70 spotlights each containing 24 white LEDs were used to provide the background lighting for the stand. The conference rooms and the kitchen area were pleasantly lit by eleven small spotlights, also equipped with white LEDs.
"We thought we'd demonstrate just how good our LEDs are by using them to light our own stand," said Dr. Rüdiger Müller, CEO of Osram Opto Semiconductors. "The requirements were high but our new high-brightness products were certainly equal to the task."
For the trade fair, LED experts at Osram Opto Semiconductors converted conventional stage spotlights to accommodate LEDs. The LEDs were mounted on metallic core boards and attached to a heat sink. This means that although the spotlights were not originally designed for LEDs, the heat generated could be reliably dissipated.
Osram Opto Semiconductors says that the stand lighting concept is just one example of how LEDs can be used at trade fairs. LEDs provide pleasant background lighting and open up a wide range of possibilities for creating impressive lighting effects. They are available in all colours, extremely durable and very bright. These miniature sources of light can be used in various spotlights and luminaires, and are inspiring lighting designers to produce some imaginative creations.