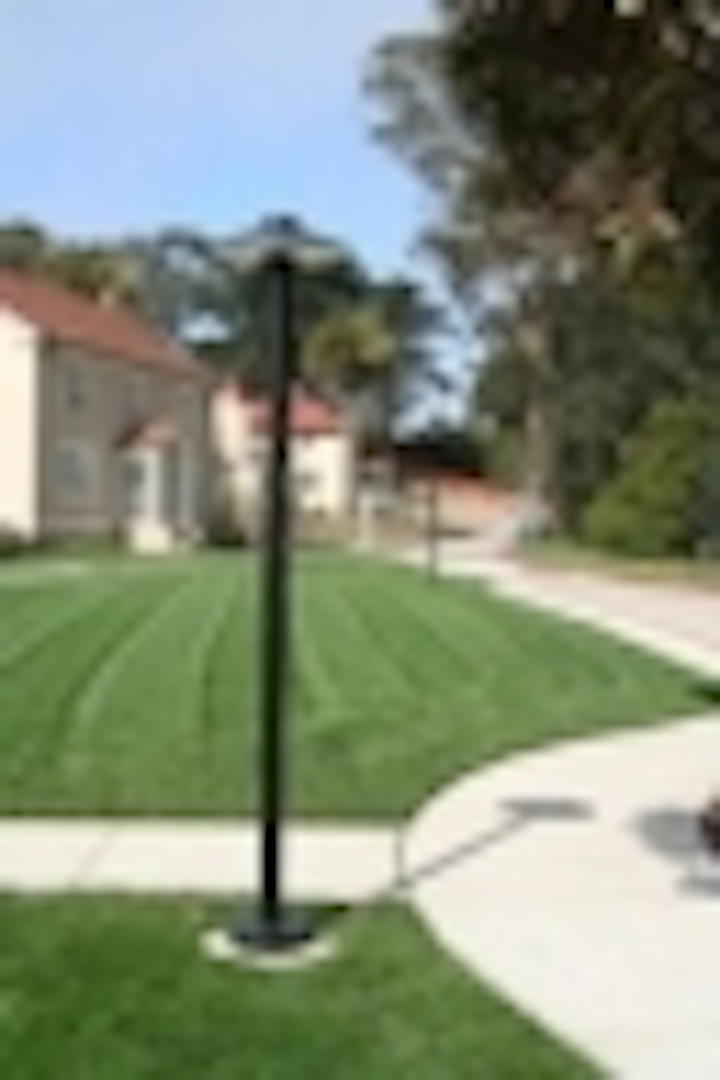 The Presidio of San Francisco, a US National Park and part of the Golden Gate National Recreation Area, now features LED-based walkway lighting from Borden Lighting. Cree announced that it will participate in energy-efficiency renovations, including LED lighting, that will take place at US Embassies in Vienna, Rome, Berlin, Madrid, and Lisbon. LEDtronics has supplied solid-state lighting (SSL) in the form of pendant lights that mount to goose-neck arms in Carpinteria, California.
Presidio of San Francisco
Borden Lighting has supplied the LED-based post-top luminaires that now light the walkways of the historic Presidio of San Francisco, California, that served as a military post for three nations dating back to 1776. The SSL deployment conforms to dark-sky guidelines and uses Bridgelux ES LED arrays with warm-white color temperature.
Design firm Architectural Lighting Design sought to install lighting that was energy efficient, provided safety at night, and preserved the scenic vistas in the park.
"I believe the combination of the dark-sky luminaire design and the LED technology resulted in a beautiful addition to the landscape lighting while preserving the natural night time setting appropriate for a national park," said David Malman, project lighting designer from Architectural Lighting Design.
Originally, the plans called for the use of new metal-halide lights rather than SSL. But Borden developed the LED-based luminaire that offered better light control and warmer light. Malman said, "We used a warm 3000K white light to create a soft, welcoming appearance."
Specifically the luminaires use a 1200-lm Bridgelux ES array. Borden said the LEDs offered longer life, better light quality, and smaller source size with better beam control than could have been achieved with MH sources.
Embassy lighting retrofits
The Alliance to Save Energy and The League of Green Embassies organizations are partnering to advance a renovation program in US Embassies that both reduce energy and carbon footprint. A primary target of the program will be lighting systems. Cree has already installed some Edge luminaires in Madrid and Helsinki and has said that it will participate in providing both outdoor and indoor LED-based lighting to the US Embassies over the course of 2012.
Outdoor projects will include security, area, walkway, parking-lot, and roadway lighting. "The goal of the League of Green Embassies is to make each participating embassy as energy efficient as possible and to use these embassies as platforms for showcasing US energy innovation technologies and products," said Bruce Oreck, US Ambassador to Finland. The organization hopes to deliver 45-76% energy savings with the new lighting.
As Oreck's statement implies, the program also will provide a venue for companies such as Cree to demonstrate its technology. Greg Merritt, vice president corporate marketing at Cree, said, "Embassies are a great vehicle to showcase US innovation and influence global commercial and industrial organizations to take action, consume less energy and advance energy efficiency."
LEDs light Carpinteria
Late last year, the city of Carpinteria, California completed a retrofit of 199 high-pressure sodium (HPS) decorative lights. The 138W HPS lights were replaced with 29W LED lamps that LEDtronics designed to fit into the existing pendants mounted at the end of a goose-neck arm on light poles.
The city projects that the retrofit will deliver 80% energy savings equating to a $11,600 reduction in its annual power bill. The new lights are installed on Linden and Carpinteria Avenues and along the city's Amtrak train platform.
"The LEDtronics lamps fit into the existing light fixtures with only minor modifications and look great," said Matthew Roberts, director of the city's Parks and Recreation Department. "I think the consensus is that the new bulbs produce fewer glares, are easier on the eyes, and have a very appropriate color temperature for our needs." The project utilized lamps with a CCT of 300K.
The LEDtronics LED30HPS-600-SIW-002-BU lamps are designed for use in post-top applications and are essentially retrofit lamps that directly replace HPS bulbs with an E26 base. The lamps can be installed in sockets facing up or down. The retrofit process requires the removal of the HPS ballast and starter.