Outdoor Lighting: Cooper lights recreational track, Iowa, Florida, and California LED projects
Cooper supplies SSL for Traverse Park, cities in Florida, California, and Iowa complete LED projects, and Taiwan and other cities look to get started with LEDs.
Apr 12th, 2012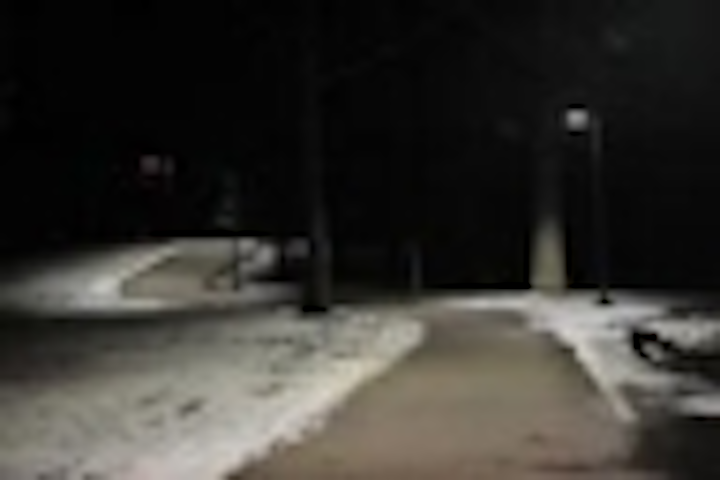 Cooper Lighting has supplied 100 Lumark RV Ridgeview LED luminaires to light a one-mile track in Traverse City, Michigan that's used by residents and visitors for walking and jogging. Stuart, Florida, Cedar Rapids, Iowa, and Galt, California have all completed new solid-state lighting (SSL) projects. Taiwan plans a 326,000-light retrofit project.
Grand Traverse County
Traverse City hopes to save $7000 annually in energy costs after replacing 100 250W high-pressure sodium (HPS) fixtures with LED lights. The retrofit took place at the 45-acre Grand Traverse County Civic Center including lights located along a one mile oval track that surrounds the facility and recreational park.
Viewing the nearby before and after photos of the project shot from above, you can clearly see the whiter broad-spectrum LED light in an oval shape, relative to the orange tint of the HPS lights in the before shot. The city sought to both reduce energy use and improve light quality for the many citizens that use the track at night.
Danny Brown, director of Grand Traverse County Facilities said, "Working with Cooper Lighting, we were able to utilize the latest in LED technology to significantly reduce our overall energy consumption from 300 total watts/fixture to just 51 total watts/fixture." Note that HPS fixtures regularly use more power in an installation than the rated value of the lamp would suggest.
Commenting on the ongoing transition to outdoor Cooper SSL products by many customers, Mark Eubanks, president of Cooper Lighting, said, "While the shift is certainly due to the overall energy savings LED lighting can provide, we've found that many customers are upgrading based on the lighting performance associated with our LED technology."
With the project underway and the track lit, the city has a positive view on the transition to LED lighting. "The new fixtures will also provide visual comfort for those using the track and also in the surrounding neighborhoods," Brown said. "This project really has truly put us in a win-win scenario and, although it's only partially completed, has already begun to receive overwhelmingly positive reviews."
Iowa, Florida and California
The SSL retrofit movement continues in many other locations as well. For example, Alliant Energy is installing SSL as HPS lights fail in the area surrounding Cedar Rapids, Iowa according to the The Gazette. The utility plans to retrofit about 2000 lights per year. Separately, the city of Cedar Rapids plans to retrofit more than 800 lights that are municipally owned.
In the Stuart, Florida area, Martin County has installed 27 solar-powered LED street lights in the Airport Road area according to the TCPalm.com website. Obviously solar power takes recurring energy costs to zero. Solar Electric Power Company (SEPCO), based in the Stuart area, supplied the lights. Funding came from the Economic Development Administration and the Florida Department of Transportation.
Galt, California, in the northern part of the state, has retrofitted 184 street lights with LEDs and plans to convert 376 more according to theLodi News-Sentinel. The city projects $12,152 annual savings in energy.
More planned upgrades
Other cities in the US and countries around the globe are in the planning stages for small and large SSL projects. Taiwan, for example, tops the list with large-scale plans to retrofit 326,000 mercury-vapor lights by 2014 according to Taiwan Today. The project will be worth NTD $7.25 billion ($245 million) and will include Taiwan proper and some nearby islands.
Redlands in southern California is planning a $1.73 million SSL retrofit that it hopes to complete in five phases starting in September according to The Press-Enterprise. The city has trialed some LED lights already. The first phase will cost $161,000 which will be offset by a $11,340 rebate from Southern California Edison, and generate $6940 in annual energy savings.
On a much smaller scale, Romeo, Michigan is considering replacement of 73 street lights with LEDs in its downtown area according to The Romeo Observer. The town has installed six sample LED lights, and is motivated by an aged set of legacy lights that require regular maintenance.