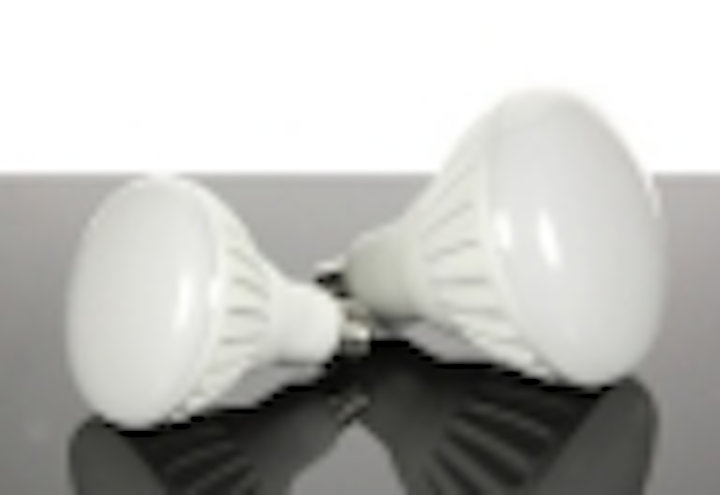 MaxLite, a global manufacturer and marketer of the MaxLED line of LED luminaires and lamps, has introduced the new BR30 and BR40 LED lamps. The new lamps are lighting solutions designed to reduce energy use, maintenance and heating, ventilation, and air conditioning (HVAC) costs associated with architectural, residential, retail, office and hospitality recessed downlight and track lighting applications.
Using 13 watts and 17 watts, the LED BR30 and BR40 lamps replace a 65W and 90W incandescent lamp respectively, reducing consumers' carbon footprint while maintaining quality lighting. Both lamps feature a BR lens that conceals the LEDs from view and evenly distributes the light in a 120-degree flood beam spread for accent lighting, wall washing and general lighting. The LED lamps operate without emitting radiation or heat.
Both lamps feature a solid aluminum body, molded into a fin shape to increase the cooling surface area of the aluminum, act as a heat sink, and keep the LED junction temperature below specification, enabling cool operation and maintained lumens, along with a color rendering index (CRI) above 80. The BR30 is 4.1 inches wide and 5.7 inches tall while the BR40 is 4.9 inches wide and 6.3 inches tall.
The lamps can be dimmed down to five percent and are compatible with many different control products. Both LED lamps use strictly binned, color matched LEDs and are available in a warm white 2700K correlated color temperature (CCT) with a standard Edison E26 base.
Both lamps are cUL- and UL-certified, RoHS compliant and constructed without hazardous materials while operating with reduced heat and without emitting IR or UV radiation during their 25,000-hour life at L70 standards. The lamps are also backed by MaxLite's five-year limited warranty.
For data sheets, visit MaxLite here for the BR30 lamp, or here for the BR40 lamp.