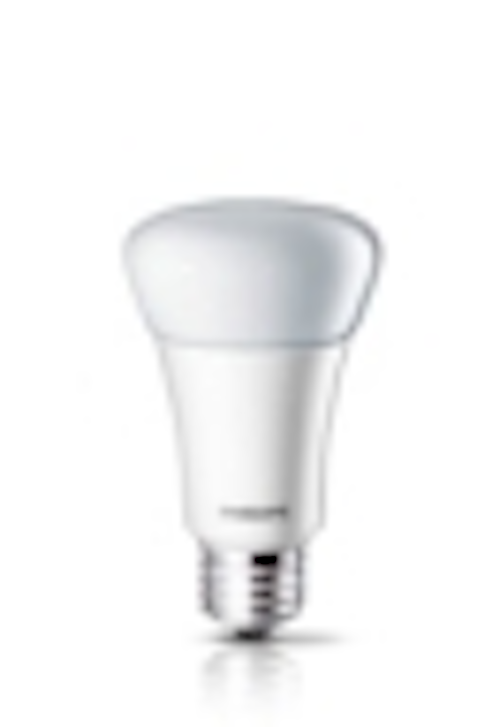 Philips Lighting is publicly rolling out its newest LED retrofit lamp this week with special events at Manhattan Home Depot stores, and touting an enhanced aesthetic for the new 60W-equivalent lamp. The new A19 lamp has a traditional white look in the off state compared to the yellow-orange-tint of the existing EnduraLED lamps that use remote-phosphor technology, and the new design delivers more light output using less power.
Philips has used remote-phosphor technology to deliver an A-lamp product line that is arguably the highest performing in the market. But competitors have questioned how well consumers might accept the colored lamps, with clearly evident metal cooling channels, in applications such as open fixtures where the lamp is visible.
The new lamp appears to share the same general shape as the prior products. So it's likely that the design will deliver the same uniform omnidirectional light distribution that the Philips' lamps have been noted for.
The externally evident heat sinks are missing in the new design. Earlier this year at Lightfair International, Philips had introduced AirFlux-branded LED-based directional lamps without evident heat sinks. Philips said it has applied similar technology to the new A-lamp implying that cooling air is somehow circulated inside the lamp.
We expect to learn more about the internal design in the coming days, but in any event the new lamp comes with impressive specs. The 11W lamp delivers 830 lm – 25% more than the prior 12.5W EnduraLED lamp. "This latest generation of our LED bulb eliminates the tell-tale heat syncs of LED technology enabling a classic design, while reducing energy consumption by 10 percent and offering more light output," said Ed Crawford, general manager of Philips Lighting.
Philips will offer the lamps in Soft White and Daylight CCTs – apparently 2700K and 5000K CCT respectively. Philips said the lamps are designed to exceed Energy Star specifications. The company also said the new design offers improved dimming performance with smooth dimming from triac-based, phase-controlled dimmers down to 2% of full output.
Home Depot has already added the 5000K lamp to its website. The product is listed for sale at $25.97. Both products are due in all Home Depot stores at the beginning of 2013.