Outdoor Lighting: Cree LEDs light Asheville; Monterrey and Abu Dhabi launch SSL projects
Asheville will soon have deployed a total of 3643 Cree LED street lights, while Abu Dhabi takes a 20-year outlook on an SSL project, and Monterey and Detroit pursue new SSL retrofits.
Jan 24th, 2012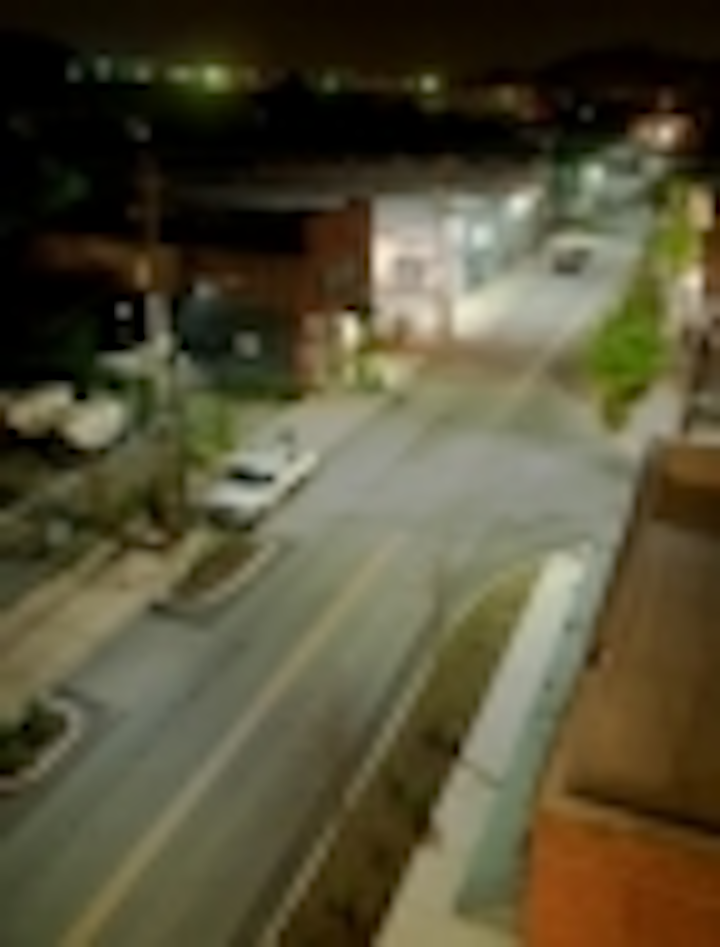 In the second phase of a city-wide LED street light project, Asheville, North Carolina is installing 2913 more Cree LEDway solid-state lighting (SSL) fixtures. Monterey, California will retrofit all street and tunnel lights with LEDs. Detroit, Michigan and Abu Dhabi, UAE pursue LED projects, while Valparaiso, Indiana documents SSL energy savings.
Asheville projects $260,000 savings
When Asheville completes the second phase of its street-light retrofit, the city will have installed 3643 LED fixtures. The city projects annual savings in energy and maintenance costs of $260,000. That number represents a 50% drop from prior spending levels.
"This exciting initiative helps affirm Asheville's role as a leader in carbon footprint reduction," said Maggie Ullman, energy coordinator for the Asheville Office of Sustainability. "Upgrading to LED street lights allows us to decrease energy consumption, increase energy efficiency and contribute to the sustainability of our community."
Cree Lighting sells the LEDway fixtures that were originally developed By Ruud Lighting's BetaLED brand. Cree acquired Ruud last year. "We applaud the City of Asheville and Progress Energy for working together for the benefit of its citizens demonstrating the growing trend of cities and municipalities working together to join the LED lighting revolution," said Christopher Ruud, president of Ruud Lighting.
Asheville is funding the project in part with a US Department of Energy (DOE) Energy Efficiency and Conservation Block Grant (EECBG). The city installed the initial phase of 730 LED lights in the first half of 2011. All of the SSL fixtures comply with Asheville's lighting ordinance adopted in 2008 that was intended to reduce glare and light pollution.
Monterey seeks 40% energy reduction
According to the Monterey County Herald, the northern California community plans to retrofit all existing high-pressure-sodium (HPS) street and tunnel lights with LEDs. The project totals 1900 SSL fixtures, and the city projects 40% in energy savings.
The Monterey project will reportedly cost $934,000 with funding coming from a low-interest loan provided by the California Energy Commission. The savings will equate to $103,000 annually. Crews are converting 300 lights per day according to a city engineer.
Abu Dhabi and Detroit SSL projects
In the United Arab Emirates capital of Abu Dhabi, the municipality plans to convert 620,000 HPS lights to SSL fixtures according to The National newspaper. The municipality believes it will save between AED500 million ($136.1 million) and AED1 billion over the course of 20 years after accounting for the cost of the LED lights, and one maintenance cycle in which the lights are replaced.
In Michigan, the city of Detroit is planning an SSL retrofit project in six different areas according to the Michigan Live website. A total of 580 LED lights will replace mercury-vapor lights. A $400,000 grant from the Michigan Economic Development Corporation will fund the project.
This Detroit SSL project follows another recent SSL deployment in the city. A group of partners have contributed to a $1.3 million downtown project managed by the Detroit Economic Growth Corp.
The city of Valparaiso, Indiana has embarked on a project converting both street and traffic lights to LED sources. And according to the Valpo Community website, the city has documented energy savings over the past 9 months.
In the upgrade, the city replaced 90 cobrahead lights with 170 decorative LED fixtures. The older lights cost $24.50 per month each in electricity. The decorative SSL fixtures cost $5.85 each to power, so there is a net savings even with more fixtures deployed. Moreover the city is using timers that turn off half of the decorative fixtures late at night.