Washington Hilton hotel upgrades marquee with LEDtronics LED lamps
Miniature E10 screw-based LED lamps will deliver 90% energy savings relative to the displaced incandescent lamps in the canopy marquee above the entrance to the Hilton Garden Inn in Washington, DC.
Feb 6th, 2014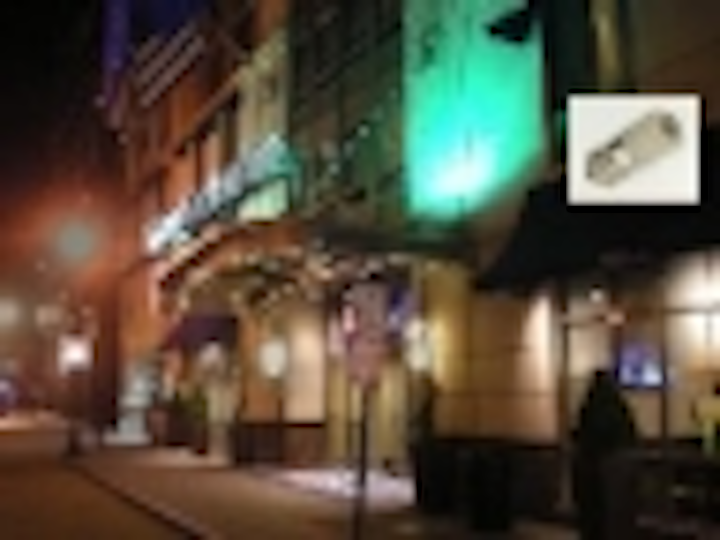 LEDtronics has announced that its LED lamps have been used to renovate the canopy marquee above the entrance to the Hilton Garden Inn located in Washington, DC. The solid-state lighting (SSL) upgrade is projected to deliver 90% savings in energy usage and the long life of the LED lamps is potentially even more significant in terms of maintenance costs.
"We have been using the old, incandescent bulbs in the marquee since the hotel was built in 2011, and they constantly burnt out and needed to be replaced at least once a week," stated Santosh Borrison, Hilton Garden Inn chief engineer. "By switching to LED lamps from LEDtronics, not only do the lights provide a nice appearance, but we do not need to change the bulbs for years, and this saves us an extensive amount of maintenance time and costs."
"Lumen maintenance of these white LED lamps is greater than 70% at 35,000 hours of operation, based on engineering testing and probability analysis," said Gary Anderson, a LEDtronics sales representative from Eastern Electronics. "With the new LED bulbs, the Hilton Garden Inn has taken significant steps in reducing its energy and maintenance costs while increasing sustainability."
Ironically, the lamps that were used aren't specifically intended for general lighting applications, but show the versatility of LED lighting technology. LEDtronics designed the miniature 9-mm lamps as panel indicators that can operate from a low-voltage AC supply. The marquee design was designed as a low-voltage system.
"The old lights on the Hilton Garden Inn's canopy marquee were different because they consisted of mini screw-based lamps with polycarbonate globes on each incandescent bulb," said Anderson. "These lights were purely decorative, and we found that our standard, screw-in bulbs designed for simple, LED panel indicators and 12V AC worked perfectly for this upgrade project."
The lamps offer warm white light and the E10 screw base used in the lighting system. Moreover, the match to the existing electrical supply and wiring minimized the complexity of the upgrade. The hotel will realize the energy and maintenance savings and also eliminate the inconvenience to guests that has been caused due to the frequent maintenance.