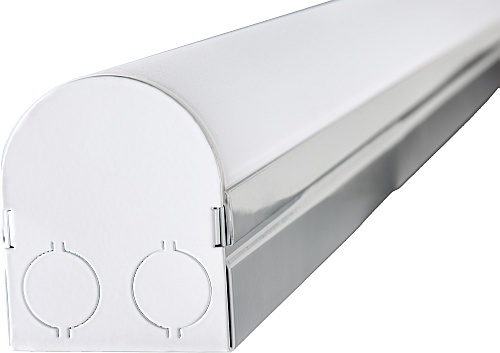 Cree has announced the new LS Series of linear LED-based fixtures designed for surface- or pendant-mount applications replacing fluorescent wraparound (wrap) and strip fixtures as well as industrial low-bay fixtures. The LS Series is available in 4- and 8-ft lengths, features CRI of 92 based on Cree TrueWhite technology, and can deliver payback in around three years relative to legacy fluorescent systems.
Cree delivers compact LED linear fixture for wrap and strip replacement
Cree touts the new product family as a no-compromise design given the high CRI and R9 value of 56. The company said that the fixtures can be used in demanding retail applications such as grocery stores where produce and meats must be rendered properly for maximum sales. But the design is also cost effective for reasonable paybacks in a broad array of applications including industrial, healthcare, office, and education.
Related article: NC State selects Cree LED lighting for student housing planned for LEED Silver certification

"We removed existing product barriers and delivered a linear luminaire that produces exceptional, long-lasting light in a modern form factor," said Norbert Hiller, Cree executive vice president of lighting. "The Cree LS Series linear LED luminaire proves that customers don't have to sacrifice modern aesthetics for high quality lighting."
The compact small-footprint design enables great flexibility in how the luminaires are deployed. The products measure 3×3 in. and have a diffuser that delivers uniform, shadow-free lighting with no LED pixilation. You can mount the fixtures on ceilings or walls individually or in continuous runs. Indeed, the fixtures have a smaller footprint than the fluorescent fixtures they are intended to replace.
The primary targets of the LS Series are fluorescent wrap or strip fixtures. The former may have one or more fluorescent tubes with a wraparound diffuser while the latter typically have the tubes exposed. Cree asserts that the LS Series delivers superior aesthetics with no yellowed lenses and blends into any space with less ceiling clutter.
Cree said that the warp and strip segments each account for about 15% of the installed base of linear fluorescent fixtures. The industrial low-bay segment adds another 10%. Cree said the total potential replacement market is in the "100's of million luminaires."
The LS Series can be a smaller-footprint alternative to the company's CS Series of reflector-based fixtures. Or the LS Series can be used along with the CS Series, or with recessed troffers such as the CR Series, in building lighting systems with high CRI throughout. Even though the LS Series does not use a reflector, the diffuser lens does deliver 11% of the light in an upwards direction for indirect light reflected from the ceiling.
The LS Series is available in 3500K, 4000K, and 5000K CCT models. The 4-ft version delivers 4000 lm and the longer model doubles that output. The efficacy is 90 lm/W and the design supports 0-10V dimming control with uniform dimming down to 5%.
Cree said that the LS Series delivers 27% baseline energy savings relative to a two-lamp strip fluorescent fixture with T8 lamps. Remember also that the LS fixture delivers 90 CRI with an inherent efficiency penalty whereas the typical fluorescent fixture delivers 70 or 80 CRI.
Related article: Field evaluations of LED lighting show benefits beyond reduced energy usage

In a lifecycle analysis, Cree said that over ten years a facility would replace 17 fluorescent lamps and one ballast in each fixture based on commercial usage of 12 hours per day. With electrical cost of $0.11/kWh, a LS retrofit would deliver payback in three to four years.
Clearly, the fluorescent is a tough incumbent assuming the fixture is a T5 or T8 with electronic ballast. But the LED alternative delivers almost zero maintenance and much better light quality. "The LS Series linear LED luminaire provides these benefits at a value price and with a 10-year limited warranty that will make choosing LED simple," said Hiller.