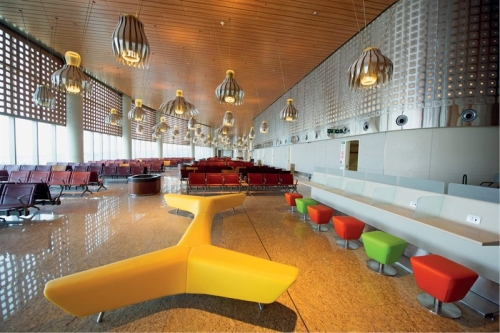 Cooper Lighting has announced an LED lighting project at the Chhatrapati Shivaji International Airport in Mumbai, India in the recently opened Terminal 2 (T2). Linear products in Cooper's io Series 2.0 of solid-state lighting (SSL) luminaires are providing the ambient light in the terminal installed along a 4.8-km total length of wall space that is 6m high.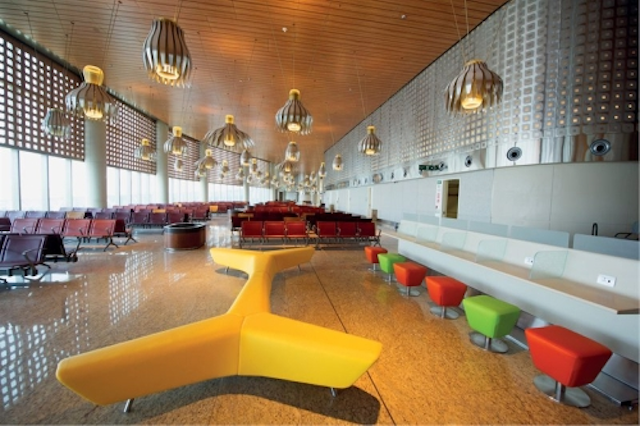 Cooper Lighting linear LED fixtures graze the walls in the new Mumbai airport terminal
The architectural design of the space is surely unique. A perforated, decorative, stainless-steel panel is installed along the walls as you can see in the nearby photo. But the panel is separated from the walls, allowing for light distribution through the perforations. The linear io fixtures are meant for wall grazing and in this application deliver light down the walls and through the panel to deliver the required ambient light.
The airport was looking for both functional light and iconic aesthetics in the terminal design that also features decorative carpets, a bold design, and art. "Our new terminal will not only be a high-traffic destination for travelers, but also a unique architectural design area packed full of energy-efficient products like the io LED fixtures," said Saurabh Singh, assistant vice president of contracts at GVK and the Mumbai International Airport.
The design, however, presented the airport a challenge in finding an LED lighting product that could deliver the requisite light levels. The airport was seeking LEED (Leadership in Energy and Environmental Design) Gold Certification for the project and that certification placed demands on the building power density related to lighting.
The steel panels deliver a dramatic visual but also limit the light that passes through. The project team built a mockup of the design to ensure that an LED luminaire could deliver the combination of light levels and energy efficiency required. Cooper reported that the io Series was the only product tested that could deliver floor-to-ceiling uniform lighting and meet power-density requirements.
"Our award-winning LED io line Series 2.0 is a perfect fit for this modern building, providing an ideal blend of energy efficiency and performance to help illuminate the architectural elements of this impressive terminal," said Mark Eubanks, president, Cooper Lighting Division. "The project leverages efficient solutions to provide a specially designed wall grazing feature that delivers exceptional light quality and uniformity to help enhance the terminal's aesthetics."