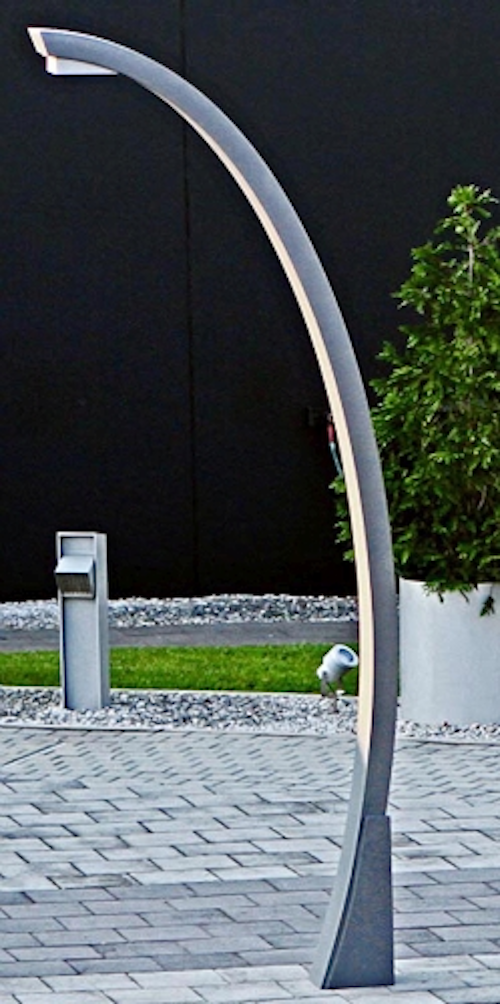 HessAmerica, a subsidiary of Hess GmbH Licht+Form of Germany, has announced the Parco family of pole-mount, bollard, and wall-mount fixtures for pedestrian-centric applications. The striking designs are in unique form factors and target applications such as sentry plazas, pathways, and outdoor gathering spots in commercial, hospitality, and high-end residential applications.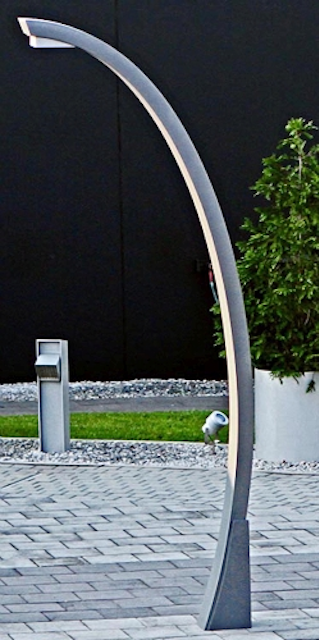 HessAmerica launches outdoor pedestrian lighting in innovative form factors
The pole-mount luminaire is the centerpiece of the Parco line and presents a quite different approach to pedestrian-area lighting as you can see in the nearby photo. The pole features an arched shape with the light engine mounted at the top of the pole pointed directly at the ground. The novel design is indeed dark-sky compliant, producing no up or spill light.
Lighting designers/specifiers can order the Parco fixtures with either LED or metal-halide (MH) sources. Moreover, the company offers models in 10-, 12-, and 14-ft pole heights.
LED versions come in 48W or 68W flavors with both generating an IES type III rectangular beam. The options include 3000K models delivering 3200 or 4800 lm, and 4000K models delivering 3360 or 5040 lm. CRI is 80. The MH versions include 39W standard and 70W ceramic MH products. The company hasn't published detailed performance specs for the MH versions.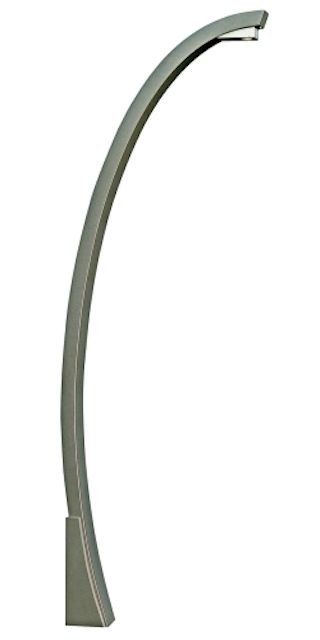 Details are also still to come on the bollard and wall-mount products in the Parco line, although you can see the bollard in one of the nearby photos. While the bollard uses a typical straight post, the rectangular cross-section matches the look of the pole fixtures. The company said the wall-mount fixtures will also deliver a consistent look. All of the products will be offered in matte-silver gray metallic, dark gray, and graphite gray.
Related articles:
City of Kissimmee beautifies lakefront park with HessAmerica LED lighting

HessAmerica features LED wall luminaires and bollard lights at LightFair

HessAmerica's Valencia LED bollard is available in 3000K and 4000K color temperature versions

HessAmerica's Cassino LED bollard is available with standard or high-output light engines