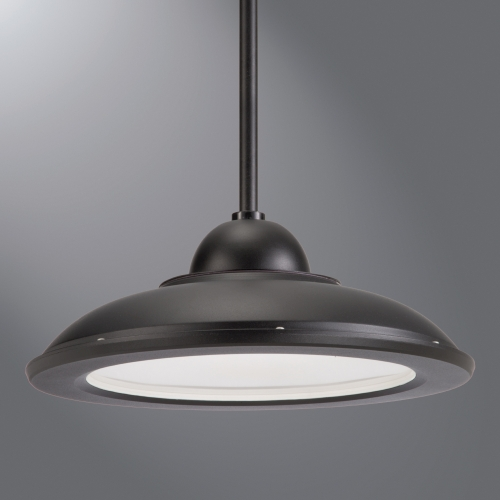 Edge-lit light guide delivers inherent diffuse light in SSL pendant designed for retail, commercial, and other applications including high-ceiling spaces.
Eaton's Cooper Lighting division has announced the Portfolio Surface-Mount LED-based luminaire that incorporates the company's WaveStream planar light-guide technology. The fixture surface mounts to standard or high ceilings including applications with little or no plenum place, in pendant and other configurations.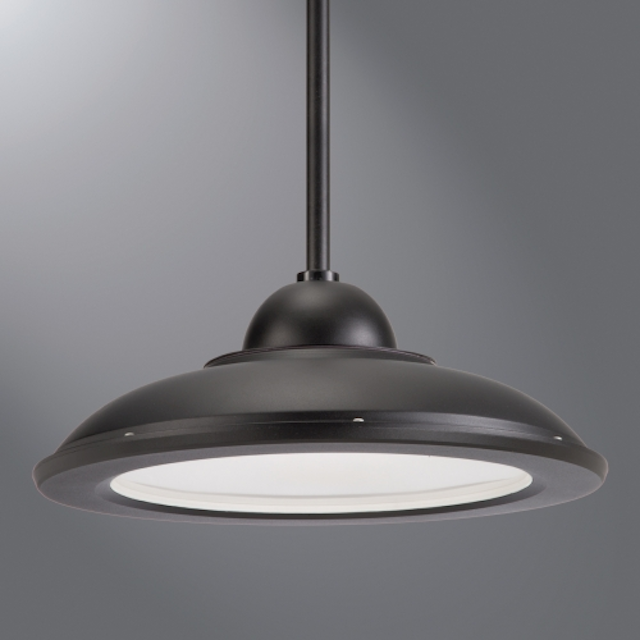 Cooper brings WaveStream planar technology to round LED pendant
Cooper had been proliferating WaveStream based on light-guide technology licensed from Rambus. Cooper first demonstrated products at LightFair International in 2013. The technology relies on LEDs to edge light the optical guide that embeds miniature beam-control elements that Cooper calls AccuAim optics. In simple terms, the planar guide produces uniform diffuse light with minimal glare.
Cooper has used WaveStream in a number of ceiling troffer-style fixtures, some of which dramatically expose the light guides. But the presumably premium-priced technology is also finding use in surprising places. For example, Cooper announced a WaveStream-based parking garage fixture a year ago. More recently, the company also deployed the technology in downlights.

Given the variety of WaveStream-based products, it comes as no surprise that the technology has come to a round solid-state lighting (SSL) flush-mount form factor. The product mounts directly to a junction box. Cooper offers models ranging from 4500–9000 lm, 4000K–4000K CCT and 80 or 90 CRI.
"The Portfolio surface-mount product offers customers a high-performing, versatile luminaire," said Mark Eubanks, president of Eaton's Cooper Lighting Division. "The luminaire's superior optical performance, low power consumption, low life cycle cost, multiple mounting configurations, and architectural design serve as an ideal solution for both retrofit and new construction opportunities, as well as those with limited plenum space or hard to access areas."
Cooper is also supporting smart-lighting installations with a variety of control options. The standard LED driver includes 0-10V dimming support and can work with trailing-edge phase-cut dimmers such as those designed for electronic-low-voltage (ELV) products. Optionally, you can add support for DALI (digital addressable lighting interface) networks.
The product also offers flexibility in terms of mounting options. The version pictured is the standard pendant mount. But you can specify suspension by aircraft cables, surface mount direct to ceiling, and even wall mount versions. Finish options include white, black, bronze, and silver.