Cree and Musco light Bay Bridge with LEDs, Musco wins sports complex project
The east span of the Oakland Bay Bridge is now lit with Musco LED fixtures that use Cree LEDs, and Musco also announced a sports-field SSL project at the LakePoint sports complex in Emerson, GA.
Jun 24th, 2014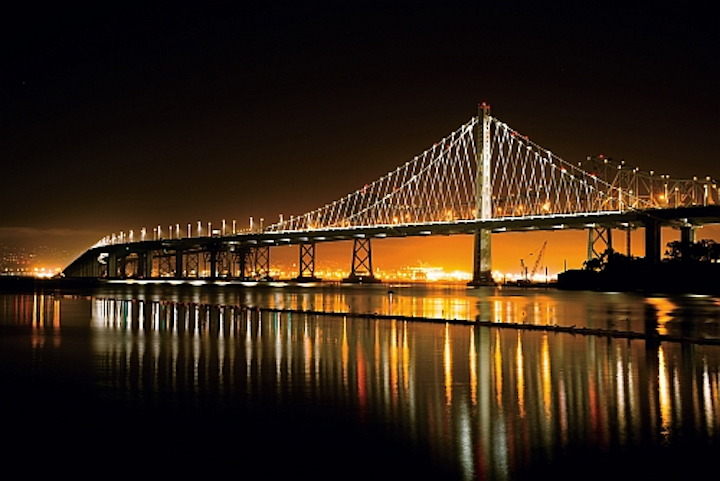 Cree has announced that the east span of the Oakland Bay Bridge is now lit with its XLamp XM-L LEDs integrated in fixtures custom built for the project by Musco Lighting. Musco, meanwhile, has announced a new solid-state lighting (SSL) project in Emerson, GA at the LakePoint Sporting Community that includes custom LED fixtures and network controls.
Bay Bridge SSL
The Bay Bridge project was implemented by the California Department of Transportation on the east span of the bridge while the west span is still home to the Bay Lights project that includes dynamic light shows. The east span was lit more conventionally with a focus on energy efficiency and minimal maintenance.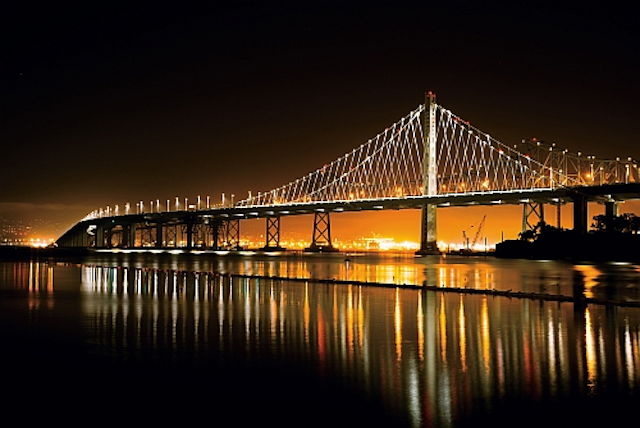 Cree and Musco light Bay Bridge with LEDs, Musco wins sports complex project
"We wanted the east span of the Bay Bridge to not only be aesthetically pleasing, but also cost-effective and functional for travelers," said Andrew Fremier, deputy executive director at Bay Area Toll Authority. "The new LED lighting solution by Musco using Cree's LED technology truly improves the way residents and visitors experience the Bay Bridge, providing crisp, brilliant light for all who cross it, while delivering energy efficiency and payback for years."
The installation followed three years of testing and custom fixture work by Musco and Cree. Now the bridge is home to nearly 1600 of the custom fixtures and a total of more than 51,000 LEDs. Cree said that the implementation would deliver 50% energy savings relative to legacy sources and 15 years of life.
The project includes LED lighting on the suspension bales and along the roadway. Musco also supplied fixtures to light the deck of the bridge, bike and pedestrian paths, and the suspension tower. The directional LEDs and optical design enable functional lighting for safety while eliminating glare issues for driver. "As LEDs evolved and continued to become more efficient, we knew the technology would allow us to develop a light fixture that could meet the bridge's meticulous design requirements with no compromises," said Jeff Rogers, vice president of developmental sales at Musco Lighting.
Sports field lighting
In the sports complex project, Musco is again supplying custom fixtures to light what the LakePoint Sporting Community says is the "world's largest sports vacation destination." The project will cover 1400 acres encompassing sports venues for baseball, soccer, lacrosse, volleyball, basketball, softball, and track and field.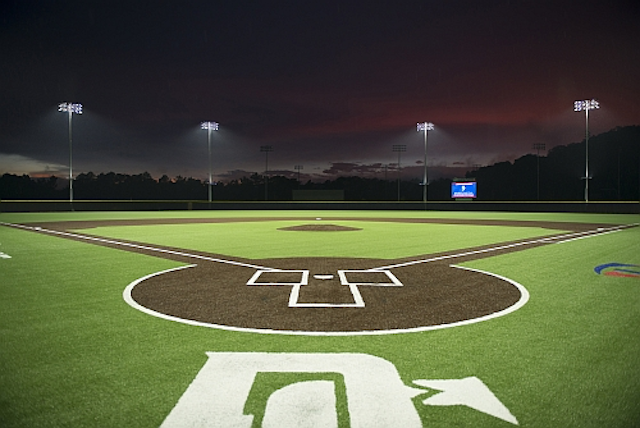 Musco has already installed 1300 luminaires covering four baseball fields, three soccer fields, and four volleyball courts. The LEDs and optics are delivering better visibility for athletes and no glare, according to users of the complex.
"This lighting is unlike any other that I've seen," said Kevin Herlihy, director of the Perfect Game Spring Swing organization that hosts baseball games at the complex. "There is no yellowish or dingy hue and it [delivers up-light that lights] the bottom of the baseballs. We took numerous fly balls with Musco's R&D team that were much higher than what we'll see on typical nights, and we never lost track of any in the night's sky."
The SSL project also includes the Musco Control-Link system to enable individual control of lighting for each playing field or court. The Control-Link system includes a web-based management console that can be used to schedule lighting for the various venues. Moreover, LakePoint can remotely dim the lights for additional energy savings when usage patters allow.
Sports venues have been one of the last applications in which LEDs are being broadly used. In some cases the required light levels result in LED fixtures that are too expensive or even too heavy for a project. But clearly the technology will pervade sports venues. One of the first projects we covered was a soccer stadium located in Auckland, New Zealand that Philips delivered back in 2012.