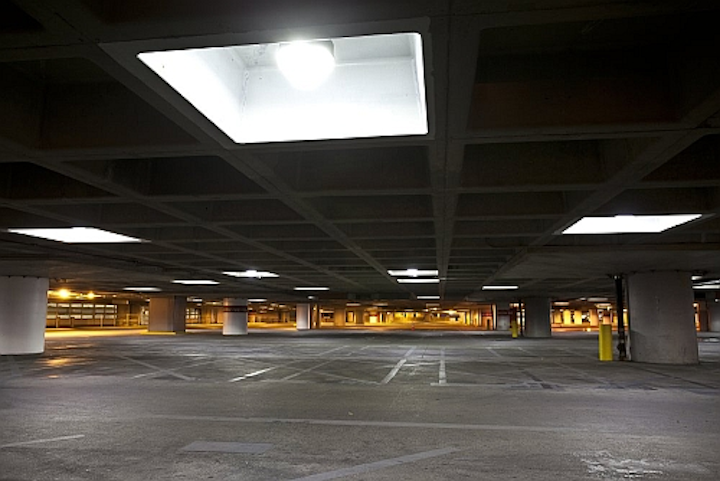 Osram Sylvania has announced parking-garage LED lighting projects at two international airports. The San Juan Luis Muñoz Marín International Airport (LMM) in Puerto Rico now features a parking facility lit with 1515 PermaLED LED Canopy Luminaires. The Seattle-Tacoma International Airport (Sea-Tac) in Washington state is in the midst of a four-year solid-state lighting (SSL) upgrade project with the initial phase involving over 1600 fixtures already having been completed.
LMM upgrade project
The Puerto Rico project was driven by Aerostar Airport Holdings after the organization took over management of the airport in early 2013. The organization undertook the garage lighting as part of a plan to bring the facilities to world-class levels in terms of both light quality and efficiency.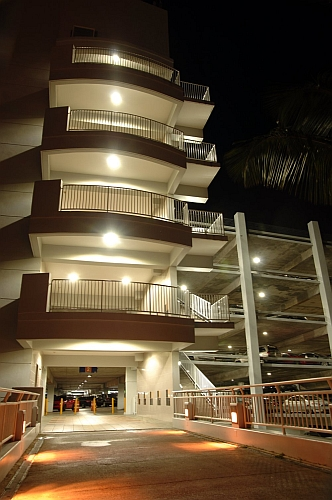 "We want to greatly enhance the passenger experience at the San Juan Luis Muñoz Marín International Airport by significantly upgrading the terminal facilities and building a lasting and iconic airport," said Randall Corsi, head of special projects at Aerostar Airport Holdings. "The parking facility was identified as an area of opportunity for not only increased customer satisfaction, but also energy savings."
Related article: Cooper Lighting supplies LEDs to Detroit airport, launches Lumark luminaire

The garage, housing long- and short-term parking, was previously lit with 100W high-pressure sodium (HPS) fixtures. The airport was unhappy with the required regular maintenance, the appearance of the yellowish light, and the poor color rendering in the 22-CRI range.
The airport was able to replace the fixtures on a one-for-one basis with a mix of 40W and 55W PermaLED luminaires depending on location in the parking facility. Airport management noted that the new fixtures deliver far better light quality, allowing patrons to more easily locate their vehicles and improving overall pedestrian safety.
Aerostar Airport Holdings projects an annual savings of 1,477,952 kWh in energy attributable to the SSL project, translating into $421,216 in energy savings and a reduction in carbon emissions of 1,806,486 pounds. Moreover, the airport expects to save $29,800 annually in maintenance costs.
Sea-Tac phase one
The larger Sea-Tac project will ultimately comprise the full 4.5-million-ft2 main garage encompassing eight floors and 11,800 parking spaces. The project will be broken into four phases with the first including slightly less than 25% of the 7000 fixtures in the facility.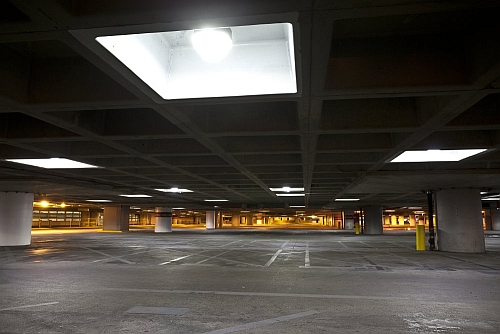 Osram supplies LED garage upgrades for Seattle and Puerto Rico airports
Related article: Outdoor Lighting: Acuity in So Cal; Australia, Detroit, Arlington, and Fairhope

The Port of Seattle sought to match the exiting HPS light levels while lowering energy usage significantly. "Upgrading our lighting to a more energy-efficient solution continues our efforts to be the greenest and most energy-efficient port in North America," said Mary Todd, facilities electrical engineer at the Port of Seattle. "Our goal is to provide our customers a secure, comfortable, and convenient parking garage to help create a worry-free travel experience. At the same time, we are being responsible stewards of the community by saving money and reducing our environmental footprint."
The first phase involved retrofitting some existing HPS fixtures with LED light engines in kit form and replacing a smaller number of fixtures with new ProPoint Medium Round Canopy Luminaires. The airport utilized 1519 ReliaSys 55W D6 and 140W D15 retrofit kits that are designed to replace HPS lamps and ballasts in shoebox-style and similar housings. The kits can replace 250W and 400W high-intensity discharge (HID) sources, respectively. The kits offered the green benefit of not having to dispose of the existing fixtures.
A fewer number of 150W HID fixtures could not easily be upgraded by kit-level products. For those locations, Osram supplied 107 75W and 90W canopy luminaires.
The phase one projected savings are impressive. Indeed, maintenance savings will prove greater than energy savings with the annual projections set at $140,712 and $83,308, respectively.