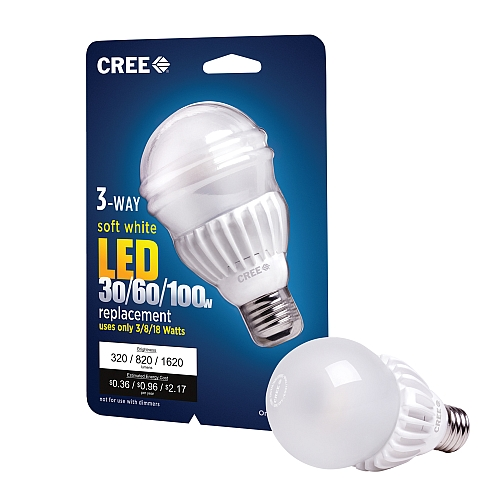 The retrofit lamp area remains the most significant product sector in the LED-lighting market for now, and that fact was evident on the exhibit floor at LightFair International (LFI) with the technology maturing and innovation aplenty. Designs look increasingly like legacy incandescent lamps while feature sets are expanding with enhanced controls, dimming support including dim-to-warm characteristics, and more reliable designs.
The LED replacement lamp is of paramount importance for two reasons, starting with the fact that such lamps are the first touch point for most consumers and solid-state lighting (SSL). And as we reported based on Strategies Unlimited market presentations at Strategies in Light, lamps will consume the largest volume of packaged LEDs over the next five years even as more innovation takes place in luminaire design.

Given the significant of lamps, let's consider some of the interesting LFI exhibits starting with a surprise — three-way LED lamps. Cree, Osram Sylvania, and Philips Lighting all had three-way LED lamps on display at LFI. The products work with special sockets that, depending on how many turns of the switch are made by the user, generate three different distinct light levels.
Three-way lamps
Frankly, we had considered three-way lamps and sockets a relic of the incandescent past. The approach had been cheaper and perhaps simpler than triac dimmers, but the granularity of control is very poor relative to dimmable LED lamps. Only Switch Lighting had seriously pursued three-way LED lamps looking back, as we reported more than two years ago.

At LFI, however, Cree said that requests for a three-way lamp represented the second-most common customer desire in terms of new products. Clearly, Philips and Osram experienced similar customer demand due to the installed base of three-way sockets.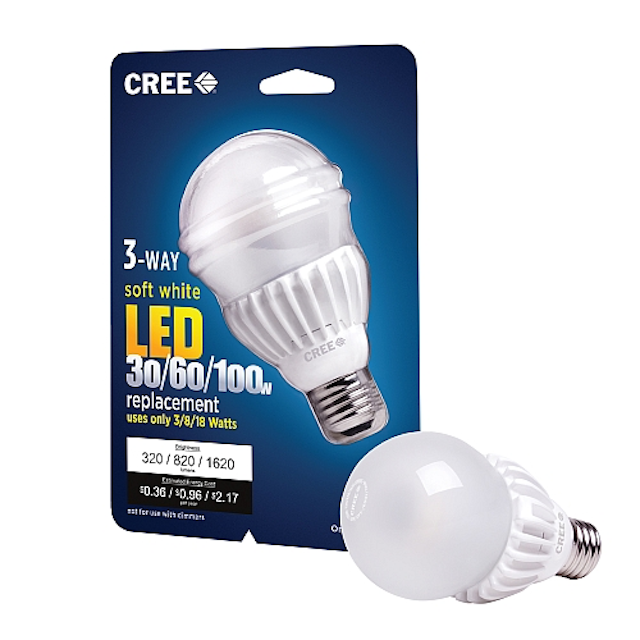 LED lamps at LFI: Controls, dimming, and durability on display
The Cree and Philips three-way designs target similar light levels with Philips saying its lamps replace 40W-60W-100W bulbs and Cree saying its products replace 30W-60W-100W bulbs. The products output 470, 880, and 1680 lm, and 320, 880 and 1620 lm, respectively. The Osram Ultra A-Line product is designed to replace 25W-40W-75W bulbs and delivers 300, 500, or 1100 lm. The products all offer energy reduction in the 70–80% range.
The characteristic that all the lamps share is the ability to have a greater differential in light levels between the middle and high settings. Incandescent lamps have had basically a linear ramp in brightness for the three settings. But the human eye barely discerns the difference between, say, a 70W and a 100W incandescent lamp. The LED sources enable the three-way lamps to offer a near doubling of light level between the middle and highest levels.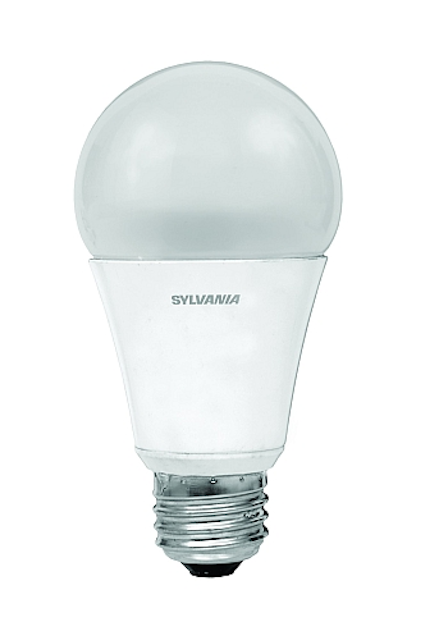 "We're excited to provide our customers the 3-Way Cree LED Bulb, an affordable LED alternative that delivers on the promise of a real three-way bulb with three distinct and visible levels of light," said Mark Voykovic, light bulb merchant at Home Depot. The Cree lamp is already on sale at Home Depot for $24.97.
Wireless lamps
Wireless-enabled dimmable lamps were an even bigger story at LFI, following a similar trend one year ago and at the recent Light+Building show. At LFI, the demonstrations were impressive, but the lack of a standard in terms of wireless networks will still limit the adoption.
GE Lighting, for example, demonstrated GE'telligent BR30 and other LED lamps that are compatible with Lutron's Clear Connect wireless technology — a technology that we have covered in the past and that has been available for more than a decade. The Clear Connect implementation can allow ten of the GE lamps to be connected and controlled in a simple residential application. GE said that the lamps would be initially available at Sam's Club warehouse stores.
Samsung, meanwhile, demonstrated a Bluetooth-enabled lamp at LFI after previously offering LED lamps based on ZigBee wireless technology. The advantage of Bluetooth is that the technology is embedded in smartphones so consumers don't need to install a wireless bridge to control Bluetooth lamps. The disadvantage is that Bluetooth is a short-range technology and meant for one-to-one communications.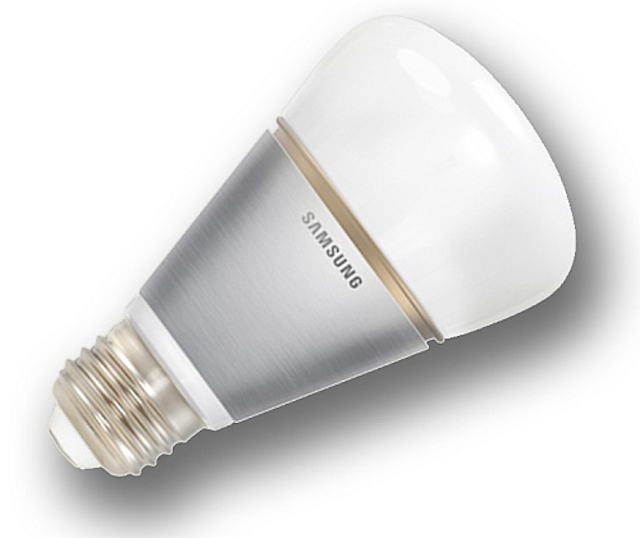 Samsung unveils Bluetooth-enabled smart LED bulb at LightFair
Samsung hopes to overcome Bluetooth limitations by layering a mesh-network layer on top of Bluetooth that allows lamps to forward messages to one another, thereby increasing network range — controlling 64 lamps over 2000 ft, according to the company. Moreover, the extension allows a smartphone to dynamically pair with different lamps on the mesh while communicating with all nodes. Only time will tell, though, if the proprietary nature of the mesh network will work and draw customers. The lamps are due on the market late this year.
Enhanced performance and reliability
The final area we will discuss is lamps that have enhancements to reliability, performance, or appearance. As you might expect, lamps that dim to a warm CCT and mimic halogen performance were on many exhibits. Osram Sylvania, for example, had a new version of the Ultra SE (sunset effect) A-Line product.
The problem with dim-to-warm products remains that they all work differently in terms of the CCTs produced along the dimming curve and the light levels produced. We expect that there is a feature article coming your way on that topic sooner rather than later. But for now specifiers have to find a lamp that works for their application and probably stick with a single product throughout a project.
Reliability remains a claim of virtually every SSL manufacturer. At LFI, however, Aeon Lighting Technology (ALT) went to extraordinary lengths to demonstrate the reliability of their PAR lamps. The company left the globe end of an operating PAR lamp submerged in boiling water throughout the exhibition. The intent was to demonstrate the robustness of the thermal design and the fact that the lamps are IP68 rated for wet locations. The demonstration sold the message well.
ALT also had a lamp with an unexpected appearance — gold plating on the heat sinks and reflector in an MR16 design. Marketing executive Robin Fu said that ALT manufactured a small number of the lamps to celebrate a milestone in sales for what are among the company's most popular products. But Fu said that specifiers have since ordered the products in large volumes for luxury projects in areas such as the Persian Gulf.
Catch up on LightFair announcements coverage throughout the show:
LightFair International: LED and SSL company announcements and product launches - Part I

LightFair International: LED and SSL company announcements and product launches - Part II

LightFair International: LED and SSL company announcements and product launches - Part III

LightFair International: LED and SSL company announcements and product launches - Part IV