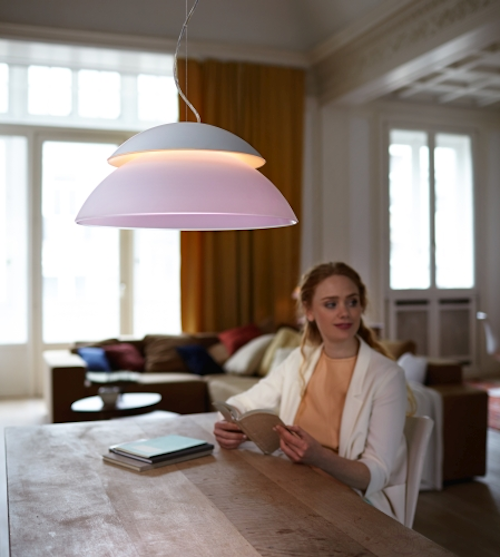 Philips Lighting has announced the Hue Beyond product family that includes a table lamp along with ceiling- and pendant-mount luminaires – all of which share a design with two LED light sources and unique optics that deliver light upwards for an ambient layer and downwards for task lighting. The color-tunable LED lamps in the fixture are separately controllable so that users can set a color ambience while still dialing in the perfect white point for task-lighting needs.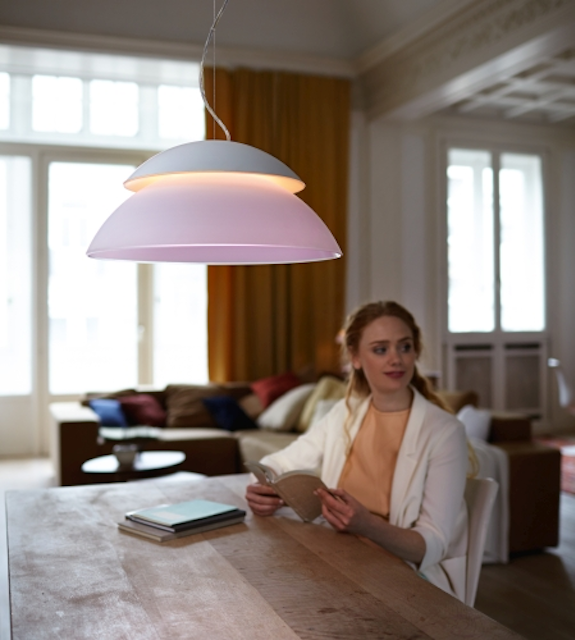 Philips expands Hue LED family with table, pendant, and ceiling luminaires
The Hue Beyond family could easily become the most significant addition to the color-tunable product line since the original launch of the A-lamp and ZigBee wireless bridge. The Hue products have a devoted following but usage of the products has trended more to entertainment such as the disco app that changes light colors dynamically to the beat of music detected by a smartphone. The new products squarely target mainstream usage in multiple rooms of the typical residence.
"Most spaces in a home these days are multifunctional and therefore they need to be flexible to adapt to what is needed – this is where lighting can really make a big difference," said Leonardo Avezzano, consumer marketing director for Hue luminaires. "With Hue Beyond, a kitchen table can go from a place to enjoy dinner with the family to a place children can do their homework without affecting the ambience of the room, but with the added benefit of keeping you connected to the world around you."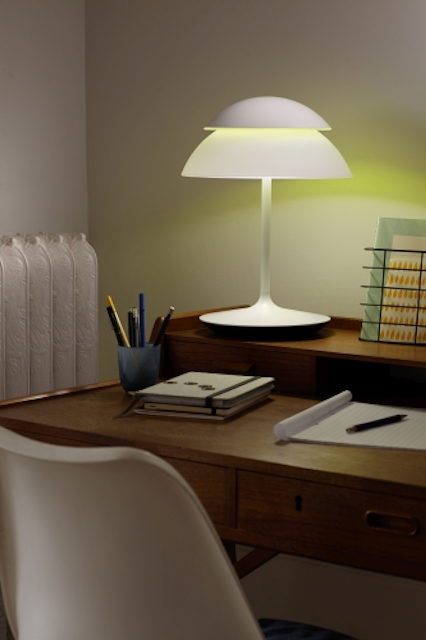 The new lamps can still be used with apps such as Hue Disco. Moreover, you can set the lights to inform you of events such as the arrival of e-mail by blinking or changing color. But the Beyond product line offers the unique ability of dynamic color scene setting that is enabled by the upward-facing source and the top reflector that delivers light onto the outer surface of the lower reflector. Meanwhile, the downward-facing lamp can be set for purely functional needs with the light distribution controlled by the lower reflector.
The initial announcement of the Hue Beyond family was made in Europe, although Philips said that the products will be available in both the US and Europe this month. The three products will be available in a starter kit with the Hue ZigBee bridge or as what Philips calls an extension kit – apparently meaning just the luminaire and LED lamps for customers that already have a Hue network up and running. The table lamp is priced at EUR 329 ($432) for the starter kit and at EUR 299 ($393) for the fixture alone. The ceiling and pendant products are priced at EUR 529 ($695) for the starter kit and EUR 499 ($656) for the fixtures alone.