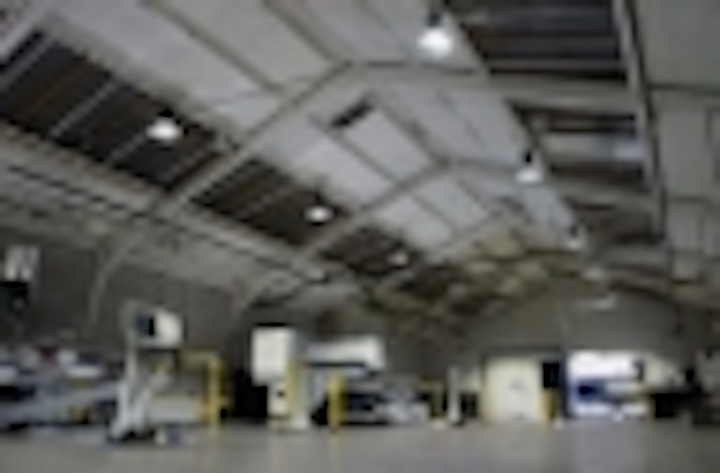 CLD Distribution has announced that it supplied a range of LED-based lighting to UK manufacturer Penn Elcom in a factory and office retrofit that has resulted in a 70% reduction in energy usage. The retrofit project will result in energy savings of GBP 18,000 (about $30,000), while also providing better quality lighting for Penn Elcom's office and factory workers.
Penn Elcom is a steel fabricator and manufacturer of components for products such as flight cases and loud speakers located in East Sussex, UK. The global supplier operates its factory 24 hours a day during the 253 days that the factory is active during the year. Those long operational hours made the factory an especially good match for an energy-efficient solid-state lighting (SSL) retrofit.
The manufacturer began a strategic efficiency program back in 2011, installing a heating system based on renewable resources, and foresaw that the lighting system offered both a chance to save energy and improve conditions for its employees. CLD recommended a comprehensive renovation that included LED lighting products for the factory and office areas.
The factory offered the greatest opportunity for savings. CLD replaced the metal-halide (MH) high-bay fixtures in the factory with 100W LED products. The savings are dramatic. Overall the entire facility went from consuming 272,025 kWh of energy annually to 68,006 kWh. CLD said the reduction is equivalent to eliminating 100 metric tons of carbon emissions.
Improved light quality
Still, it's the improved light quality that may prove equally significant. The LED fixtures actually have a cooler CCT in the 6000–6500K range as opposed to the 5200K MH sources. Such cooler light can increase worker productivity, according to CLD, because the spectral power is close to that of daylight.
Penn Elcom chairman Roger Willems, who instigated the company's energy efficiency program, believes the lighting is a great improvement for the employees. "I am absolutely delighted with the results of the new lighting scheme," said Willems. "It is important for businesses to improve their sustainability. Apart from the great value this also brings, my 60 staff can all benefit from increased light levels — in some areas by 250% due to the output of the LEDs — and a far greater quality of light in their working environments."
The high-bay fixtures utilize Osram Opto Semiconductors LEDs. They include occupancy sensing and instant off-on cycles for maximum energy savings. Moreover, the 75 CRI means that workers can see materials and machinery more accurately.
The final justification for the project was maintenance savings. Penn Elcom hasn't detailed that benefit at this point. But the LEDs are rated for 50,000 hours of life to 70% of initial lumen output (L70). The MH lamps had to be changed every 8000 hours.