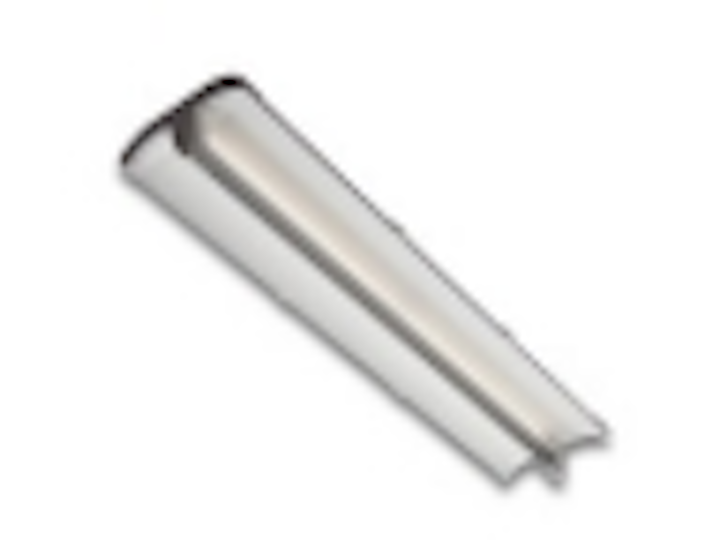 GE Lighting has announced the Lumination IS Series LED Luminaires that are alternatives to suspended or flush-mounted fluorescent fixtures. The new design uses a linear LED light engine in which the sources deliver light upward into dual linear reflectors and enable a direct lighting experience.
GE is targeting the new series at applications in settings such as retail, warehouse, and industrial where low-bay lighting is either suspended from the ceiling or flush mounted. The fixtures can be snapped together daisy chained end-to-end to create long, continuous runs with uniform indirect light and no dark spots.
"In low bay environments where both brand image and performance are key — such as grocery stores, retail superstores, and convenience stores — efficient lighting can be a crucial component," said Elizabeth Skierski, indoor suspended LED product manager, GE Lighting. "GE Lumination IS Series LED Luminaires are the perfect solution for upgrading traditionally drab low-bay lighting fixtures with sleek, contemporary illuminance while increasing overall visibility for customers and workers navigating amongst goods stocked on shelves and on the warehouse floor."
GE continue to expand the portfolio of products sold under the Lumination brand, and in some instances that branding can be confusing. The brand has been used repeatedly with products such as the EL, EP, and ET Series that utilize the Intrinsx light-guide technology that is edge lit by LEDs. For example we recently covered an installation of the EP series at the US Embassy in Finland. When the Lumination brand was initially introduced, GE had said that it would include fluorescent-replacement products but also mentioned the light-guide technology before the company begun calling it Intrinsx.
More recently, the Lumination brand has been used with other types of linear and planar products. For example, GE announced the planar BT Series recessed troffer that uses LEDs to directly light the diffuser from behind, as opposed to the edge-lit light guide. And the company most recently used the Lumination brand on a recessed downlight that uses an Infusion LED modular light engine. We covered the Lumination DI Series and the Zhaga-compatible module over on our LEDs Magazine website.
GE Lighting is offering the Lumination IS Series in 1×4 and 1×8 models. The products deliver color rendering of 80 CRI and a choice of 3500K and 4000K CCT. Efficacy is 105–115 lm/W, and the products are rated for 65,000 hours of life. GE will offer DALI (digital addressable lighting interface) and 0–10V dimming controls.