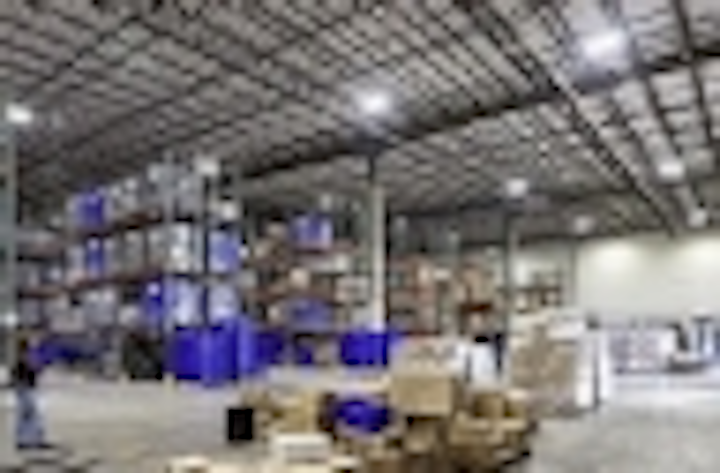 GE Lighting has announced that its Albeo business unit has supplied LED lighting to the Natural Grocers chain for use in lighting 40 retail stores and a distribution center. The environmentally conscious grocer uses green materials throughout its stores and pushes plastic-bag-free shopping, and now is installing solid-state lighting (SSL) that will result in 38% less energy use.
Natural Grocers has installed quite different LED-based products in the stores and warehouse, although both were supplied by Albeo. In the warehouse, the grocer installed 157W Albeo ABHX-Series high-bay fixtures in place of 400W metal halide (MH) lamps. Those products are equipped with motion sensors to enhance savings through dimming when workers aren't in any given area of the warehouse.
The potential for enhanced savings attributable to the combination of LEDs and adaptive controls in warehouses is well documented. Digital Lumens, for instance, has delivered up to 90% savings in a number of warehouse projects including one at a Ben E Keith Foods distribution center.
Albeo is claiming similar savings in the Natural Grocer distribution center. Indeed, the grocer is expecting a 93% reduction in energy usage along with maintenance savings. The company expects to save $23,000 annually in energy costs at the center, and the fixtures are rated for 100,000 hours to L70 whereas the MH fixtures required re-lamping on a 20,000-hour cycle.
Retail lighting
In the stores, Natural Grocers installed the Albeo ALC3-Series linear fixtures. The stores range from 12,000–25,000 ft2 and each requires a different lighting layout. The ALC3 fixtures are available in a variety of lengths and can be cascaded in continuous runs to support the required layouts. Moreover, Natural Grocers said that products are simple to install and speed the installation process. The company is opening new stores monthly so the simplified installation was an important factor in the selection.
The linear fixtures don't deliver comparable savings to the warehouse installation, although from a savings perspective the scope is larger because of the number of stores. The grocer chose 90-CRI products to light its goods and maximize the visual appeal of items such as fresh produce. High-CRI lighting is inherently less efficient, although the Albeo products are still far more efficient than the fluorescent alternative and produce light quality not available in fluorescent sources.
Overall, Natural Grocers is projecting 1.7 million kWh in annual energy savings that equates to $193,000. "In everything we do and provide, we are committed to being environmentally responsible. Utilizing LED lighting fixtures throughout each new store is a smart, visible way that we demonstrate this commitment," said Kevin Stees, construction project manager for Natural Grocers. "Using LED lighting rather than fluorescent or incandescent lighting saves energy and reduces maintenance and recycling needs, allowing us to focus on what we care about – offering the very best to our customers while reducing our impact on the environment."
GE Lighting has found significant success selling LED lighting into the grocery market. Projects have included the supply of GE LED PAR38 lamps to The Fresh Market. The company has also supplied numerous retailers with LED refrigerated case lighting including Southern California Stater Bros stores.