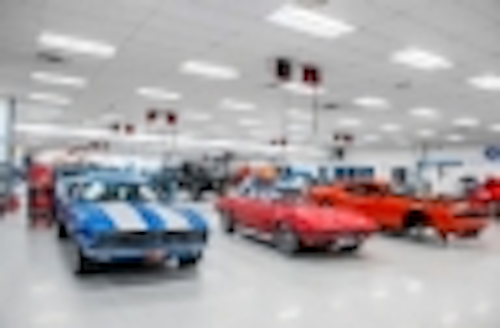 More than 700 Cree LED luminaires were installed in Richard Petty's, a driver garage complex that is used for restoration of high-performance vehicles, drag racers, stock cars, and Petty signature cars. The renowned former NASCAR driver chose solid-state lighting (SSL) for optimal light quality and energy efficiency with the help of Greenleaf Energy Solutions.
The LED lighting installed featured Cree CR24 LED troffers, LR24 LED troffers, and CS18 LED linear luminaires. These new fixtures offer more than 50% savings when compared to the previously used fluorescent lighting at the complex, and reduced the number of fixtures required to provide proper lighting by 10%. The lighting also offers a CRI of 90, making the vehicles being serviced stand out in the complex. With lifespans of more than 50,000 hours, the new lighting will also save on maintenance costs for the garage.
"Cree LED lighting delivers the quality of light we need for the work in our garage, allowing us to focus on our business of redoing cars," said Petty. "We turned these lights on, and they made our cars and shop look brand new. There's really only one word to describe Cree's lights – wow."
The CR24 troffers were installed in the main production facility, while LR24 LED troffers and CS18 LED linear luminaires were installed throughout the complex.
After the installation of indoor SSL products, Petty plans to add LED fixtures externally as well. Outdoors, Petty plans to add Cree Edge secure and floodlights, along with LEDway streetlights to the property.