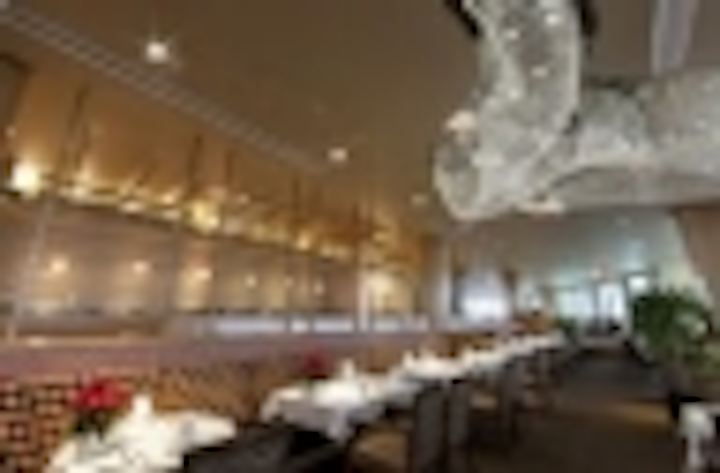 A resort hotel in British Columbia, Canada, has installed around 2500 LED lamps from GE to reduce energy and maintenance costs, and highlight the hotel's Swarovski Crystal creations.
Sparkling Hill Resort in Vernon, BC, has over $10-million-worth of Swarovski Crystal features, which are intended to provide an atmosphere of calm and serenity.
The lighting upgrade will help cover some of this cost by saving $1.3 million in energy and maintenance costs over 10 years. The switch has reduced the annual energy consumption for lighting by 828,000 kWh.
Sparkling Hill engaged GE and Brite-Lite, a British Columbia-based lighting and electrical wholesaler, to better understand the best way to showcase the crystals. It was recommended that 50W halogen bulbs be changed to 7W PAR20 LED and 12W PAR30 LED replacement lamps in guest suites, penthouses and dining venues as well as meeting and activity rooms, among other areas, throughout the resort.
"Having seen both [lighting solutions], I can now say I prefer the whiter light of the LED lamps that better accentuate our three million Swarovski crystals," said Wolfgang Hoppichler, chief engineer at Sparkling Hills.
Cost savings and payback
Following the installation of 2200 PAR20 LED and 300 PAR30 LED replacement lamps, Sparkling Hill reduced its annual electricity use by 828,000 kWh. This equates to a saving of around $66,300 per year in hotel lighting costs, based on a $0.08/kWh rate and 24 hours of operation a day.
Maintenance expense has also fallen sharply at the resort, where staff had replaced 2500 halogen bulbs a year on average.
"We were changing 10 to 20 bulbs every day just to keep up," Hoppichler said. "Since the swap we've replaced only five LED lamps in less than two years."
Including purchase, labor and disposal costs, Sparkling Hill is now spending $68,000 less in annual upkeep thanks to longer-lived LED lighting technology.
The total operating costs for lighting, including electricity and maintenance, have fallen by $138,000 a year at the resort, or a projected $1.3 million over 10 years.
GE and Brite-Lite also helped Sparkling Hill fund its LED upgrade by guiding the resort to qualify for rebates from the local utility company for each LED lamp installed. Factoring for the purchase price of the new LED replacement lamps, project payback was achieved after only three months.
A crystal-clear choice
Carved into a granite cliff, Sparkling Hill Resort in British Columbia is celebrated for its many stunning Swarovski Crystal creations.
Incorporated throughout Sparkling Hill, Swarovski Crystal creations – designed exclusively for Sparkling Hill by the famous Austrian crystal company – emulate the coolness of waterfalls and warmth of fireplaces, emanating light and vibrancy to spaces with their extraordinary brilliance, purity, and absolute precise cut.
Optimizing this synergy of light, water and other decorative elements with the effects of new illumination was, according to Hoppichler, the foremost concern of Swarovski Crystal.
"Sparkling Hill is the only place in the world outside of the Swarovski museum in Wattens, Austria, where one can truly experience the remarkable ingenuity, creativity and technical ability of these magnificent crystals," he said. "To make such a significant change to the lighting design, it has to be the absolute right thing for a resort as unique as ours."