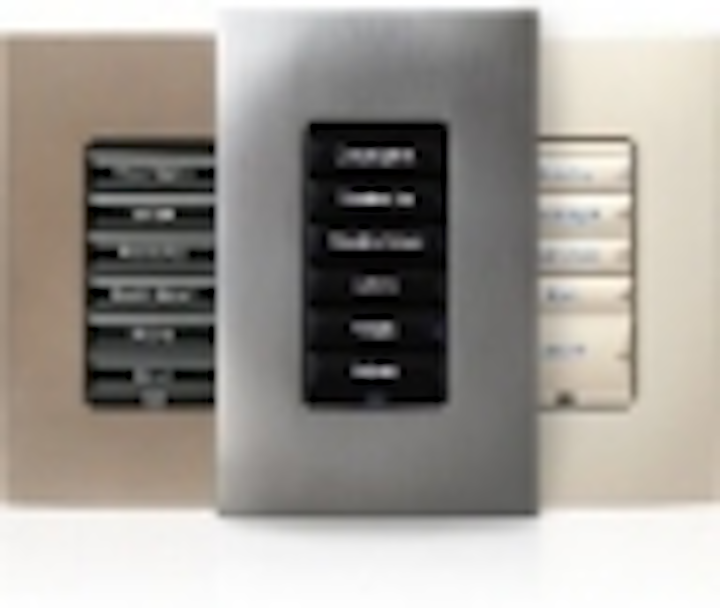 Control4 has introduced the Control4 Wireless Lighting family of products that are compatible with the company's home and building-automation technology. All of the products, including dimmers, switches, and keypads, connect via the wireless ZigBee network and can be controlled via the company's Control4 MyHome app on mobile devices, or through dedicated touch-screen controllers.
"Lighting control, when integrated with automation, is quickly becoming an essential smart home application," said Martin Plaehn, CEO Control4. "Intelligent lighting enhances the aesthetics of the entire home, helps manage energy consumption, and with Control4 technology can integrate with security, audio/video and climate-control systems, as well as with window shades and other devices to create truly personalized experiences for homeowners."
The company pointed to recent market research as justification, in part, for the new product line. Pike research has projected that lighting controls will rise from a $1.5 billion market in 2012 to $4.3 billion in 2020.
The new product line includes the Control4 Wireless Adaptive Phase Dimmer, Control4 Wireless Configurable Keypad, Control4 Wireless Keypad Dimmer, Control4 Wireless Fan Speed Controller, Control4 Wireless 0-10V Dimmer, Control4 Wireless Forward Phase Dimmer, Control4 Wireless Switch, and Control4 Auxiliary Keypad.
The functions of the products are largely self-explanatory. The company has attempted to cover the breadth of lighting technologies with phase-control dimmers that work with legacy sources. Moreover, many LED-based lighting products have drivers that work with such dimmers.
High-end luminaires, based on LEDs and other sources, often use technologies such as 0-10V dimming control. The keypads and switches provide localized controls that work in a complementary manner with programmatic controls.
Programmatic control via a mobile device or dedicated controller can include scene setting or individualized control over fixtures. For example, an away scene would lower or extinguish lights to a predetermined scenario and could also set HVAC, security and other systems to the appropriate mode.