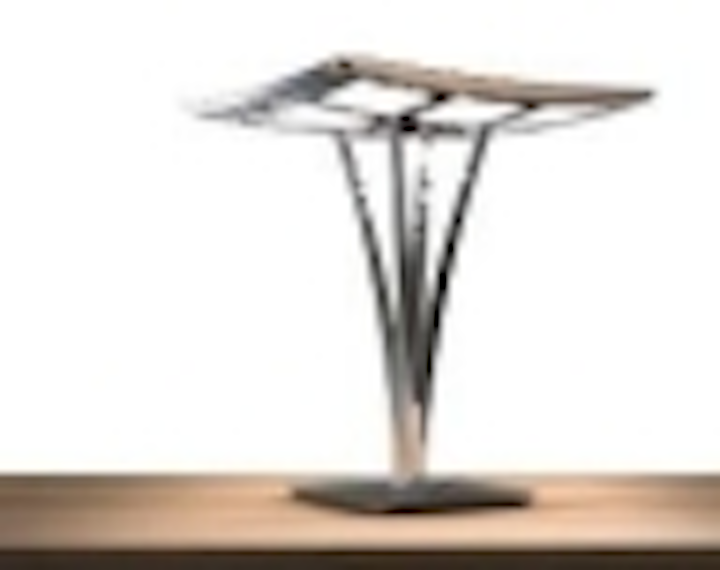 Blackjack Lighting principle Stephen Blackman has designed the Aradess OLED table lamp and exhibited the work at the 2013 International Contemporary Furniture Fair in the Philips Lighting booth this past weekend in New York. The decorative lamp uses eight Philips Lumiblade GL350 OLED panels to deliver functional uniform task lighting.
Each of the panels measures 124.5×124.5 mm and is 1.88 mm thin. Yet the panels each generate luminous flux of 120 lm. And OLEDs inherently generate uniform diffuse light.
OLED technology trails LED technology in terms of maturity - OLEDs cost more and offer lower efficiency or efficacy. For example, the source efficacy in OLEDs today is in the 40-60-lm/W range whereas LEDs significantly exceed 100 lm/W at the device level.
Still, the OLED technology holds promise especially in applications where the metric of interest is light control and application efficiency. See the feature on OLED technology (linked at right) that we ran last summer for more information.
For now, however, the price on LED-based products remains an obstacle. The linked article mentioned two table lamps prices at $3000 and $7500. The Aradess lamp will fall in the middle with a $5900 wholesale price at launch. The good news is that OLED prices will continue to drop.
Blackjack Lighting is a startup lighting manufacturer that will launch its products commercially this Fall. But Blackman, who will serve as president and chief product designer, has more than 30 years of experience designing light fixtures.