Acuity lighting and controls slash energy use in San Antonio school
Efficient fluorescent lighting, daylighting, and extensive use of controls allow the Kinder Ranch elementary school in San Antonio, Texas to exceed ASHRAE 90.1 standards.
Apr 11th, 2013
The San Antonio, TX Comal School District constructed a new elementary school campus that operated initially in the 2011-2012 school year and delivered energy savings of $54,000 relative to similar facilities. Contractor CMTA Consulting Engineers recommended efficient fluorescent lighting, and controls-technology that took advantage of daylighting, both from Acuity, to realize performance that exceeds ASHRAE (American Society of Heating, Refrigerating and Air-Conditioning Engineers) 90.1 performance standards.>
The Kinder Ranch school is an 87,300-ft2 facility that was planned back in 2009 with the vision that it would be a green, energy-efficient campus. "If our energy performance is 50% better than code, then that means high performance to us, said Zachary Schneider of CMTA. "We wanted our energy usage to be in the low 20 kilo/btu per square-foot, per year – but we are always striving to raise the bar."
The green planning impacted all building systems including HVAC. Lighting, however, was one place where the SHW Group Architects and CMTA realized that there was significant potential for savings, especially through the use of daylighting.
Daylight harvesting
"A substantial amount of energy can be saved by using daylight harvesting, but it also can positively influence student performance," said Schneider. "Studies show bringing daylight into a classroom is a very important component of a successful learning environment." Ultimately the architects used exterior glazing and large daylighting windows with the windows placed high near the ceilings to maximize natural light directed into the rooms.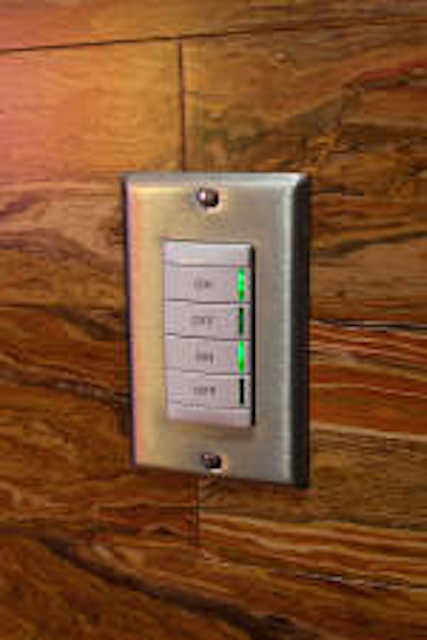 Daylighting was combined with controls technology from Acuity's nLight brand including occupancy sensors, ambient light sensors, programmable controllers, and wall panels with displays and switches. "We use photocell controls to dim light levels based on the natural light coming in," said Brien Brooks, master electrician for the district. "Our graphic wall displays use several modes for teachers to use depending on what they are doing in the classroom. We have a normal mode, which works with the photocells, and an AV mode for the projector or multimedia viewing. Teachers can even override everything, driving the lighting up to 100% for activities such as testing, where we may need to supply a higher light level."
Fluorescent lighting
The nLight controls were integrated into the various lighting fixtures used in the school. Primarily Lithonia Lighting 2×4-ft SP and WRT T8 troffers provide the ambient and task lighting. Gotham 8-in AF compact fluorescent downlights were also used in common areas.
While fluorescent lighting generally requires more maintenance than say LED-based solid-state lighting (SSL), CMTA selected the fluorescent lighting to simplify maintenance. The selected products offer simple lamp replacement. "We wanted to have a maximum of three lamp types in the building so maintenance only has to have three lamps in stock at the facility," said Schneider. "With high efficiency lighting fixtures, the less you have to change the lamps. Thus, the longer the lifespan, the less maintenance."
Results and energy savings
After a full operation year, the school district has been able to quantify the results of the school design. "The cost per square foot is tracking at almost half of what other facilities in the school system with similar floor plans are tracking," said Schneider. "Based upon the existing elementary schools with the same floor plan, Kinder Ranch was saving the district around 46% on utility costs for the same time period. From September 2011 to January 2012, Kinder Ranch cost $19,594 to operate, while the existing elementary costs $36,313."
Given the success, the district is using the same template in construction of its new Indian Springs elementary school and will use similar technology in middle and high schools. "Kinder Ranch is a remarkable energy story," said Charlotte Cole, facilities technician for the district. "The new lighting design is significantly reducing our utility costs. This is one of the reasons we are implementing similar designs across the district."