Acuity Brands demonstrates tunable lighting in Lightfair experience center
A mix of near-to-market tunable-white luminaires was impressive in Acuity's exhibit, but the Aera LED RGB-tunable system concept was among the most impressive demonstrations on the show floor at Lightfair.
Apr 25th, 2013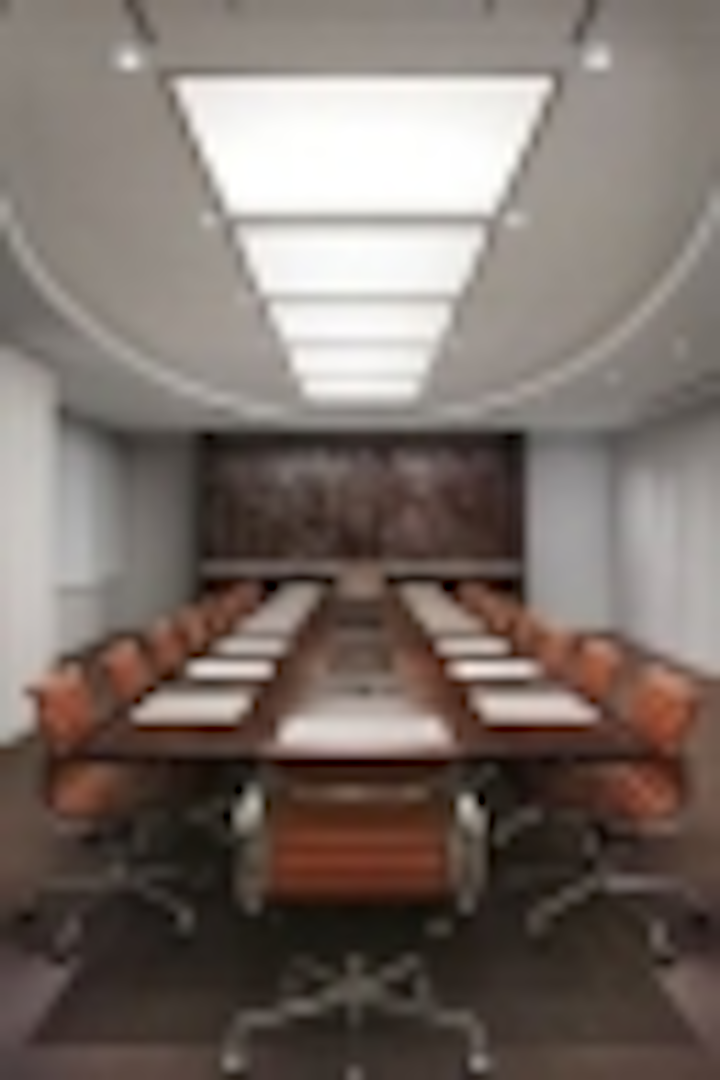 Acuity Brands, like other companies at Lightfair International (LFI), placed its most compelling new products and concepts in a private demonstration room in its booth and the products demonstrated were all either color- or white-tunable in nature with inherent adaptive controls. Acuity called the exhibit the Lighting Inspirations experience and indeed a new color-tunable concept called Aera was extremely impressive. Meanwhile white-tunable products from the Gotham, Veil, and Mark Architectural Lighting brands are due on the market soon.
Aera is a unique concept among the thousands presented at LFI. Acuity showed the technology in a mock office setting. The Aera luminaires resembled a series of 6- or 8-in square windows near the ceiling recessed into the wall. Those windows delivered both white task lighting on a desk and tunable-color ambient lighting using red, green, and blue (RGB) LEDs.
The white LEDs in the concept were designed pointing upwards at an angle to provide indirect lighting reflected off the ceiling. Acuity said that the technique could deliver 30 fc on a desk surface located perhaps 6 ft from the wall.
RGB ambient light
While the windows produced both the white task light and colored ambient light, the functions were largely separate and did not conflict with one another. The RGB LEDs were implemented, unseen, in the top and bottom of the window frame. Those LEDs were shone into a planar light guide that presented the light very much like a window to the outside world would.
Acuity demonstrated scenes such as sunrises and sunsets in the windows. Indeed having RGB LEDs above and below allows for color gradients across the surface of the window pane. A tablet computer controlled the compelling scene setting.
Aera, alas, is a year away from reality. Indeed Acuity said that it was using LFI to gather input on the concept. Still the demonstration was among the best on the massive show floor.
Tunable white
More near term, Acuity has a number of luminaires capable of delivering tunable-white light. The experience center included Evo downlights from Gotham and Veil, and recessed 2×2-ft square luminaires from Mark Architectural Lighting that include a planar diffuser panel. Acuity demonstrated the tunable capabilities of the latter setting the luminaires to match the color of the drop ceiling in which they were installed.
Acuity complemented the tunable-white products with linear RGB Parata luminaires from Winona that were hidden in a cove. Acuity says that the combination allows tuning of the overall lighting experience to be optimized for lighting a specific set of objects – for instance a brightly-colored spring ensemble in a retail setting.