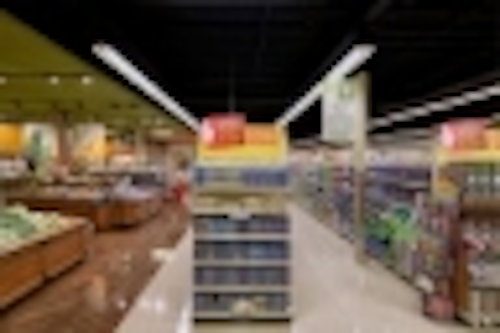 The Tops Friendly Markets store in Geneva, NY has installed new solid-state lighting (SSL) from Cree Lighting that will deliver an estimated 70% energy savings relative to the previously installed T5 fluorescent lighting. Cree supplied the grocer with LED-based CR24 recessed troffers and CS18 suspended linear pendants.
Both of the installed fixture types include Cree's TrueWhite technology that mixes LEDs of different colors to deliver warm, high-CRI light that is still very efficient. Indeed all TrueWhite products have a minimum CRI of 90 and that color quality is vital to optimum presentation of the goods for sale.
The fixtures also must provide the high light output required in the application with 13-ft ceilings. "Consistent, high-quality light levels from top to bottom of the shelf are a critical need for retailers as they look to enhance the overall shopping experience," said Mike Bauer, vice president of lighting sales at Cree. "The CS and CR troffers deliver the lighting quality Tops Markets desires, with the added benefits of low-maintenance and energy efficiency, ultimately supporting the bottom line."
The CS1 luminaires are used primarily in the aisles. "When we heard about the Cree CS18 linear luminaire, we conducted a test installation in Buffalo and the results were excellent," said Dan Jaskza, energy consultant for Tops Markets. "Not only did the Cree LED lighting product offer us 70% energy savings, but also improved lighting quality without compromising lighting levels.
A key benefit of the CR24 troffers installed in administrative areas is dimming support. Indeed many of those lights can be dimmed or extinguished during portions of the 24-hourday operation to further enhance energy savings.
"Tops Markets has always been progressive in designing energy efficiency into its store," said Jaskza. About the Cree lighting he added, "It offers energy savings, quality of light and is also fantastic in terms of maintenance reduction." The grocer expects to realize payback on the project in two and a half years.
Given the success with the installation, Tops is already installing LED lighting in a second store. That location will use both the CS18 fixtures and a round LED pendant fixture.