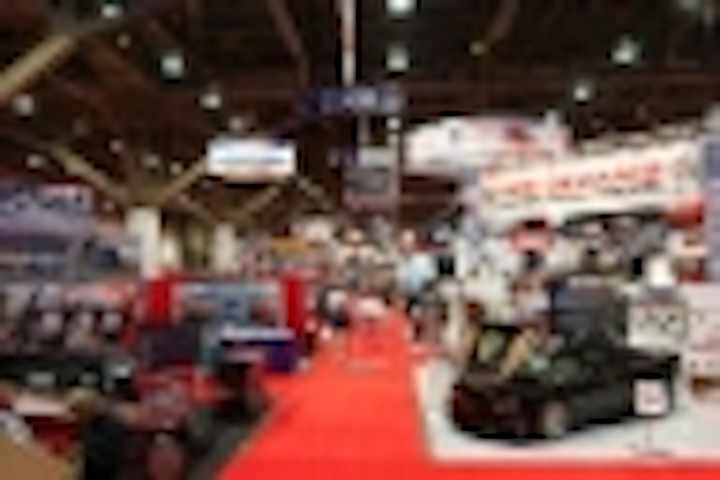 The Las Vegas Convention Center has retrofitted the lighting in its Central Hall with DualBay ceramic metal halide (CMH) luminaires from Acuity Brands' Holophane division. Approximately 2000 fixtures were installed along with computer-based remote control to both save the center energy costs and improve the light quality.
The DualBay products support dual lamps in a high-bay design. Acuity offers versions that support a choice of 210W or 315W lamps that are paired with an electronic ballast. The fixtures use refractor/reflector technology that Holophane calls ISD SuperGlass that essentially uses a prism to control and enhance the light distribution.
While we most often hear about LED-based lighting relative to energy efficiency, the latest CMH lamps approach the same efficacy levels as solid-state lighting (SSL). We covered a discussion of CMH technology in a recent feature article where a speaker at the Street and Area Lighting Conference reported CMH efficacy as high as 130 lm/W. Holophane rates the 315W Dual Bay at 112 lm/W.
The performance delivered the savings that the center was looking for. "DualBay high bay luminaires have reduced the convention center's energy consumption by nearly 40 percent while creating a vivid, uniformly lit environment with less glare and strain on the eyes," said Joe Toro, electrical supervisor for the Las Vegas Convention and Visitors Authority.
The new lighting also delivers excellent quality and uniformity. The CMH lamps are rated at 90 CRI, and color rendering is critical in exhibit calls where objects such as shiny new cars are on display. "Our exhibitors have commented about how well their products look on display," said Walter Laub, senior manager of facilities engineering for the Las Vegas Convention and Visitors Authority. "The new lighting complements the exhibit space, making it more attractive and easier to promote overall."
The new lighting delivers 60-85 fc throughout the exhibit hall. The lighting design overlapped fixture coverage slightly to ensure uniform lighting.
Controls are also part of the energy-efficiency story. The center can control each figure individually from a central computer to make sure most lights are off when not needed.
The Central Hall is just one of several halls at the huge facility. Acuity reported that the Las Vegas Convention and Visitors Authority is now planning to install 1400 additional luminaires in two additional halls.