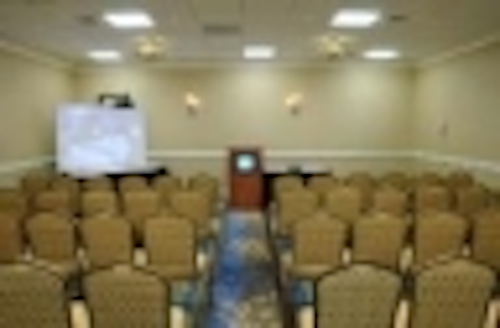 A Holiday Inn hotel in Columbia, MD has retrofitted meeting rooms and some office space with planar LED-based lighting from MaxLite. The new solid-state lighting (SSL) will generate $91,704 annually in energy and maintenance savings, but perhaps more significantly is leading to increased conference and event bookings in the redone meeting rooms.
The MaxLite products utilize LEDs that provide edge lighting into planar light guides that produce an inherently diffuse light and that are typically installed in ceilings as alternatives to traditional troffers. The hotel installed 3000K CCT fixtures that also include dimming and remote control capabilities.
The lighting project was begun only after new hotel owners launched a renovation and considered a solar system to save energy. But energy-efficiency contractor Bmore Green's CEO Shane Hresko suggested to the hotel management that energy-efficient LED lighting would be a good investment for the property.
Initially, hotel general manager Jack Warner agreed to try the LED products in the hotel's smallest meeting room — the 780-ft2 Continental Room. Bmore Green replaced twelve 260W fluorescent troffers with ten 45W MaxLite flat panels.
It was clear that the retrofit would save energy, and Warner and the hotel staff recognized the value in smoothly dimmable lighting. Hresko said, "The hotel owner selected MaxLite's panels not only because of their great performance but also because of their ability to dim and adjust the rooms' brightness with the use of the remote control."
Still, it was potential customers that made the project a clear-cut success. Hresko explained, "After installing the LED panels in the first room, the hotel owner asked me to come back and retrofit the other two meeting spaces because his customers only wanted to book the small room." The quality of lighting impressed potential customers, and the controls enable meeting organizers to arrange the room any way they like with the ability to control the lights with the remote device from the podium.
Ultimately, Bmore Green retrofitted the the 1980-ft2 Washington Ballroom and the 3500-ft2 International Ballroom with 52 LED fixtures, replacing 56 of the fluorescent fixtures. The hotel also decided to replace the T8 fluorescent lighting that had just been installed in three newly-built managers' offices.
The LED installation was clearly a winner with customers and employees have said that the new lighting is easier on their eyes and less likely to cause strain. In addition to the aesthetic benefits, the hotel expects to save 764,200 kWh of energy each year.