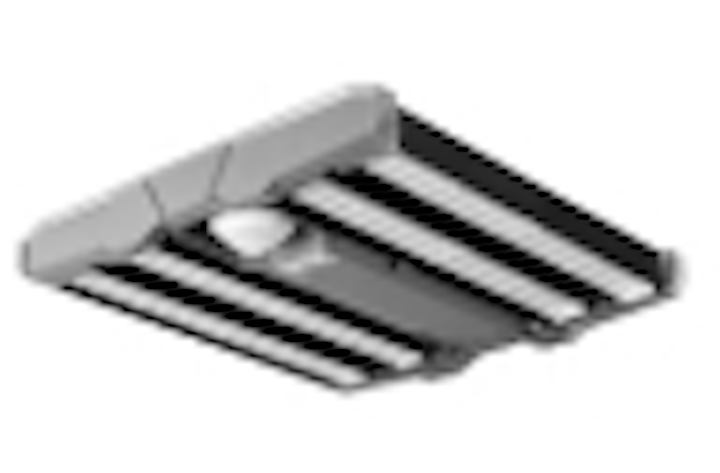 Adaptive-lighting and network specialist Digital Lumens has introduced a new line of LED-based DLE high-bay luminaires spanning 12,000–24,000 lm with efficacy reaching 100 lm/W. Meanwhile, the company has also launched an upgrade to its LightRules lighting management software, new LightRules Power software to monitor other building power loads, and a new peripheral used in LightRules installations.
Building systems
Expanding beyond lighting controls is perhaps the most significant step for Digital Lumens since the company launched as a manufacturer of intelligent solid-state lighting (SSL) fixtures packaged with a wireless network and adaptive-control software. Indeed, lighting is just another commercial building system such as HVAC in which proactive management can significantly reduce energy usage.
"The extension of LightRules to monitor systems beyond lighting has been a core element of our vision since the beginning," said Brian Chemel, CTO and co-founder of Digital Lumens. "Energy consumption is a strategic lens through which to view and manage operations, and LightRules is the facility-wide network for many of our customers, making it the logical place to add these capabilities."
Of course, there are often other systems already in place to control HVAC, security, and additional building systems. Ironically, programmatic and adaptive lighting control was a late-blooming technology even though lighting uses a disproportionate share of energy. Ultimately the commercial-building industry will determine if lighting control is added to existing systems or if companies such as Digital Lumens can succeed in capturing full facility management.
Atlas Box and Crating, an existing Digital Lumens customer, sees potential in the extension. "LightRules is a powerful platform for strategically managing energy use, and with a network already in place, adding the ability to monitor other systems and machinery is a simple and efficient way to gain further insight into our systems," said Frank Tavares of Atlas Box and Crating. "For example, with better understanding of equipment utilization rates, we can easily forecast our energy use, as well as our capacity to expand our business."
Along with the expanded scope of LightRules, the company also launched LightRules Keypad. The wall-mounted control panel allows facility managers immediate access to the LightRules software on a factory or warehouse floor. The panel enables an all-on setting and access to eight unique lighting profiles.
DLE luminaires
Separately, Digital Lumens expanded its luminaire line with the DLE family that's being offered in 12,000-, 18,000-, and 24,000-lm versions. Customers can specify narrow or wide optics, and the fixtures allow for individual rotation of the LED light bars for added flexibility in beam control.
The DLE products are the first from the company to exceed 100 lm/W in efficacy. Of course, that rating is not nearly so important in adaptive installations where Digital Lumens says that occupancy and daylight sensing can reduce energy use by 90%. "The DLE family features Digital Lumens' built-in sensing and controls, higher efficacy, and LightRules integration for managing settings and reporting on lighting energy, making it the most cost-effective high-bay LED solution on the market," said Michael Feinstein, vice president of sales and marketing.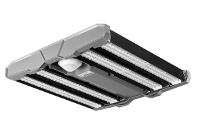 The new line is IP52 rated for damp environments. The older ILE and HLE lines have a more stringent IP65 rating. The DLE line includes two power options — 100–277V input or 347–480V input. "With these new fixtures, Digital Lumens has created the broadest portfolio of intelligent high-bay LED luminaires, and continues to set the bar for industrial lighting efficiency and performance," added Feinstein. The new fixtures are already listed on the DLC (DesignLights Consortium) qualified products list.