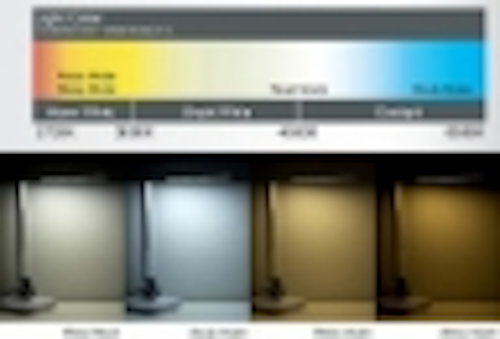 Luxy Star Lichttechnik has now announced four versions of the Smart LED Desk Lamp that combines tunable LED lighting, touch-based controls, and smartphone charging. The adjustable design with extremely low-profile head demonstrates what can be accomplished with LED sources while also providing the tunability benefits that are sometimes referred to as human-centric lighting.
Designed in Germany and now being manufactured in Taiwan, the Smart LED Desk Lamp includes four dedicated touch controls near the base that place the light in a selection of read, study, relax, or sleep modes. Relax and sleep mode both produce light in the 2700K–3000K range at different intensities. Read mode is centered at 4500K and study mode approaches 6500K. The lamp features a CRI of 90
In any of the preset modes, the user can further vary the output of the lamps with a touch-based dimmer on the base that includes a nine-step control. Moreover, the lamp includes a timer that will extinguish after 30-minute to 2-hour intervals.
The light engine in the lamp includes two channels of cool-white LEDs and a single channel of warm-white LEDs runs down the middle. The driver electronics separately control the channels to provide the tunable white point.
Luxy Star has produced four versions of the lamp, with even more variation in the baseline model. Many have the ability to provide charging power for smartphones since the lamps works from an AC/DC wall-plug power supply.
The baseline LL-01 is offered with or without a USB charging port and with or without the tunable mode-selection function. The LL-02 (iPhone4 charging) and the LL-04 (Android charging) will sell for under $150. The LL-03 for iPhone5 will sell for under $175. The iPhone models look to have a solid docking design. Because of the difference in Android phones, the LL-04 has a rather flimsy mini-USB connector on which the phone can be placed with little support.
The company says that is already selling the desk lamps in select shops in both Germany and Taiwan. The company will demonstrate the lamps at the Lightshow West exhibition scheduled for October 23–24 in Los Angeles, California. Managing director Lawrence Lin said that he will both be looking to sell the lamps and to find distribution partners in the US.
If you want to learn more about the potential benefits of human-centric lighting, we've published a number of article on the topic on our LEDs Magazine website. Recently, LightingEurope published new research on the topic. There were also presentations on the topic at the recent London Design Festival from Oxford University. We also had a webcast on the topic last year, called "Tunable lighting - Changing color and light levels to enhance our enjoyment and wellbeing," which you can still view on demand for a limited time.