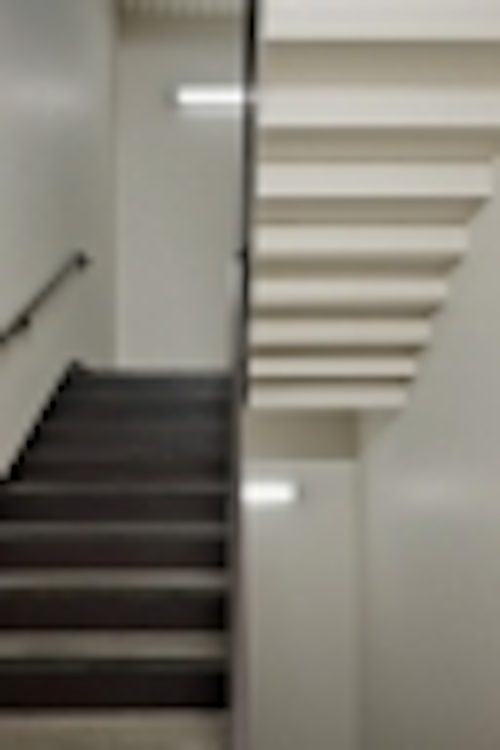 The University of Minnesota has completed the first phase of a retrofit to solid-state lighting (SSL) products in some stairwells, hallways, and corridors on the West Bank of the Minneapolis/St. Paul campus. The project using 961 Lithonia Lighting (an Acuity Brand) W Series LED luminaires will save 379,392 kWh of energy, equating to a $30,000 reduction in energy cost.
LED-based lighting in general can deliver energy savings in many projects, but the advantages can be compounded significantly due to the inherently controllable nature of the sources. In fact, the adaptive-control angle was what initially caught the interest of the university's facilities staff.
The facilities team knew that some stairwells, hallways, and corridors, especially those at the rear of buildings, saw very little foot traffic. The areas were lit with relatively-efficient fluorescent or HID sources, but the lighting burned at full brightness 24 hours a day. Tests documented very low foot traffic in many areas, even during peak times of the day.
University staff ultimately chose the W Series fixtures with integrated occupancy sensors. The fixtures are offered in surface-mount versions for both walls and ceilings. Acuity sells the family with a choice of light source technologies, but the LED versions offer the best efficiency and are the most amenable to controls scenarios.
In the university installation, the lights are set to output 100% when anyone is present in the area of a fixture. But light levels drop to 10% anytime an area is unoccupied. The fixtures have a fail-to-on feature that ensures the lights are set for full output if a sensor fails. The W Series LED was one of the fixtures recognized in the 3013 Next Generation Luminaires (NGL) competition managed by the US Department of Energy.
"The LED luminaires were chosen after careful consideration and evaluation that determined the price made sense and the payback was worthwhile," said Blaine O'Brien, senior energy auditor for energy management within the facilities management organization at the university. "Our testing demonstrated this concept was a good solution for our needs."