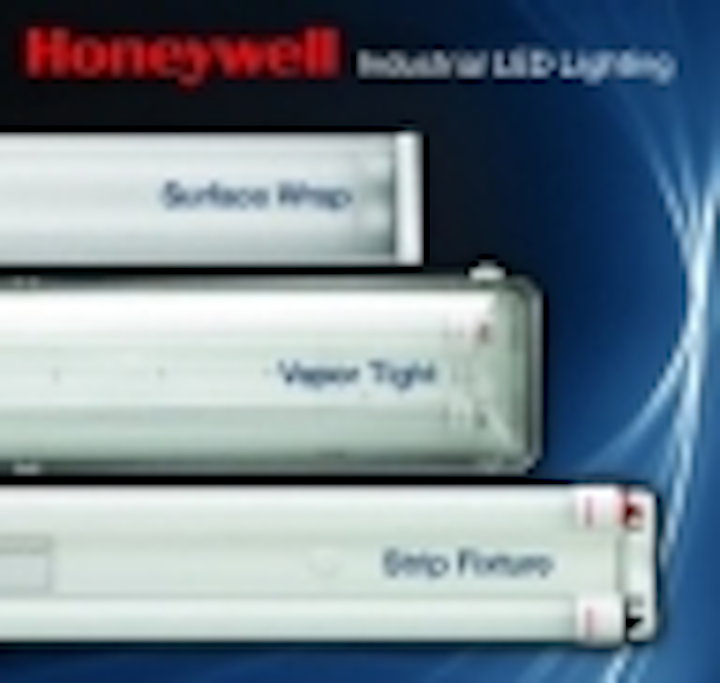 Honeywell has announced that its newly-formed LED Lighting Solutions business unit will launch a line of energy-efficient solid-state lighting (SSL) products to the North American commercial market. The potential for offering energy-saving lighting led to the new business unit with Honeywell planning to bolster the baseline efficiency of LEDs with its broad line of building-control and –automation products that can support adaptive lighting control scenarios.
"LED lights are greener, have a lower total cost of ownership, and last longer," said Beth Wozniak, president of Honeywell Environmental and Combustion Controls. "But what really unlocks their value is adding Honeywell's unparalleled expertise in integrating building management systems — lighting, lighting controls, heating-ventilation-air-conditioning — to make buildings smarter and give building owners more control over their total energy consumption and costs."
Initially, Honeywell will offer the linear LED-tube-based products pictured, primarily for commercial and industrial applications. The portfolio includes Strip, Surface Wrap, and Vapor Tight products. The company said the design delivers better beam control than competing LED tubes with the ability to offer a ±30° adjustment in beam angle. The products rely on external drivers integrated in the fixtures.
In justifying its initial commercial and industrial targets, the company said that lighting represents 26% of energy usage in commercial applications, and 11% in industrial applications, and that those two segments make up 72% of the overall energy consumption in North America.
The initial products target lighting applications including stairwells, parking garages, manufacturing floors, cold storage facilities, and warehouses. Later in 2013, the company plans to add retrofit tube lamps, planar ceiling fixtures, and high-bay luminaires. Honeywell said that it will also roll out a new line of lighting controls including sensors and switches that can be integrated with other Honeywell building controls.
"Our new LED Lighting Solutions business broadens Honeywell's energy efficiency portfolio and offers a strong retrofit opportunity with building owners looking to maximize efficiency and operational savings," said Wozniak. "No one understands buildings and energy better than Honeywell."
Honeywell has offered LED lighting in other regions of the globe for some time including Europe and Asia Pacific. For example, the company said that more than 80 Walmart stores in China have been retrofitted with Honeywell LED lighting.