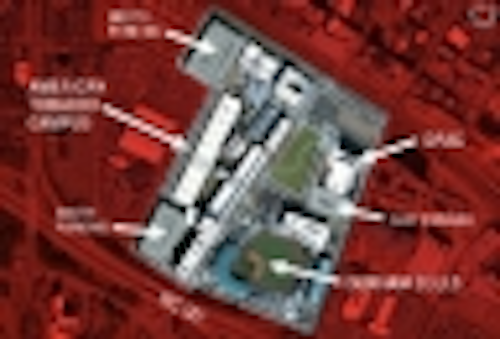 Cree has supplied more than 1000 LED fixtures to the American Tobacco Historic District for part of an overall upgrade of the century-old site in Durham, North Carolina that has been transformed into a downtown entertainment district. Utility Duke Energy partnered on the project that predominantly includes the installation of Cree VG Series LED garage lights that were just announced in August.
The campus was transformed in 2004 into a setting for both office space and entertainment venues housed in the rundown factory spaces. Now Cree, Duke Energy, and the property owners hope to set an example for what can be done with other historic entertainment sites. The overall project is slated to generate 18% annual energy savings although the garage savings will be more significant.
"Innovation has always been in the DNA of American Tobacco Campus," says Michael Goodmon, vice president of real estate for Capitol Broadcasting Company, which owns the historic redevelopment. "As we prepare to celebrate the 10th anniversary of the campus' re-birth, we're thrilled to partner with Duke Energy and Cree to set the pace for revitalization projects around the country."
In total, the revitalization encompasses 1.2 million ft2. Design firm Building Intelligence is guiding the overall campus redevelopment intended to make the historic buildings more efficient.
Cree has supplied lighting for three usages thus far. Cree Edge Area luminaires are being used on the roof decks to replace 1000W metal halide (MH) fixtures. For the parking garage, Cree has supplied some Cree 304 Series luminaires, and more than 800 of the new VG Series fixtures.
The 50W VG Series fixtures replaced 175W MH lamps. At the VG Series launch, Cree had described the project, without naming the location, and provided a basic 10-year financial analysis. Over the course of 10 years, the garage would require replacement of 2850 MH lamps totaling $90,000 in labor and $25,000 in lamp costs. The LED fixtures should require little if any maintenance over 10 years.
In energy savings, the transition to LEDs would total $650,000 over 10 years or $65,000 annually. That figure could increase based on the use of occupancy-based dimming. Cree said that the LED retrofit could deliver a two-year payback.