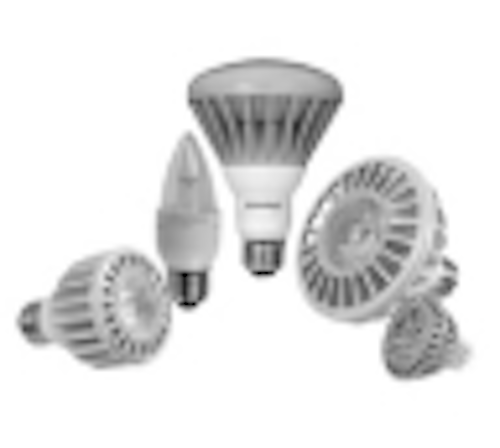 Osram Sylvania has announced a new line of Ultra 25 LED lamps that features a very warm color temperature for inviting moods and that includes lamps for most of the popular sockets utilized in hospitality settings. Indeed, the announcement includes B10, B13, BR40, PAR20, PAR30, and MR16 LED lamps that can deliver ambient, accent, and decorative lighting. Sylvania has also expanded the Ultra SE solid-state lighting (SSL) family that includes incandescent-like, dim-to-warm-CCT capability.
In particular, Sylvania expects the Ultra 25 lamps to find use in restaurants, hotels, and casinos, providing both more efficient lighting and a soothing atmosphere. "Businesses in the hospitality industry are always interested in reducing energy but are also just as focused on creating a mood that entices repeat customers," said Ellen Sizemore, product portfolio manager for LED lamps at Sylvania. "Incandescent lamps have offered the desired warm color but at the cost of higher electricity bills."
Sylvania says that the new Ultra 25 lamps family will offer up to 86% energy savings over incandescent lamps. Sizemore added, "With our full portfolio of Ultra 25 LED lamps, the hospitality industry now has more options for creating the cozy atmosphere they desire across their entire facility, rather than just in one area, and lowering their energy bills."
One region where the lamps could prove especially popular is in Las Vegas where hospitality is the primary industry. Curtis Saunders, outsides sales account manager at NEDCO Supply in Las Vegas is testing the lamps in two chandeliers in the Santa Fe Station Hotel and Casino in Las Vegas. He said, "LED lighting runs much cooler, which saves energy, not only with the lamps themselves using less electricity, but also because you don't have to use as much power for the air conditioning to combat the heat from the lights."
Saunders noted, however, that the lack of quality warm-CCT lamps in all form factors has limited the use of LEDs until now. "Other companies have some LED lamps that offer the needed 2500K color temperature, but not all types," said Saunders. "The full advantage of a company like Osram Sylvania having a full portfolio is being able to match the nice, warm color across a location with many different types of luminaires."
One example of the breadth of the offering is the B13 lamp that delivers 330 lm for replacing 40W incandescent lamps. That product is critical for use in decorative fixtures such as chandeliers, and in wall sconces.
The entire Ultra 25 family is dimmable to 10% using legacy triac dimmers. The lamps should last ten times as long, or more, than incandescent lamps — reducing disruptions for maintenance in hospitality settings. The lamps are rated for 25,000 hours of life.
In addition to the Ultra 25 lamps, Sylvania is also adding PAR38- and PR/R-type LED lamps to its Ultra SE family this fall. The SE in the product name refers to Sunset Effect implying the dim-to-warm capability. Lamps in that family have a 3000K CCT at full brightness and dim to 2000K at 10% of full output.