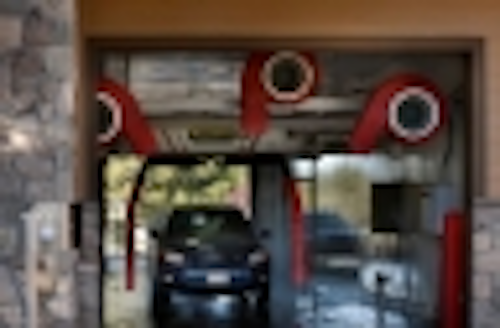 A Lake Tahoe, California retail business, part of the Raley's Family of Fine Stores chain, has retrofitted its indoor and outdoor lighting with LED-based products from Cree, including the lighting in a car wash. Cree said the solid-state lighting (SSL) project will deliver payback in one year, and that light quality and reliability will be improved overall relative to the prior lighting.
Two elements about the Raley's project stood out in particular including the lighting in the car wash and the difficulty of the Lake Tahoe electrical environment that has cause reliability issues with legacy lighting. The car wash provided a difficult environment in terms of humidity and moisture and also an opportunity to maximize energy savings. The project used Cree 227 Series Soffit surface-mount luminaires in the car wash. The products are designed for outdoor applications and are UL wet listed so they can handle the difficult environment.
The car wash also proved to be a perfect opportunity to deploy occupancy-based adaptive-control technology. The retail business operates 24 hours a day, but the car wash can be idle at times even in the busiest parts of the day and certainly at night.
When there is no car in the wash, the luminaires drop the light level to 20% of normal. That implementation adds significantly to the energy savings. Moreover, it helped Raley's meet California requirements on businesses for light control during daylight hours.
Electrical fluctuations
Cree driver technology, meanwhile, proved critical in handling the electrical environment. You may think about Lake Tahoe first as a winter ski resort area, but the area is also a summer tourist destination and summer temperatures provide a surprising challenge. Randy Walthers, energy and utility manager at Raley's, said, "In South Lake Tahoe, the voltage will drop as much as 30 percent during hot afternoons, creating multiple problems with electrical systems."
Because LED drivers that are powered from the AC line must perform an AC/DC conversion, the driver design can support electrical anomalies including voltage fluctuations. Indeed, universal drivers often operate over a range as broad as 80–277 VAC. Walthers added, "Cree luminaires are unaffected by these erratic voltage drops and continue performing at peak efficiency due to dependable drivers that include AC input protection."
In total, the Raley's project utilized 60 Cree fixtures. Hi-Def Lighting & Electrical did the installation. Inside the store, the contractor installed Cree CR24 LED-based troffers. Just outside the store, Cree 304 Series Soffit fixtures light the entrance and walkway. Under the gas station deck, Cree 304 Series recessed canopy lights provide even illumination. The project also includes some Cree wall packs and area lights for security.
"Implementing energy-efficient LED lighting supports our goal of reducing overall energy consumption at new stores and in upgrades to our 128 locations," said Raley's Walthers. "We found a valued partner in Hi-Def Lighting & Electrical who met our needs with high-quality Cree LED lighting equipped with a sophisticated control system for remarkable savings and light quality."
Cree's claim of one year payback is based on 12 hours of use per day for exterior lights and 24 hours per day for interior lights. The projection also takes into consideration HVAC savings due to lower heat from lighting and maintenance savings, and is based on the $0.14 kWh average electrical cost in California. The comparison was made relative to legacy fluorescent and HID lighting that Raley's has used in other stores.