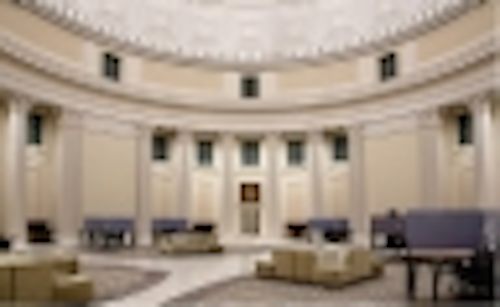 Lumenpulse has announced a lighting retrofit of the Great Dome at the Massachusetts Institute of Technology (MIT) in Cambridge, Massachusetts using LED-based luminaires to both highlight the architecture and deliver quality ambient lighting. Boston design firm Sladen Feinstein Integrated Lighting was behind the solid-state lighting (SSL) project located in Building 10 on the MIT campus.
The Great Dome has been an iconic feature of the MIT campus dating to 1916. As part of a six-year revitalization, MIT recently reopened the 27-ft oculus or skylight in the dome. The oculus had been covered in 1942 over concerns of potential wartime bombing. Now the lighting retrofit has enhanced both the impressive looks of the dome and the usability for students and visitors.
Sladen Feinstein utilized 50 Lumepulse Lumenfaçade fixtures in the project, with a 3000K CCT. The fixtures are concealed behind the acanthus sculpting on shelves and aimed precisely to fully illuminate the height of dome. The aiming also ensures that shadow match on each coffer.
"Lighting the dome emphasized the architecture in the height of the building and the depth of the coffers," said Julie Rose, senior lighting designer at Sladen Feinstein. "It highlights its beauty and adds new life to the space."
Greg Campbell, CTO and executive vice president of engineering at Lumenpulse, said, "Participating in the restoration of such an iconic building, at an institution like MIT, is a real honor, and it's a source of pride for a tech company like Lumenpulse." But the purpose of the retrofit was better lighting as well for students that use the space as a reading room.
Rose said that the design provides uniform ambient lighting with no hotspots while highlighting the dome architecture. Campbell added, "Given the multi-purpose needs of the reading room, and the height and accessibility challenges involved in lighting such a space, it really illustrates the flexibility and power of Lumenpulse LED luminaires."
The room under the great dome had often been called the "Bat Cave" by the students in part because of dim lighting, but it now has a daytime feel even at night, Rose said. "It was always an interesting space architecturally, but now you walk in and look around and you think, wow." Moreover, the number of students regularly using the space has more than doubled.