Georgia auto dealership installs Cooper LED area lighting
Solid-state lighting highlights the dealership inventory for customer perusal, and delivers 60% energy savings in an installation expected to operate for 60,000 hours.
Nov 14th, 2013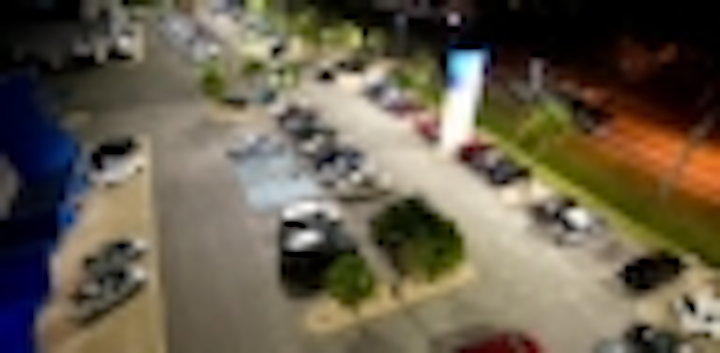 Automotive dealerships remain a challenge for most LED-based lighting products because dealerships seek lighting that can make colors sparkle to entice customers. Some solid-state lighting (SSL) vendors, however, are overcoming the challenge of delivering the combination of high lumen output, a focused beam, and good CRI to highlight the cars for sale. Nalley Honda-Buick-GMC-Isuzu located in Brunswick, Georgia, for instance, has just installed 76 LED outdoor area lighting fixtures from Eaton's Cooper Lighting business unit with assistance from utility Georgia Power.
The automotive lot is a unique outdoor lighting challenge. "Auto dealerships are drastically different than your typical outdoor area lighting application," said Mark Holcombe, account executive for Lighting Services at Georgia Power. "While average exterior lighting solutions are installed for safety or security, dealerships install lighting elements to draw the customer's eye and highlight high-end retail products."
A key breakthrough in SSL products for auto dealers is an optics package that can focus the LED beams precisely on a line of cars, especially on the so-called front line. Cooper uses its AccuLED Optics technology to provide the beam direction. Cree used a similar technology in another car dealership LED installation that we covered recently.
Georgia Power and Cooper worked together to conduct a photometric analysis of the project and ensure that LED lighting could meet the Brunswick dealer's requirements. Ultimately, Cooper supplied 412W and 515W Galleon LED luminaires that could deliver the required high lumen output. The installation includes 16 fewer fixtures than the prior installation that included 92 1000W metal-halide (MH) fixtures.
The reduction in energy usage is important both to the auto dealer and to Georgia Power, although energy and maintenance savings would not matter if the LED lighting didn't deliver the quality customer experience desired by the dealer. Addressing that issue, Britt Gilmore, general manager and partner at Nalley Honda-Buick-GMC-Isuzu, said, "The difference in what we have now compared to what we had is like night and day. I would recommend this change to everyone."
And the energy reduction is a win all around. The net energy savings is 66,400W — essentially a 60% reduction. "While the dealership improved its lighting performance and reduced electrical costs, Georgia Power also decreased its carbon footprint, reducing the demand on the area's electrical grid," said Mark Eubanks, president of Eaton's Cooper Lighting division."
The long life of the LED fixtures will add to the return on investment for the auto dealer. The lights are rated for 60,000 hours of life. That longevity means less direct maintenance cost in lamp replacement and less of a need to move car inventory around to reach failed lights.